Life: India's perfume capital threatened by scent of modernity
Kannauj, a city located on the Ganges River, was once a key trading center for Indian perfumes, boasting almost 700 distilleries up until the late 1990s. Today, due to chemical alternatives and paraffin-based perfumes, that number has dwindled to less than a third
In the remote town of Kannauj, the perfume capital of India, traditional workers are struggling to keep their craft alive in the face of fierce competition from modern fragrance makers.
This fight, between small businesses such as the Pragati Aroma Oil distillery and global groups such as Armani and Chanel, mirrors thousands of other battles across India between ancient practices and the forces of modernity.
Laxmi Narayan, 72, has spent the last 30 years making what is known as attar, an oil-based perfume manufactured using a method dating back thousands of years.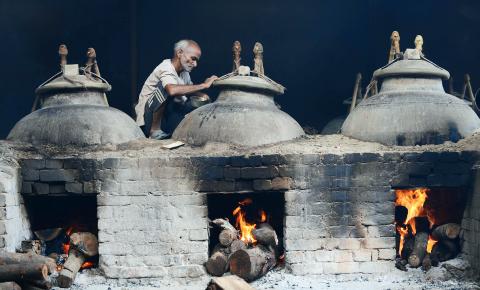 A picture taken on August 14, 2012, shows an Indian perfume producer working at a factory in the city of Kannauj in India's northern state of Kanpur. Traditional perfumers are struggling to keep their craft alive in the face of fierce competition from modern fragrance makers.
Photo: AFP
"Attar-making is a painstaking craft," Narayan told AFP through a cloud of thick smoke that billowed from wood fires set below a row of simmering copper pots that he was constantly monitoring.
"We rely on our instincts, we know the attar is ready by the smell and feel of it," he added.
Sushil Singh, a supervisor at the distillery about 130km from state capital Lucknow in Uttar Pradesh state, believes machines can never take the place of experienced hands.
"The smell will be lost if we start using machines. People are forgetting the value of attar. But we know what goes into (its) making. For us, attar is our life."
Each morning local farmers near Kannauj pluck bagfuls of rose, jasmine and other petals and deliver them to the nearby perfume distilleries dotting this sleepy town.
In a process that can take days to complete, the flowers are mixed with water and heated in the copper pots. The aromatic steam is then transferred via a bamboo pipe to a receptacle containing sandalwood oil which acts as the base for the attar.
But while it is still popular with natural fragrance enthusiasts, attar is increasingly shunned by India's brand-conscious consumers who have become used to foreign products since economic reforms in the 1990s opened up the country.
Rising raw material costs, particularly of oil which must be imported because of limited production in India, are also a major headache.
"The attar industry is gasping for survival," says Rohan Seth, the vice-president of the Fragrances and Flavors Association of India, an umbrella group of around 800 traders.
Fading fragrances
Located on the banks of River Ganges, the city of Kannauj was once a key trading center for Indian perfumes, spices and silks that were sent mainly to the countries in the Middle East.
The city of 1.7 million people reached the peak of its glory during the 7th century AD when it was the capital of an empire led by a Hindu king called Harsha Vardhan.
Local perfumers would later supply to the Moghul emperors, who ruled India for nearly 300 years. Remnants of sprawling forts and royal facades stand testimony to the bygone glory of the city.
"Kannauj has been the perfumery town of the country for thousands of years," says Shakti Vinay Shukla, the deputy director of the Fragrance and Flavor Center (FFDC) in Kannauj.
"Kannauj is to India what Grasse is to France. Here perfume-making is art. It is an integral part of the culture and heritage of the people," Shukla told AFP at the center, surrounded by lemongrass, mint and henna shrubs.
The center has been trying to help the farmers who pick the flowers and the perfume makers in a bid to stem the decline in the numbers of distilleries.
"The city boasted nearly 700 distilleries up until the late 1990s," said Pulkit Jain of Pragati Aroma Oil Distillers.
"Now the numbers have come down to about 150. Chemical alternatives and paraffin-based perfumes are much cheaper to make so it makes business sense to switch to these," Jain told AFP.
A study by the country's leading trade body ASSOCHAM in May this year said the domestic perfume market was seeing annual growth of about 30 percent and was currently worth about US$270 million.
The sector, which includes attar and other locally-produced perfumes, accounted for nearly 30 percent of the total fragrance industry sales, it said.
Armani, Azzaro and Burberry were listed as the top three "most sold" leading perfume brands in the country, boosted by a trend for male grooming among urbane Indians, the report said.
Shukla of FFDC conceded the industry needed to find new uses for attar to stave off international competition, such as in aromatherapy where essential oils are used for their healing properties.
Love for attar
In the narrow winding streets of the old area of New Delhi, Praful Gundhi, 49, runs his perfume business which was started by his family in 1816 and draws well-heeled customers as well as those looking for cheap rip-offs.
His shop — Gulab Singh Johrimal — stocks perfumes in beautifully carved and colored glass bottles displayed neatly on shelves all around.
Workers take great care to ensure the essence is not lost in the air as they prepare bottles tagged with names such as Iceberg, White Musk and Sandal Gold.
"Muslims form the biggest customer base for us because Islam prohibits them to use alcohol-based perfumes which is what most of the foreign brands are," said Gundhi, himself a Hindu.
"Even tourists coming to India flock to our shops because of the natural and organic quality of these perfumes. They know attar is kind to the skin, you won't have any allergies."
Gundhi said he usually charged US$252 for 10 millilitres of pure rose oil but synthetic ones could be had for as cheap as US$8.
"It is all about taste and choice. The true connoisseur will not mind spending as long as he is satisfied about the quality."
But for many like Delhi businessman Anshul Agarwal, nothing compares to the high-end brands that he is fond of buying from the modern glass and steel shopping malls in the city.
"One of my friends had gifted me an attar around a year back. It is still lying unused because I love my Calvin Kleins and Davidoffs," said the 34-year-old.
Comments will be moderated. Keep comments relevant to the article. Remarks containing abusive and obscene language, personal attacks of any kind or promotion will be removed and the user banned. Final decision will be at the discretion of the Taipei Times.