Sports: Reliving those glory days
The Taipei-based Glory Days Basketball league will hold a three-on-three tourny on Sunday
When most athletes finish high school or college, it's the end of the line for their sporting careers. Only a small percentage of the most gifted ones go on to become professionals in their field, while the others tend to take great pleasure in reminiscing about how good their glory days used to be. Sean Cheng (鄭鑫), co-founder and commissioner of the Glory Days Basketball (GDB) league, came up with the idea for a basketball league late one night two years ago.
"In my dream, I was David Stern of a league that was just like the NBA — but for the average Joe who still loves to play and play hard," Cheng said.
"All athletes want to perform at the highest level and show the entire world that they can do it, or still do it. GDB is a place where people can relive that dream every weekend and share this experience with all of their friends and family."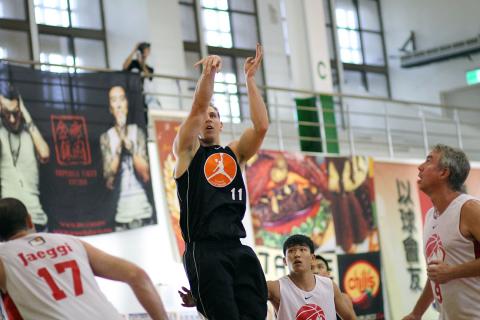 A player takes an open jump shot during a game against the Butchers.
Photo courtesy of Glory Days Basketball
Cheng woke up and told his wife and co-founder, Jess Cheng, his idea, and they were off to the races.
"Our first game had two teams, two refs, two scorekeepers, one videographer, and one photographer in the upper gym of the Taipei American School," Jess Cheng said.
"Today we have over 35 teams, over 20 staff members with games located in three different top-notch gyms in Taipei City."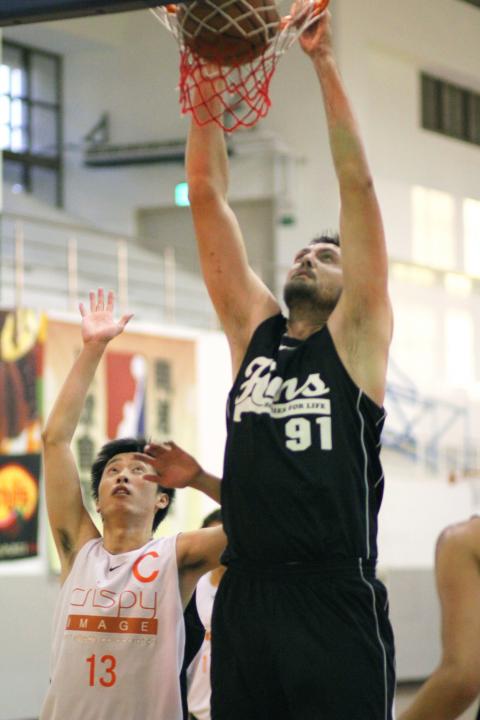 Kristen Jensen uses his height advantage to dunk the ball.
Photo courtesy of Glory Days Basketball
GDB's rapid growth can be attributed to their weekly Facebook postings of pictures and highlight videos, their new non-profit status, working closely with the Ministry of Foreign Affairs and of course, Jeremy Lin (林書豪).
"Linsanity introduced an entirely new fan base to the game of basketball, young and old," Jess Cheng said.
"Our players still play just as hard, but I think their love for basketball is appreciated by the general public 100-fold. This means that a lot more friends and family members show support, whether in person or on Facebook."
This Sunday, GDB will be partnering with Nike to run a three-on-three tournament at the Ximending movie park basketball courts, and then have a two-game exhibition with the top four teams in the league. This means that two years of hard work is finally paying off for the Chengs.
"GDB is more than just a full time job for us now. It's a part of who we are," Jess Cheng said.
Sean Cheng added, "I think there's a lot of people, not just in Taiwan, that want their glory days back and that's why we are where we are today."
Publication Notes
Tournament Notes
WHAT: Glory Days Basketball 3-on-3 super challenge and two games between the four top teams of the league WHEN: Sunday from 4pm to 8pm WHERE: Ximending movie park basketball courts ADMISSION: Free ON THE NET: www.glorydaysbasketball.com or search for Glory Days Basketball on Facebook
Comments will be moderated. Keep comments relevant to the article. Remarks containing abusive and obscene language, personal attacks of any kind or promotion will be removed and the user banned. Final decision will be at the discretion of the Taipei Times.