Under the gun
Underworld, a rock club on Shida Road known as a launchpad for indie bands, will close its doors due to resident complaints and government policies that don't allow "live houses" the legal right to exist in Taiwan
On Monday morning, it was a strange scene at the Legislative Yuan. More than 300 rockers in black t-shirts, skinny jeans, tattoos and odd hairstyles filled one of the legislature's ground floor meeting rooms to protest the closing of Underworld (地下社會), an 80-person capacity Taipei rock club. The venue has been a launching pad for indie bands over the last 16 years and is widely considered to be Taiwan's CBGBs.
The motley crew of young people assembled to hear legislator Cheng Li-chiun (鄭麗君), Underworld shareholder Ho Tung-hung (何東洪) and a slew of well known musicians and actors who came out in support of Taiwan's indie rock scene. The media was also there in force.
At the press conference, Ho, Cheng and others called upon the central government's Ministry of Culture to give a legal status to live music performance venues. Then they led the throng of rockers into the legislature's central courtyard, where they swirled around TV cameras in a kind of mosh pit while holding placards and chanting the bar's name, "Di Xia She Hui [Underground]!"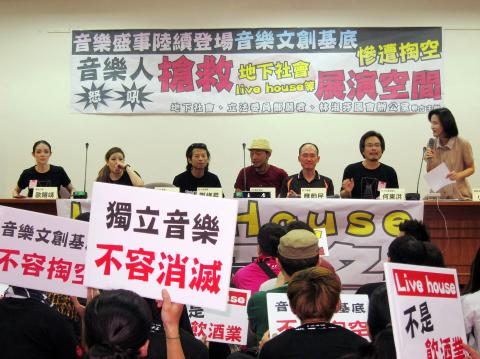 Musicians and club owners protest the closure of Underground at the legislature on Monday.
Photo Courtesy of David Frazier
"We feel that the government should give [Underworld] more room to exist," said Masa (瑪莎), bass player in Mayday (五月天), Taiwan's all-time top-selling band. "We played there 13 or 14 years ago" — long before the group was selling out stadium shows of 40,000 or more in Taiwan, China and Singapore. "It was just a place where you could go and find out about music," he explained, speaking to reporters on the sidelines of the event. (The band had come unofficially to offer support as fans of the venue.)
"If this problem isn't solved, this won't be the last live house in Taiwan to close," said Vincent Jeng (鄭峰昇), of the rock band Backquarter (四分衛), speaking from the stage at the press conference.
"As far as the government is concerned, a live house is in the same category as a prostitute bar on Linsen North Road," said Ho, referring to Taipei's notorious red light district.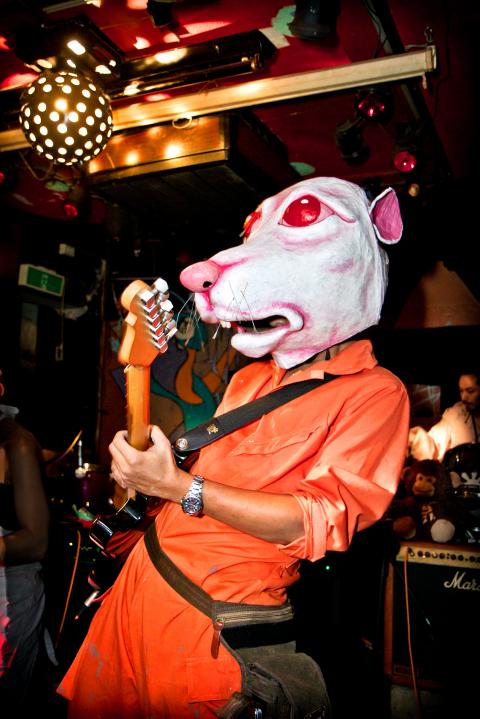 XOXOXO perform at Underground.
Photo Courtesy of Brent Franke
"The government has recently spent huge amounts of money supporting music as a cultural industry," Ho said later. "But what they don't realize is where culture comes from before you can make an industry out of it."
Monday's rock-n-roll invasion of the legislature means that Underworld's problem has now been raised at the national level, and a cabinet minister will likely have to address it. Obstacles to be overcome include heaps of bureaucracy at local and national levels of government, as well as the potential hypocrisy of a national culture policy that is spending billions of NT dollars to promote cultural industries but won't allow live houses the legal right to exist in Taiwan.
And, as if that weren't enough, Underworld's most immediate problem revolves around a snowballing fight between residents and business owners in Shida, the bustling Taipei neighborhood where the club is located. Pressure from a group of area residents, the Shidahood Self Help Association (師大三里里民自救會) likely prompted the city to issue a notification on July 29, saying that the venue's fire exit weren't wide enough and that — after 16 years of doing exactly the same thing, hosting bands three nights a week and selling drinks to a few dozen patrons — its business license was suddenly deemed improper.
Blood Orange perform at Underground.
Photo Courtesy of Brent Franke
Before getting into legal hair-splitting and squirrelly politics of this neighborhood battle, it's probably important to understand why an 80-person capacity and incredibly smoky rock club can and should be considered a national issue.
At the beginning of 2010, the government passed the Cultural and Creative Industries Act, which is progressively pouring NT$26.2 billion over a five-year period into film, music, TV, video games and other design-based industries. Of this vast sum, NT$60 million has gone into the Pop Music Flagship Project, which has been doling out money to musicians — ranging from indie bands that generally play at Underworld to big name pop stars — to record albums and travel to international music festivals. All told, the government boldly predicts this national cultural investment will eventually generate NTD$1 trillion in GDP and create 200,000 jobs. Clearly, Taiwan imagines this as a priority for economic and cultural development.
Taiwan's first real music festivals for local bands that wrote their own songs — Spring Scream and Formoz — both started in 1995, a year before Underworld opened its doors. For years, these festivals were some of the only true forums for underground music. But now local governments are literally competing with each other to see which can host the biggest mega-concert featuring kids with electric guitars and Joy Division t-shirts. In July and August, city and county governments around Taiwan will hold nine mega-scale band festivals that will feature over 700 bands collectively and draw hundreds of thousands of visitors. The biggest is still next weekend's Ho-Hai-Yan in New Taipei City's Gongliao Township, which stakes its reputation on an annual indie rock competition and expects 400,000 people over four days.
Many of the bands that will play on these overblown night-market-cum-music-festival events will tell you they once played for fewer than 20 people at Underworld. Du-pi (肚皮), drummer for the pop band Wonfu (旺褔), remembers a gig at Underworld where nobody came. "We were just playing for the bartenders," he said. "But we didn't care. We played anyway."
The list of musicians that have filed through Underworld includes a few pop stars. In addition to Mayday, whose music sales are so enormous they're unlikely to be eclipsed by another Taiwanese band for at least a couple decades, the pop singer Selina Jen (任家萱) of the massively popular girl group S.H.E. also used to hang out at Underworld while she was a student at National Taiwan Normal University. "She was dating one of the bartenders, so she'd come hang out quite often," recalls Randy Lin (林志堅), one of Underworld's co-founders. "That was way before her group ever released an album."
By 2001, the rise of indie music spurred the Golden Melody Awards, Taiwan's Grammies, to finally introduce a category for Best Band. Almost every group ever nominated for that award has played Underworld at one time or another. There are too many important bands to name, but to list just a few, there are bands that defined Taiwanese indie rock in the late-1990s, like LTK Commune (濁水溪公社), the Clippers (夾子樂隊瓢蟲) and Ladybug (瓢蟲). Sodagreen (蘇打綠) has gone on to sell out Taipei Arena and play enormous stadiums throughout China. The metal band Chthonic (閃靈) has played international festivals including Fuji Rock, Ozzfest and Wacken Open Air. Bands like 1976, Chairmen (懂事長), Wonfu and Tizzy Bac all played Underworld frequently as young bands and are now considered major headliners. Go Chic, whose members are all under 25 and are currently having an album produced by Canadian electro-diva Peaches, is a band that was practically born in the basement rock club.
Underworld was initially opened by Lin Tsung-ming (林宗明) in 1996 as a simple rockers' bar. Then two years later, Ho and Randy Lin asked him if they could have bands play on weekends. Ho is now an investor in the club, and Randy Lin is a regular DJ.
Underworld has been threatened with closure before. The last time was in June 2005, when city regulators said its business license didn't allow for live performance. Gigs stopped for almost a year, but eventually Underworld was given a special certificate from the-then Council of Cultural Affairs declaring "an important space for artistic and cultural performances."
"It was basically the central government telling the city we were a good student," says Ho. "But it wasn't really a solution to the problem, because it was just an exemption. The laws didn't change."
Last year, Witch House (女巫店), a folk music pub in a nearby neighborhood, encountered a similar problem. Again, culture authorities — this time the city's Cultural Affairs Department — intervened and succeeded in creating a new business license category for "music performance spaces."
The new "music performance" category however didn't offer any protection to the mostly legal live houses in Taichung following a bar fire in March, 2011, which killed nine. Taichung's City Government reacted by indiscriminately shutting down scores of bars, including all of the city's venues for original live music.
The new license also doesn't necessarily allow for the sale of alcohol, which may require additional licenses, depending on how regulators see things. Underworld has so far managed to exist using a small restaurant license (小吃部) and, since 2006, its good-student certificate from the national government. Regulators now say it operates as an unlicensed pub (飲酒店) and will be fined NT$60,000 if it stays open.
Underworld's problems are hardly unique. This year scores of area businesses have closed due to pressure from a group of cranky citizens called the Shidahood Self Help Association. In October, they began lobbying Taipei City to clean up the noise and mess of the nearby night market, and its member-residents now actively seek out and report violations related to zoning, fire codes, noise, business licenses, signage and other regulations. They identify targets and report progress on their blog (shidahood.pixnet.net) and claim more than 350 of the 650 businesses around Shida Road are illegal. The group has so far taken credit for shutting down nearly 100 businesses, almost all of them small, boutique-style restaurants, cafes and clothing shops.
The association imagines its neighborhood to be a quiet residential area, perhaps filled only with sounds of birds chirping. Yet they also happen to share the area with six universities and around 60,000 students (including 4,000 international students), all located within a 2km radius of Shida Road, with Underworld right at the district's heart.
Nevertheless, Shidahood has so far this year successfully lobbied Taipei City to remove the words "Shida Night Market" from local bus stops. It has convinced the city to stop promoting the Shida Night Market, the Yongkang Street and Qingtian Street areas as officially recommended tourist spots. It is also fighting a university proposal to create special pedestrian zones in the area, like those in Ximen.
The neighbors association has specifically argued for action against shops that sell alcohol and repeatedly named Underworld on its blog. Ho believes, "We've been targeted."
As things now stand, Underworld would have to pay the $60,000 fine if stays open past July 15, so it is shutting down, at least temporarily. For the final day, a Sunday, it plans a final blowout featuring at least six bands from mid-afternoon into the night.
"Given the current law, there is basically no way for us to be legal," says Ho. "The press conference was a first step, and now we will see hope the [Ministry of Culture] will meet with us, so we can assemble all relevant departments and come up with a live house solution once and for all."
"We are asking for a government policy for live houses," says legislator Cheng Li-chiun (鄭麗君). "That way this culture will be able to grow and develop."
Comments will be moderated. Keep comments relevant to the article. Remarks containing abusive and obscene language, personal attacks of any kind or promotion will be removed and the user banned. Final decision will be at the discretion of the Taipei Times.