Arts & Culture: Parallel universe
Astro Bunny, a rock duo who love furry creatures, electronica and anime, will hold their debut concert at Riverside Cafe next week
Indie electronica/rock duo Astro Bunny (原子邦妮) is that rare thing: a band with a storyteller's point of view.
The outfit will perform one set for its debut concert at Riverside Cafe (河岸留言) on Wednesday evening. The group is comprised of vocalist/lyricist Lena Cha (查家雯 a.k.a. 查查) — the former front-girl for the indie band Cherry Boom (櫻桃幫) — and bassist/producer Jay Cheng (程杰).
"We named the group 'bunny' because I love bunnies and I forced him to like them too," Cha laughed in an interview with the Taipei Times three weeks ago. "I picked the word "astro" because I'm an anime and computer game geek."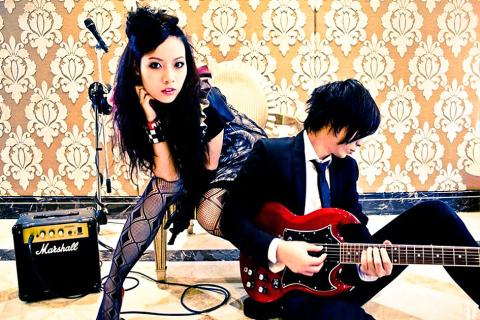 Lena Cha (left) and Jay Cheng (right).
Photo courtesy of Astro Bunny
The group released its first EP What If There's No Tomorrow (如果沒有以後) a month ago and will support the release with this concert.
"The astro bunny will lead you to a parallel universe where the ancient and the modern clash in a musical atmosphere," Cha said, explaining that their electronica is crafted through the juxtaposition of literary ancient Chinese prose and contemporary electronica melodies. The resulting music is a combined composition.
"Because of the neutral nature of the synthesizer used to create electronica sounds, this seemingly lifeless music doesn't feed you with predetermined themes," Cha explained. "Rather, it allows you to interpret and imagine meanings according to your mood at the time."
Lena Cha (left) and Jay Cheng (right).
Photo courtesy of Astro Bunny
The five-track EP is conceived as a concept album and a storybook. The Intro depicts the beginning when nothing exists. Then an explosion takes place, followed by the track The Milky Way (銀河). With the title track What If There's No Tomorrow, the two imagine the apocalypse of 2012, but resolve to hold on to their love. Flower Blossoms and Moon Round (花好月圓) was originally written by Cheng for indie icon Sandee Chan (陳珊妮) but is transformed into an electronica gem with literary lyrics. The closing track That Day (那天) is an electronica ballad about encountering a former lover and reminiscing about what might have been.
"Electronica is a form that demands a mixture of visual and musical presentation," Cha said. "We want to bring video artists, VJs and lighting designers together to enhance the experience of our concerts in the future."
On the cover and inside illustration of the EP there are photographs by Cha taken with an iPhone app that transforms them into designs. She plans to push this concept further to release a photo album with iPhone shots and also a storybook album.
"The possibilities of electronica are endless," she said. The group plans to release its first full-length album at the end of this year.
Publication Notes
Performance Notes:
WHAT: Astro Bunny (原子邦妮) WHEN: 9pm on June 13 WHERE: Riverside Cafe (河岸留言), B1, 2, Ln 244, Roosevelt Rd Sec 3, Taipei City (台北市羅斯福路三段244巷2號B1), next to Taipower Building (台電大樓). Tel: (02) 2368-7310 ADMISSION: Tickets are NT$350, available online at www.tickets.books.com.tw or through 7-Eleven ibon kiosks ON THE NET: www.facebook.com/astrobunnyband
Comments will be moderated. Keep comments relevant to the article. Remarks containing abusive and obscene language, personal attacks of any kind or promotion will be removed and the user banned. Final decision will be at the discretion of the Taipei Times.