Restaurant review: La Boheme Cafe and Bistro (波黑美亞咖啡食堂); Okey Dokey; Picnic Cafe (野餐咖啡)
Over the past five years, the section of Wenzhou Street (溫州街) close to Xinhai Road (辛亥路) in Taipei's Gongguan (公館) neighborhood has seen a proliferation of cafes, bistros and restaurants frequented by hip crowds of artists and writers, graduate students and professors.
Each of the following four establishments was chosen for its unique atmosphere — Picnic Cafe's cottage-like interior, or Okey Dokey's upscale vibe — and their consistently good coffee and food. All have free high-speed Internet access, none levy a service charge and there is no pressure to leave. But because patrons aren't hurried up, it's often difficult to find a seat, and the servers pretty much ignore you after they've served you your coffee, lunch or dinner.
This is especially true of Picnic. With its wood floors and tables, soft lighting, white walls adorned with shelves of bric-a-brac and timber framed glass windows overlooking its garden space, Picnic reminds me of the summer cottage my parents used to own. The three women running the place are like aunts making sure that their brood of customers leaves satiated with home-cooked food.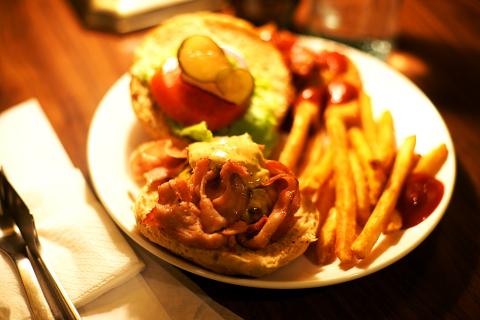 La Boheme's bacon cheeseburger is a "tornado" of flavors.
Photo: Noah Buchan, Taipei Times
On a recent visit, I sat at the bar in Picnic's very appealing sunroom. A young and attractive woman sat down beside me, throwing me occasional looks. Yup, I deluded myself into thinking I still have it. When I got up to leave, though, she immediately took over my seat, the looks not an invitation but a hint that I was in her spot.
In any event, Picnic does three things — quiche, scones and coffee — and all of them well. There are several ways to order your scone, which is perhaps meant to make up for the menu's limited selection of raisin and walnut whole wheat versions. You can order it straight up (NT$60), with a choice of homemade jam and mascarpone (NT$100) or, as I did, the "duo scone set" (NT$180), which includes both scone varieties, a choice of toppings (organic strawberry, banana and coffee, caramel butter and walnut, hummus and lemon fish) and mascarpone.
The simple combination of flavors is gorgeous. My cappuccino (NT$130) was notable for its richness. The people at Picnic pay a lot of attention to the details, such as the heart shaped steamed-milk foam topping on my drink.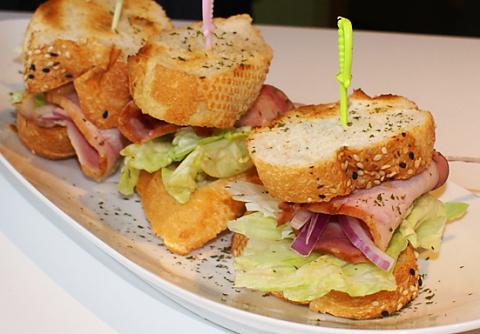 Okey Dokey's club sandwich is tasty and tastefully arranged.
Photo: Noah Buchan, Taipei Times
Like the scones, the three varieties of quiche — bacon and Camembert, shrimp with asparagus, and ratatouille and grilled Parmesan — can be ordered a la carte (NT$120) or as a set, which includes a garden salad (NT$150). Those concerned that "real men don't eat quiche" will be happy to know that the bacon and Camembert version contains enough meat to satisfy even the most carnivorous caveman. In addition to those ingredients, the fluffy yet firm filling contains smoked ham and sweet potato leaves.
Though its name evokes the movie Deliverance, Okey Dokey, located across the street from Picnic, is a high-end establishment bordering on the pretentious. It could come straight out of a South Korean romance. A 140-year-old baby-grand piano, sometimes used for live jazz and classical music performances on the weekends, serves as the centerpiece. Oil paintings and photographs adorn Okey Dokey's white walls, while its subterranean gallery space just wrapped up a group exhibition of Taiwanese photographers (a schedule of music events and exhibitions can be found on its Facebook page).
Okey Dokey serves a limited range of pasta (NT$160 to NT$200) and risotto (NT$240 to NT$250), as well as some finger foods (NT$120 to NT$160). The club sandwich (NT$150) I ordered arrived tastefully arranged on an oval plate. Slices of bacon, smoked ham, purple onion and lettuce were sandwiched between slices of toasted baguette and dressed in a lemony mayonnaise, which provided a nice tang.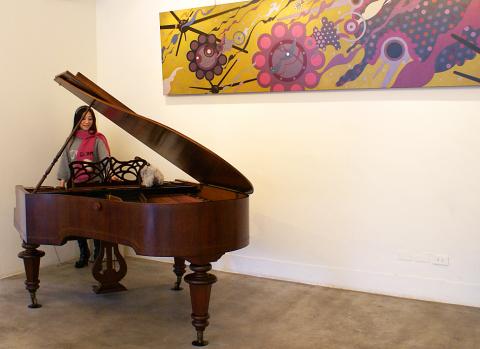 Okey Dokey's club sandwich is tasty and tastefully arranged.
Photo: Noah Buchan, Taipei Times
A few steps up the street is La Boheme, a bistro, and La Chat (路上撿到一隻貓), a coffee house. If Picnic is country living and Okey Dokey uptown chic, La Boheme and La Chat are downtown bohemian. A lot of posing goes on in these establishments. But that's part of the charm. It's not uncommon to see artists hanging out here. Last week, I spotted Chen Chieh-jen (陳界仁), an internationally respected video artist, entertaining a group of friends on La Boheme's wooden deck.
La Boheme's walls are covered with photographs taken as part of its Photo Wall Plan (相片牆計畫), for which customers were encouraged to submit snaps. Novels and books on art and other subjects line several bookshelves, which also feature posters and postcards of upcoming theater, dance and music performances. Though La Boheme calls itself a bistro, there are no wines on its menu (there is a limited selection of Belgium beers, NT$195) and its food is more American than French.
That said, it does serve a selection of croissant sandwiches (NT$250), Belgian-style waffles with fresh fruit and ice cream (NT$190), as well as appetizers such as spicy Buffalo wings (NT$190/NT$260) and a German sausage plate (NT$180).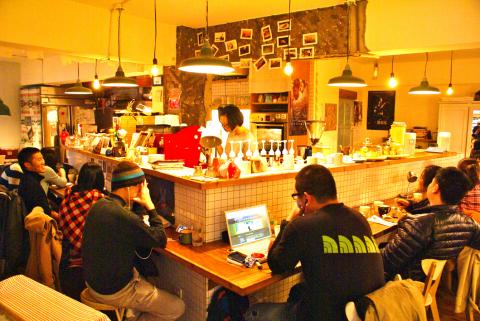 It's easy to make yourself at home in Picnic Cafe's cozy surroundings.
Photo: Noah Buchan, Taipei Times
Habitues, however, seem to prefer La Boheme's beef burgers, which the bistro says are 50 percent larger than regular burgers. I'm not sure if this is true, but the "tornado" grilled bacon cheeseburger (NT$230) — served between a large whole wheat bun with tomato, onion, lettuce and pickles — certainly kept me going for the entire day. The lean meat isn't so much a patty as it is a flattened ball — a good idea, really, because as you chomp your way through the burger, it doesn't fall apart. Be sure to inform your server in advance if you don't like ketchup as the crispy and yummy potato wedges come smothered in it.
Though Le Chat is not a restaurant, it deserves a mention because, like Picnic, it's housed in a cottage-like setting that boasts a sunroom. But it doesn't have the organized feel that Picnic exudes. Le Chat's well-worn sofas and chairs and walls covered in all manner of doodles and writing seem to be the work not so much of a caring aunt but an alcoholic uncle. Le Chat doesn't have a food menu, but its selection of coffees (NT$100 to NT$120) and teas (NT$100 to NT$130) keep young hipsters buzzed throughout the afternoon and late into the evening. It is open daily from 1:30pm to 1:30am and is located at 2, Ln 49, Wenzhou St, Taipei City (台北市溫州街49巷2號), tel: (02) 2364-2263.
Whether whiling away the afternoon with friends over coffee or nibbling on a home-cooked meal, there is something here for everyone. And if you can't find a seat at any of these four locations, there are several other restaurants and coffee shops in the area to choose from.
La Boheme Cafe and Bistro (波黑美亞咖啡食堂)
Address: 2, Ln 48, Wenzhou St, Taipei City (台北市溫州街48巷2號)
Telephone: (02) 2368-1086
Open: Monday to Friday from 11am to 2am and Saturday and Sunday from 9am to 2am
Average meal: NT$300
Details: Cash only, menu in Chinese and English, no service charge
Okey Dokey
Address: 2, Ln 58, Wenzhou St, Taipei City (台北市溫州街58巷2號)
Telephone: (02) 2368-9899
Open: Daily from 11am to 11pm
Average meal: NT$300
Details: Cash only, menu in Chinese and English, no service charge
On the Net: www.facebook.com/okeydokey.gallery.cafe?sk=wall
Picnic Cafe (野餐咖啡)
Address: 75 Wenzhou St, Taipei City (台北市溫州街75號)
Telephone: (02) 2368-7798
Open: Daily from noon to midnight
Average meal: NT$250
Details: Cash only, menu in Chinese and English, no service charge
Comments will be moderated. Keep comments relevant to the article. Remarks containing abusive and obscene language, personal attacks of any kind or promotion will be removed and the user banned. Final decision will be at the discretion of the Taipei Times.