Out of the zone
Store owners in the Shida Night Market area are anxiously waiting to learn their fates from the city government. At issue are zoning laws that both residents and businesses complain have been inconsistently enforced
Known as "Exotic Cuisines Street" (異國美食街) for its variety of restaurants, Pucheng Sreet, Lane 13 (浦城街13巷), is usually filled with customers during lunchtime. But on Thursday afternoon, the street was empty and nearly two dozen stores were shuttered. Business owners were protesting measures by the city government targeting the Shida Night Market (師大夜市) area that could potentially force most of them out of business. As of yesterday, at least four stores on the street said they had received letters from the city government ordering them to close by the middle of next month.
At issue is a Taipei City urban planning law (都市計畫法) that says retail businesses cannot operate on streets that, like Pucheng St, Lane 13, are less than 8m wide. Overcrowding, noise and pollution have angered residents for years, while business owners say they have not been given a chance to improve. Both agree on one thing: the city government's attitude toward zoning laws is frustrating and inconsistent.
"They tell the media that they will communicate with business owners, but they haven't. Their method of communication is to send out form letters," says James Parng (龐維良), the chief of Longquan neighborhood (龍泉里), where much of Shida Night Market is located.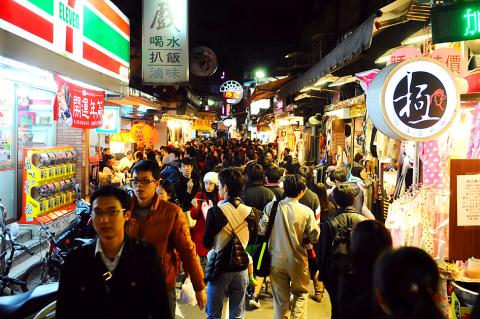 Many Shida Night Market stores have hung up posters imploring business owners and local residents to work together on problems like overcrowding and pollution.
Photo: Taipei Times
Many establishments are now anxiously waiting to hear from the city government. In Zabu (雜舖), staffers asked customers for their e-mail addresses just in case the cafe was forced to move, while other popular restaurants, like Grandma Nitti's and My Sweetie Pie, were still uncertain about their future yesterday afternoon.
"Everyone is nervous. As soon as they see a postal worker, they get scared," says Yan Ting-guang (顏廷光), director of the Shida Shopping District Development Promotion Association (師大商圈發展促進會).
According to Allied Guardians of Shida Commercial (守護師大商圈聯盟), an advocacy group for business owners, more than 600 retail establishments are at risk of receiving a cease-and-desist notice.
Photo: Taipei Times
Store owners point out that many of them have operated for years, and the night market and neighborhood have even been promoted in publications by the city's Department of Culture (文化局) and the Department of Information and Tourism (觀光傳播局).
"They told us this is not a business district, but we've been here for eight years and we thought it was a little late to tell us," says Shen Ming-lie (沈明烈), co-owner of Taifong Restaurant (泰風小館), one of the restaurants located on Pucheng St, Lane 13, that has been ordered to close.
Many residents, however, say the government has taken too long to respond to their complaints about intolerable levels of foot traffic, noise and pollution.
"It's their night market, but our nightmare," says Liu Jhen-wei (劉振偉), who has lived in the neighborhood for 46 years and founded the Shida Self-Help Association (師大三里自救會), a residents' advocacy group founded. The association currently consists of a committee of 14 members who represent 1,000 to 2,000 residents in the area, says Liu.
Residents complained for years before a series of meetings organized by the Shida Self-Help Association finally caught the attention of the city government, says Liu. After the first meeting in November last year, an ad-hoc committee headed by deputy mayor Chen Hsiung-wen (陳雄文) was created to address residents' concerns.
Though the area around Shida Road has been a popular shopping and dining destination since the Guting (古亭) and Taipower Building (台電大樓) MRT stations opened in 1998 and 1999, respectively, the number of retail establishments has rapidly increased over the past two years. Some landlords have carved single storefronts into multiple spaces. Though tiny, they can command between NT$10,000 to NT$30,000 in rent a month, according to local business owners.
Liu says the concentration of stalls, shops and restaurants in the neighborhood has resulted in nightly crowds so dense that residents have difficulty leaving or returning to their homes. Noisy diners and bar patrons linger until early morning, oily kitchen fumes and odors seep into neighboring apartments, and residents who live directly above restaurants have been turned down by insurance companies because of fire hazards, he added.
Business owners, however, say they have gotten mixed messages from the government.
Taifong received a cease-and-desist letter dated Feb. 13 that gives it one month to stop operating. The business was also fined NT$60,000. Shen and co-owner Tsai Wen-yu (蔡文宇) say they are frustrated by the city government's actions because the restaurant has operated since 2003 and Exotic Cuisines Street has been promoted as a tourist destination by the city.
In November, after mayor Hau Lung-bin (郝龍斌) announced that further expansion of Shida night market was forbidden in response to residents' complaints, Taifong was sent a letter by the government informing it that the lane was too narrow according to zoning regulations. But the city took no further actions for three more months.
Edward Chang (張其強), a spokesman for deputy mayor Chen, said establishments must note their address when applying for a business registration certificate (營利事業登記), but the city does not check if the location adheres to zoning regulations. Passed in 2009, the business registration law was meant to stimulate economic growth throughout the country by making it easier for entrepreneurs to get started.
"We send out form letters and fine them if there is a violation of the law or if they have created problems for residents," says Chang. "That's the only reason we would tell them to stop operating."
But after Taifong was warned about zoning regulations in November, the restaurant passed a Taipei City Fire Department Inspection on Dec. 1.
"[The city government] looked at our fire safety, environmental friendliness, sanitation and told us that was everything was fine," says Shen, who estimates that it will cost his business NT$200,000 to move and open in a new location.
Though business owners and supporters fear that the city plans to "exterminate" (趕盡殺絕) the night market, Chang says that the number of establishments closed would be far less than the 600 feared, though he could not give an exact number.
Yan of the Shida Shopping District Improvement Promotion Association says that the government should work with stores to improve the quality of the neighborhood, instead of using zoning regulations to kick them out. Though his barbecue restaurant Seahorn 99 (海角99) on Pucheng Street adheres to zoning regulations, Yan says his business will suffer if its neighbors on Exotic Cuisines Street are forced to close.
"I feel like the government is being too careless and hasty," says Yan. "If the government wants an area to improve, they need to give people direction."
But Liu says residents will still be negatively impacted by stores operating in residential neighborhoods.
"You can't make lanes wider," says Liu. "Going from 100 percent smoke to 50 percent smoke is not an improvement. Residents are still victimized."
Longquan neighborhood chief Parng says the government must balance the needs of residents with the economic development of a neighborhood and mediate conflicts before they reach a crisis point.
"The problem can't be solved simply by enforcing zoning laws. If it were like that, then this problem would have been solved long ago," says Parng.
"It's not just a Shida neighborhood problem," he adds. "It's become a social issue. The government needs to pay attention."
Publication Notes
ON THE NET
shidahood.pixnet.net/blog: Blog maintained by the Shida Self-Help Association
iloveshida.blogspot.com: An English-language blog supporting store and restaurant owners in the Shida Night Market area
www.facebook.com/iloveshida: Facebook page maintained by the Allied Guardians of Shida Commercial
Comments will be moderated. Keep comments relevant to the article. Remarks containing abusive and obscene language, personal attacks of any kind or promotion will be removed and the user banned. Final decision will be at the discretion of the Taipei Times.