Paper tales
Wales-born artist Tim Budden's lushly detailed papercuts, which tell the story of his life in Taiwan, are currently on display at Suho Memorial Paper Museum
Tim Budden's papercuttings tell stories with shadows and light. The Wales-born artist's spellbindingly intricate artwork is on display at the Suho Memorial Paper Museum (樹火紀念紙博物館) until March 24.
Before moving to Taiwan, Budden was a sculptor who created puppets and set pieces for theatrical performances. He also drew a critically acclaimed comic strip about a group of badgers living unhappily alongside humans.
After arriving in this country, Budden says he was uninterested in traditional Chinese art forms until he stumbled upon a book about papercuts created by retired women in China. He was struck by the similarity between the papercuts and the black-and-white line art he had used in his comic strips.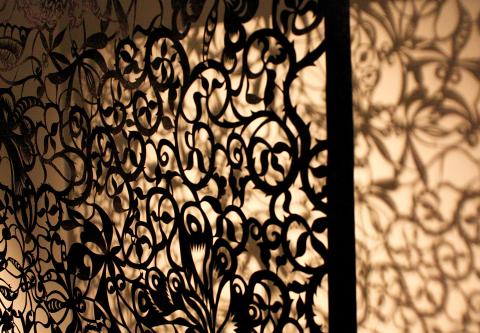 A former comic-strip artist and sculptor, Tim Budden was first attracted to Chinese papercutting because it is like "a comic in 3D."
Photo courtesy of Suho Memorial Paper Museum
"They used papercuts to tell the story of their lives," says Budden. "They were like cartoons, but 3D. You can touch them and hold them."
Like his comic strip, many of Budden's papercuts deal with the sometimes uneasy relationship between a place and its inhabitants. While his comics were about conflicts between badgers and the humans who threatened their safety, Budden's papercut artwork offers a foreigner's perspective on life in Taiwan. Many revolve around the adventures of a small child named Daniel, who is a composite of Budden and his young son.
"I'm not from Taiwan and I'm trying to understand this culture. I feel like a child, trying to understand more: 'Why are they doing this, what is this for?'" says Budden.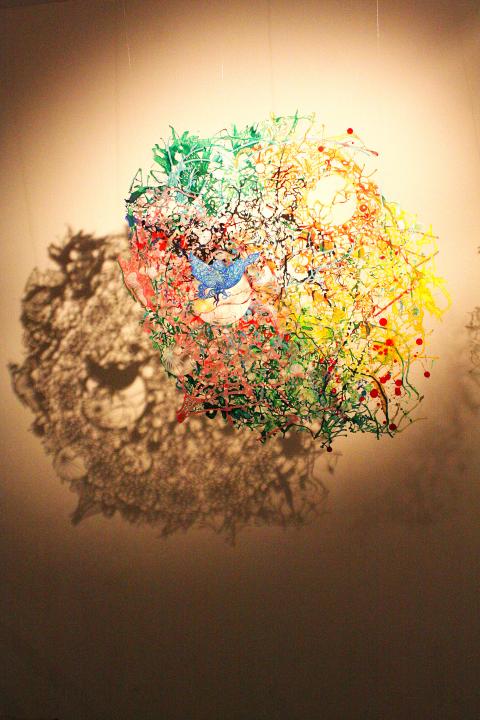 Photo courtesy of Suho Memorial Paper Museum
Motifs seen in Budden's complex, lacelike artwork include butterflies, steam wafting from hot bowls of beef noodle soup and cockroaches.
One work shows moped riders being swept away by torrents of water during a typhoon. Budden was struck by drivers who continue to speed recklessly even after roads have flooded and television news segments in which reporters put their safety at peril to venture into hazardous conditions and tell viewers the obvious ("It's raining!"). Another papercut recounts the time Budden and his friend were forced to climb a tree to escape an angry wild boar after getting lost while hiking in Jinguashih (金瓜石).
Most of Budden's papercuts are created from red or black paper backed with silk and have to be carefully planned in advance so the delicate designs will not tear or warp once they are completed and hung. One work, Butterfly Blast!, which features so many of the winged creatures that Budden has lost count, took six weeks to design and about 10 to 12 days to cut.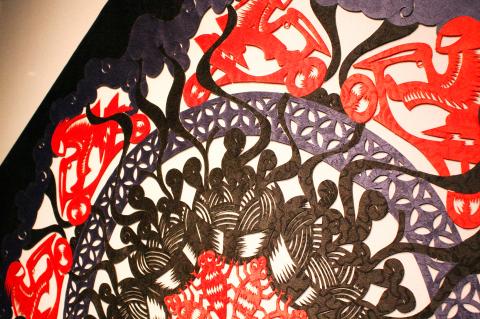 Photo courtesy of Suho Memorial Paper Museum
Budden is now experimenting with a more freeform technique inspired by colorful beach rocks and leaf skeletons he found during a trip to Hualian. He begins by spilling acrylic paint on paper and blowing on it through a straw so the colors run together.
"When it dries, you get these fantastic patterns," says Budden. The random shapes and lines inspire the different shapes Budden cuts into the paper. On first glance, it is hard to discern what each individual detail is supposed to depict. When the papercuts are hung up and a light shone through them, however, the artwork casts strong, defined lines against the wall, allowing viewers to pick out butterflies and 24 different kinds of beetles.
"You can see one image when you look at papercutting and something completely different behind it," says Budden. "Shadows for me are full of secrets.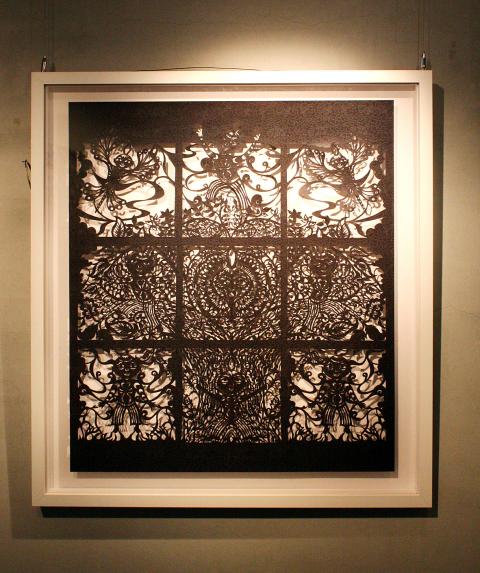 Photo courtesy of Suho Memorial Paper Museum
ets."
Publication Notes
Exhibition Notes
WHAT: Through Western Eyes by Tim Budden at Suho Memorial Paper Museum WHEN: Until March 24. Open Mondays to Saturdays from 9:30am to 4:30pm. The museum is closed for the Lunar New Year vacation from Sunday to Jan. 26 WHERE: 68, Changan E Rd Sec 2, Taipei City (台北市長安東路二段68號), tel: (02) 2507-5535 ADMISSION: General admission is NT$100 ON THE NET: www.suhopaper.org.tw, timbudden.blogspot.com
Comments will be moderated. Keep comments relevant to the article. Remarks containing abusive and obscene language, personal attacks of any kind or promotion will be removed and the user banned. Final decision will be at the discretion of the Taipei Times.