The school of hard walks
Forty schoolchildren and 11 company 'newbies,' 459km from Pingtung County to Taipei City Hall in 36 days, plus 17 performances — the logistical nightmare that begins tomorrow will be more than just another walk in the clouds for U-Theatre
Years ago, Taiwan's Zen drumming troupe U-Theatre (優人神鼓) became famous for three things: drumming, reclusiveness and marathon walks.
The troupe is even more famous for its drumming and its walks now, both at home and abroad, but the reclusiveness is a thing of the past.
Over the past few years, U-Theatre has embarked on a serious of ambitious outreach programs to schools and communities in Taipei and central Taiwan and beyond, and many people from their legion of fans have taken part in their walks or contributed support along the way.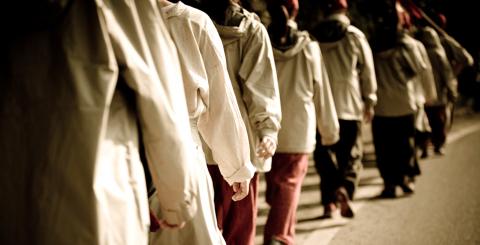 U-Theatre members on one of their long walks.
Photo Courtesy of U-Theatre
Three-and-a-half years ago, U-Theatre set off on an around-the-island walk to mark its 20th anniversary — a sort of coming-of-age ceremony.
Tomorrow, the group is launching another long walk, though only half as long, to mark the transition to "adulthood" (ie, full membership) for 11 people recruited last fall so that the troupe could fulfill its exhaustive schedule of performances this spring at the Taipei International Flora Expo.
"We always send newcomers on the road," company founder and artistic director Liu Ruo-yu (劉若瑀) said during an interview in Taipei on Saturday, adding: "You aren't really a full member until you have done a walk."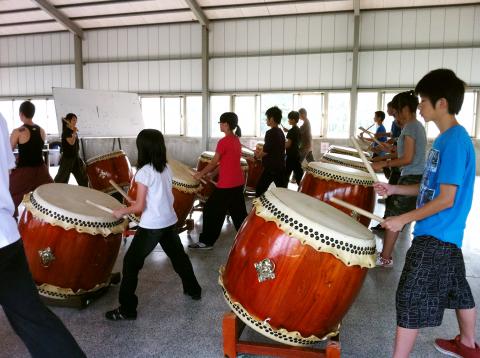 A U-Theatre member teaches a drumming class for youngsters.
Photo Courtesy of U-Theatre
The walks are used as a kind of meditation and training, Liu told the Taipei Times in an interview after the 2008 walk.
"We use the walk to stop, to have quietness of mind," she said, adding that when you walk you hear the cars and the sounds around you, "but inside it's quiet … when you are walking your brain is still thinking."
This year's walk may not be as arduous as the last one, but the company's goals for it are far more ambitious. Liu and her team are hoping it will help them on their path to revolutionizing the education system in Taiwan for troubled youngsters and juvenile delinquents.
Taking part in the walk — though not the entire 36-day trek — will be about 40 students from various schools in Changhua, Yunlin and Nantou counties, who will be walking four hours a day and getting a lift the rest of the way. Most are in junior high school, three are in the final year of elementary school and two are in high school. Each county's "team" will walk for 12 days and then "pass the flag" to the next county.
All the students will join tomorrow's launch ceremony in the Donglong Temple (東隆宮) in Donggang (東港), Pingtung County, that starts at 7am and ends at 8am as the walkers depart. The youngsters will join up again for the final day's walk into Taipei on Dec. 31, just in time for U-Theatre to join in the New Year's Eve Countdown party at Taipei City Hall plaza.
The troupe's performance and planning manager, Yu Fei-ling (余翡苓), said Liu originally had the idea of 100 kids and a 100-day walk, but that was too ambitious for both school principals and parents to countenance. Liu also wanted a summertime walk so the children wouldn't have to miss any classes, but that was discounted because of the heat and health concerns.
In the end, U-Theatre was able to convince a handful of school principals, plus several dozen parents or guardians, to agree to a 12-day walk for each group of children. While the youngsters will only be walking for a portion of the day, the troupe has worked out a full schedule of group games and other educational activities for them, including some meetings with well-known environmentalists and entertainers.
The troupe and the students will be walking for far more than their own benefit. They will be promoting a massive undertaking the company has launched — to help build a "professional children's school" where troubled youngsters can receive training in the performing arts or learn other skills such as cooking, carpentry and mechanics to equip them with a trade by the time they graduate.
Liu came up with the idea last year — the second year of a project for school dropouts that the company was invited to work on with the Shiny Boy School (晨陽學園) in Changhua County, which has about 20 students considered juvenile delinquents.
The idea is to help youngsters before they get into serious trouble with the law. On Saturday, Liu quoted the company member who was teaching the class at the Shiny Boy School: "If we can teach them now they won't end up in prison. Maybe they don't like to study, but they can do other things."
Liu and the company have already seen how drumming, martial arts and meditation classes helped students in the program they began at a high school behind their office in Taipei's Muzha (木柵) area.
"When we started to teach at the school in Taipei, the students started to like to study, even if they hated junior high, and all of them [from the first class in the program] graduated and all went on to college," Liu said.
Liu has also been inspired by a group near Sun Moon Lake that U-Theatre has performed at fund-raisers for: the Liang-shean Tang Social Welfare Foundation (良顯堂社會福利基金會), founded by "Grandma" Chen Cho (陳綢阿嬤).
"She [Chen] is 80 years old, but she has taken in all these 'bad' kids over the years and kept them," Liu said, adding that now the Corrections Department has decided to help Chen build a school for about 100 youngsters who have entered the legal system, but haven't ended up in prison yet.
Liu said that in Taiwan there are several performing arts schools, but they are for good students who already know what they want to do.
"We want to give troubled students a chance to see, to interact with the performing arts. In Taipei there are wealthy parents who can buy a better education for their kids, take them to see the arts, but in the countryside the parents have very little money and very little chance to see the arts. Many families in central Taiwan have problems — there are families with single parents or where the grandparents are raising the children," she said.
"First, we have to get the students; second, the school; and third, we will do performances," Liu said, adding that the short-term goal is to take 50 Aboriginal youngsters from Changhua, Nantou and Yunlin counties for a walk along the east coast in the spring of 2013.
For now, Liu's dream is to build a performing arts/vocational school in Nantou County, but the really long-term goal is to have a school like this in every county in Taiwan so that students wouldn't have to live far away from their families.
"This walk will help promote the idea … Now we are working with the principal of Beidou Junior High School (北斗國中) in Changhua County — he has an open mind and the courage to cooperate with us. He's allowing some students to join the march," she said.
U-Theatre calls its walks yunjiao (雲腳, "cloud feet"), but they could be described as self-awareness or mindfulness treks.
A few of the elder members of the troupe will act as leaders for the "newbies" and the students, while other company members will join in between performances for the Beyond Time (時間之外) tour to Chiayi, Greater Taichung and Greater Kaohsiung as their schedule allows.
If the walking isn't enough, there will also be 17 performances at schools along the way, most of which will be free. A complete listing of the dates and locations of the shows can be found on the company's Web site in Chinese only: www.utheatre.org.tw.
For families and friends who want to keep up with the walkers from the comfort of their own homes, the Industrial Technology Research Institute has provided an iBike mobile positioning system so the troupe's progress can be followed via the Internet. Yu says photographs from each day and each activity will also be posted on the troupe's Web site.
Publication Notes
Walk Schedule
11/25 Donggang, Pingtung County 11/30 Greater Kaohsiung 12/02 Greater Tainan 12/06 Chiayi County 12/11 Yunlin County 12/13 Changhwa County 12/15 Greater Taichung 12/18 Nantou County 12/23 Hsinchu City 12/25 Miaoli County 12/27 Taoyuan County 12/28 New Taipei City 12/31 Taipei City
Comments will be moderated. Keep comments relevant to the article. Remarks containing abusive and obscene language, personal attacks of any kind or promotion will be removed and the user banned. Final decision will be at the discretion of the Taipei Times.