Harmonies for harmony
The 10th edition of Daniel Pearl Day will feature live music, food and an inspiring message from the slain journalist's parents
This Sunday is the 10th annual Daniel Pearl Day music concert in Taipei, one of more than 1,000 such events worldwide. Around 20 groups will play on two outdoor stages between 1pm and 10pm at a free concert at Huashan Grassland (華山大草原).
Festivalgoers can expect to hear a wide range of genres: rock, reggae, folk and blues. Bands on the lineup include Kou Chou Ching (拷秋勤), Hang in the Air (盪在空中), High Tide, David Chen and the Muddy Basin Ramblers, Funky Brothers (放客兄弟) and — all the way from the Bronx — high-energy antics from Skerrit Bwoy, the daggering hype man of Major Lazer [see The Vinyl Word on page 15].
The event will host special guest Todd Mack, who will perform with Blues Vibration. Mack was a close friend and former bandmate of Wall Street Journal reporter Daniel Pearl, whose brutal murder by extremists while on assignment in Pakistan in 2002 is commemorated by this event. Since its start that year, the worldwide concerts have grown to attract major musicians and bands, including Sting, Linkin Park and REM.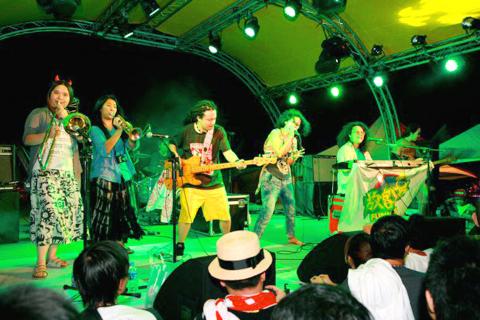 The Funky Brothers.
Photo Courtesy of Daniel Pearl Day
Although Daniel Pearl Day is a fun event, it also has serious intentions, including the promotion of "harmony for humanity" and strengthening a sense of community.
Mack says that from a young age, he has been "obsessed by the way music is a kind of power, like running water."
"I wanted to not just create music but harness it, use its power. Danny believed in this. [His murder] was a call to action … I needed to try to make a difference with music," he says.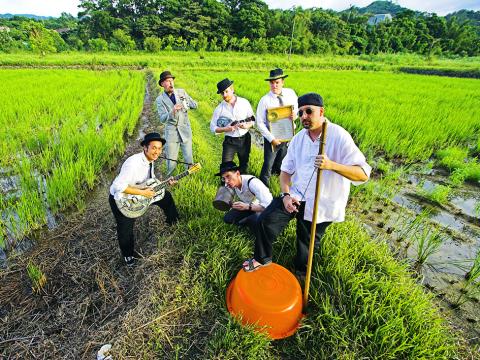 David Chen and the Muddy Basin Ramblers.
Photo Courtesy of The Muddy Basin Ramblers
Taipei has been hosting Daniel Pearl Day events since the beginning. After Mack founded an association called Friends of Danny (FoD) in 2005, its first international tour date was in Taiwan. He said the trip showed that his concept translated to other cultures.
"We go where the love is, go anywhere that people express an interest," Mack says.
That sentiment led the organization to Israel and the West Bank last year.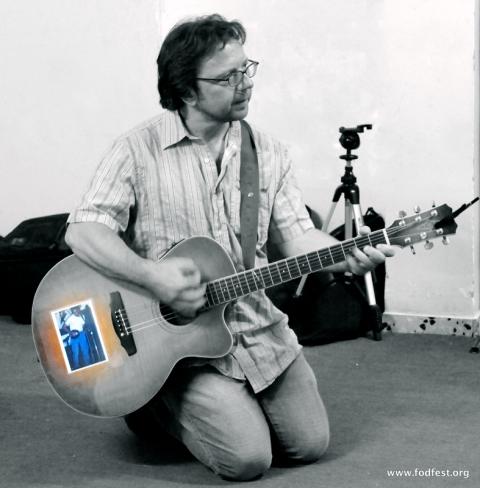 Todd Mack, friend of Daniel Pearl, carries on a legacy of promoting harmony for humanity in Tapei on Sunday.
Photo Courtesy of Todd Mack
"Israel is a great example of bringing people together through music: Jews, Arabs, Israelis, Palestinians come together and be a part [of a musical event]," Mack says. "That's the beginning of a conversation — that's the seed, and from that anything is possible."
"When you are at a park listening to a band, feeling relaxed and comfortable with those around you, young and old, foreign, local … you are becoming part of the solution," he says.
Sean Scanlan, an organizer of Taipei's Daniel Pearl Day for the past decade and a freelance reporter who has lived in Taiwan for 12 years, agrees with Mack.
Taimaica Soundsystem.
Photo Courtesy of Daniel Pearl Day
"Every year there are a lot of journalists killed," he says. "There are a lot of reasons to support Daniel Pearl Day. I don't want to beat people over the head with it. People come to have a good time, but music is something people can share in common."
Scanlan's commitment to the event is influenced by the continued contact he's had with Ruth and Judea Pearl, Daniel's parents. "It was important that someone in Asia would do something, that it be international," Scanlan says.
In a statement that will be read out on Sunday, Daniel Pearl's parents say: "Your music will resonate today in sharp defiance of the forces that took our son's life, and will reinforce our unshaken conviction that, at the end of the day, music will triumph and humanity will prevail."
THE LINEUP
Roots Stage
1pm Two Acres Plowed
1:30pm Opening Ceremony
2pm BoPoMoFo (ㄅㄆㄇㄈ)
3pm Funky Brothers (放客兄弟)
4pm Passiwali (巴西瓦里)
5pm Les Enveloppes Rouges (紅包)
6pm Dark Eyes (夜暮之眼)
7pm David Chen and the Muddy Basin Ramblers
8pm FoD with Blues Vibration
9pm Jam with Butter
Rock 'n' Reggae Stage
1:30pm Mary Bites Kerry (瑪莉咬凱利)
2:30pm Skycruiser
3:30pm The HJs
4:30pm Taimaica Sound System (台買加音效組織)
5:30pm High Tide
6:30pm Pan Africana
7:30pm Skerrit Bwoy
8pm Kou Chou Ching (拷秋勤)
9pm Hang in the Air (盪在空中)
Publication Notes
Performance Notes
What: Daniel Pearl Day Mid-Autumn Festival (丹尼的音樂節) When: Sunday from 1pm to 10pm Where: Huashan Grassland (華山大草原), 27 Linsen N Rd, Taipei City (台北市林森北路27號) Getting there: This new venue is located at the intersection of Beiping East Road and Linsen North Road. The nearest MRT station is Shandao Temple Station (善導寺捷運站) Admission: Free On the Net: tinyurl.com/3qkggh9
Comments will be moderated. Keep comments relevant to the article. Remarks containing abusive and obscene language, personal attacks of any kind or promotion will be removed and the user banned. Final decision will be at the discretion of the Taipei Times.