Music: Jazz wanderers
Like classical or rock music, jazz and its sub-genres tend to inspire heated debates among fans, musicians and critics. There are those who say swing is king. Others believe that bebop is the pinnacle of the art form. Some decry avant-garde and free jazz as just a bunch of noise.
Saxophonist and composer Louis Goldford and his bandmates in the Taipei-based jazz quintet Flaneur Daguerre know such arguments often lead to a dead end.
"So we think the best thing to do is to laugh at it," said Goldford, a 27-year-old American expat from St Louis. "That's kind of what we do. We bring humor into that sort of political fight."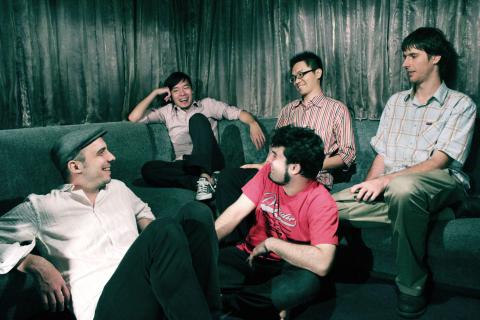 Jazz quintet Flaneur Daguerre launches a new CD with three shows this weekend.
Photo Courtesy of Taipei International Jazz Festival
Flaneur Daguerre certainly sounds as if it was having fun on its playful and boisterous debut album Big Big Intersecting Clusters, which has just been released. The band is celebrating with a run of shows in Taipei this weekend.
It's tough to pin down Flaneur Daguerre's style, which flows from free jazz to bebop, with Balkan gypsy folk and rock occasionally thrown into the mix.
The band's eclectic tastes are showcased by Mrs. M. Milkoholic, composed by the group's pianist Martijn Vanbuel. The tune starts off as a ragtime piano piece, morphs into a loungey swing jazz song and then grows into a musical showdown between Vanbuel and drummer Lin Wei-chung (林偉中), who tries to throw the pianist offbeat by playing like a rock drummer. Vanbuel winds up speeding up the tempo but never loses his cool, which helps to create the song's cartoonish charm.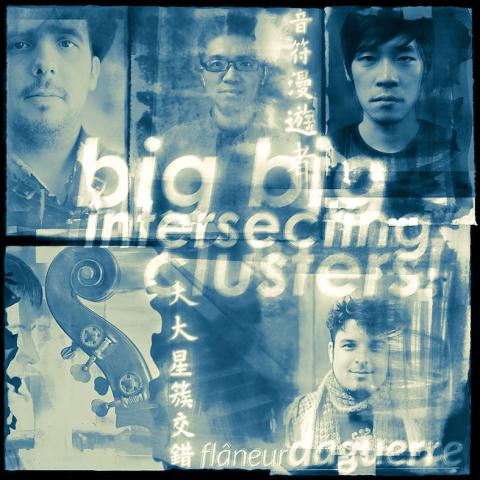 Flaneur Daguerre's debut CD is a boisterous and eclectic collection of original material.
Photo Courtesy of Taipei International Jazz Festival
Then there are cinematic songs like Goldford's composition Huadong Highway (花東公路), which depicts a scary ride on Taiwan's main East Coast highway, complete with frenzied car horn sounds provided by accordionist Lionel Pinard and funky, angular bass lines from Kelvin Chuang (莊嘉維).
While it might sound like jazz musicians having a good time goofing around, there happen to be a few scholarly ideas behind the band's music. Goldford, who majored in both music composition and economics at university, says one of his main inspirations for starting Flaneur Daguerre was the early 20th-century German philosopher and social theorist Walter Benjamin.
Benjamin, considered an influential voice in cultural criticism, wrote about city life in Paris during the 19th century and the bourgeois flaneur, which Goldford describes as a "wanderer who walks the streets and observes culture."
And just as the flaneur examined every day life from afar, the daguerreotype — an early photographic printing process invented by Louis Daguerre — captured and preserved it. As Goldford writes in Big Big's liner notes, Benjamin saw the daguerreotype as having the ability to "arrest and capture time in a powerful new way."
"Without music involved, we've always felt like flaneurs," Goldford told the Taipei Times, pointing to his experience and that of bandmates Vanbuel and Pinard as foreigners in Taiwan. Adding "Daguerre" to the band name just "sounded cool," he added.
As for the music, Goldford sees his group's compositions as akin to a collage of images plucked from different places and different time periods. "I think of our set lists as a constellation of different musical entities that were taken out of their contexts and put right next to each other," he said.
Indeed, the album offers a dynamic mix: Imbroglio is an homage to avant-garde jazz musician Steve Lacy, Circus Songs plays with stereotypical circus melodies and Nice Kitty has 15th-century choral music meeting 1950s Latin jazz.
In this sense, the band members are "wandering the streets of different musical cultures," Goldford said.
Another reason Flaneur Daguerre was created was to provide a much-needed creative outlet for the band's five members, some of whom make a living with artistically unfulfilling gigs such as corporate events and weddings.
"It's kind of a relief for us to be able to play this stuff," said Goldford, "and to be able to recognize that musical experience isn't just about hearing the most pleasant sounds possible."
Here's one song from the band's repertoire that you're not likely to hear at a wedding: a mash-up of Thelonius Monk's Bemsha Swing and Nirvana's Smells Like Teen Spirit. Goldford says the idea came about when Vanbuel accidentally discovered that the two songs shared similar chord changes.
Never mind that one is a classic jazz standard and the other a rock song.
"It's all good music," Goldford said. "We can learn about one music by playing another."
Publication Notes
Event notes
Flaneur Daguerre CD release concerts WHEN: Tomorrow at 2:30pm Where: Taipei Philharmonic Orchestra's Reykjavik Lab (雷克雅維克實驗室), B1, 7, Jinan Rd Sec 1, Taipei City (台北市濟南路一段7號B1) DETAILS: Admission is NT$250 in advance (tickets available online by visiting bit.ly/nUBA8V), or NT$400 at the door. Children especially welcome to this performance WHEN: Tomorrow at 10:30pm WHERE: Sappho de Base, B1, 1, Ln 102, Anhe Rd Sec 1, Taipei City (台北市安和路一段102巷1號B1) DETAILS: Admission is NT$100, or NT$400 with a CD WHEN: Sunday at 8pm WHERE: Marsalis at the Home Hotel, 3F, 90 Songren Rd, Taipei City (台北市松仁路90號3F) DETAILS: Admission is NT$150, or NT$400 with a CD ON THE NET: www.flaneurdaguerre.com
Comments will be moderated. Keep comments relevant to the article. Remarks containing abusive and obscene language, personal attacks of any kind or promotion will be removed and the user banned. Final decision will be at the discretion of the Taipei Times.