Works in progress
Katsumi Hayakawa's small and medium-sized paper sculptures ruminate on the virtual and concrete relationship between computer microchips and urban environments
Japanese artist Katsumi Hayakawa still recalls his reaction to Powers of Ten, a documentary he watched in junior high school that depicts, by positive and negative factors of 10, microcosmic and macrocosmic views of the known universe. The broad range of visual perspectives was, for Hayakawa, a revelation.
"I was shocked by what I saw," he told the Taipei Times on Saturday. "You see the Earth, then the solar system, then the galaxy and then the universe and then it returns to the Earth and the camera shows [human] skin and then goes inside the body and becomes microscopic. It shows that what is outside and inside the human body are [interconnected]."
The documentary, written and directed by Charles and Ray Eames, who both made important contributions to contemporary architecture and design, "seems to contain the same ideas found in Buddhism," Hayakawa said, referring to the notion that all phenomena are interconnected.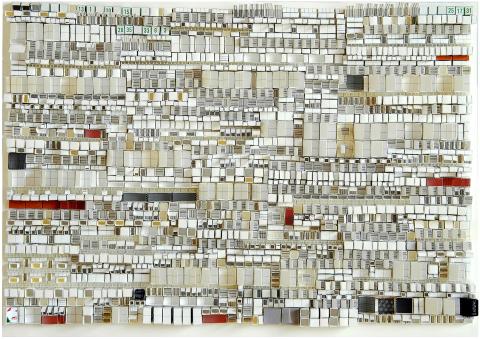 Katsumi Hayakawa, Hakomono — Box 1 (2010).
Photo courtesy of Nou Gallery
Hayakawa referenced the documentary to explain the ideas found in Urban Landscape, a series of 15 paper sculptures encased behind polymer casings and hung like paintings that are currently on view at Nou Gallery (新畫廊). Thankfully, knowledge of the universe or Buddhism isn't required to enjoy them. The flat and built-up works ruminate on the visual similarities between electronic circuitry and urban environments, or the relation between simulated reality and concrete space.
Hayakawa, 40, is more commonly known for his geometric paintings in a style that could be called "virtual abstraction." Tiny circles and squares in primary colors are linked by dark horizontal and vertical lines that make the works look like the inside of an integrated circuit. Each canvas contains several layers of paint that are etched to create the illusion of depth.
But Hayakawa was dissatisfied with the medium's inherent flatness, and so he decided two years ago to shift to sculpture — a move, he said, that was initially fraught with difficulty because it received little support from galleries.
Katsumi Hayakawa, Reflection 3 (2011).
Photo courtesy of Nou Gallery
"They told me that [paper] is hard to preserve and therefore difficult to sell," he says.
Three formative sculptures made last year hang at the back of the gallery, and this reviewer suggests viewers look at them before moving to the front to see the 12 works made this year. Two of these sculptures, Hakamono — Box 1 and Composition 3, are of particular interest because they serve as a kind of blueprint for the rest of the sculptures on display.
Hayakawa's non-representational sculptures are built up using cubes or squares that he pastes onto watercolor paper. Hakamono — Box 1 (2010) is a single layer of these variously sized cubes pasted onto paper. The simple design and neatly arranged rows give the cubes and squares the appearance of capsule hotels or coffin-sized apartments, both features of Japan's densely populated urban centers.
Whereas Hakamono — Box 1 uses cubes as its primary design element, the larger Composition 3 (2010) presents several vertiginous layers of square frames that grow more and more complex. It looks like scaffolding that has collapsed and then been randomly pieced back together. The arbitrary, almost erratic, profusion of shapes jutting out from the surface forces the eyes to continually search in vain for a place to fix on — perhaps a metaphor for our information-overloaded times.
Hayakawa's 2011 sculptures are refined versions of his earlier creations. Traffic is similar to Composition 3, though the large blank spaces at the bottom of the canvas, revealing traditional Japanese paper, offer some visual respite. Traffic — Blue Lines does the same, and gives us a sense of Hayakawa's influences with its Mondrian-inspired visual language and high-tech building design, which reminded me of France's Pompidou Center.
Many of the other 2011 works appear to be trial models for as yet uncreated works. Reflection 3 is an assemblage of tiny, mirrored cubes that focus on line and reflection and the blurring of the two. Transcolor 2, with its colored lines discernable through a matrix of rectangles, experiments with holography, depth perception and the illusion of space.
The fact that Hayakawa has focused his artistic attention on sculpture for only a few years lends many of these works the appearance of sculptural experiments, which translates, for this reviewer, into incomplete artistic concepts. Still, Hayakawa is on to something here, and the fact that I can't quite put my finger on exactly what shouldn't discourage people from visiting the gallery to view his extremely original artwork.
Hayakawa has also designed a public art project with Nou Gallery, to be held throughout the exhibit period. Dubbed Create Dream City With Katsumi, visitors are invited to create their own "dream home" using Hayakawa's trademark cubes and cutout squares. Each participant is given a square piece of watercolor paper on which they are directed to erect their sculpture. The works are then affixed to a large canvas, which hangs at the back of the gallery space.
Publication Notes
Exhibition Notes
What: Urban Landscape: Katsumi Hayakawa Solo Exhibition (紙間風景:早川克己個展) When: Until June 19 Where: Nou Gallery (新畫廊), 232, Renai Rd Sec 4, Taipei City (台北市仁愛路四段232號), tel: (02) 2700-0239. Open Tuesdays to Sundays from 11am to 7pm On the Net: www.nougallery.com
Comments will be moderated. Keep comments relevant to the article. Remarks containing abusive and obscene language, personal attacks of any kind or promotion will be removed and the user banned. Final decision will be at the discretion of the Taipei Times.