Urban Nomad: Nights at the movies
Urban Nomad Film Fest (城市游牧影展) continues its partnership with Spring Scream (春吶音樂祭) with the underground film festival screening movies at a side stage for the third year.
In a prelude to the 10th edition of the main Urban Nomad at the end of this month, Urban Nomad at Spring Scream will serve as a laid-back video party at the campground in Oluanpi Lighthouse National Park.
According to its cofounder David Frazier (formerly a reporter at the Taipei Times), the festival will focus on animation and music videos.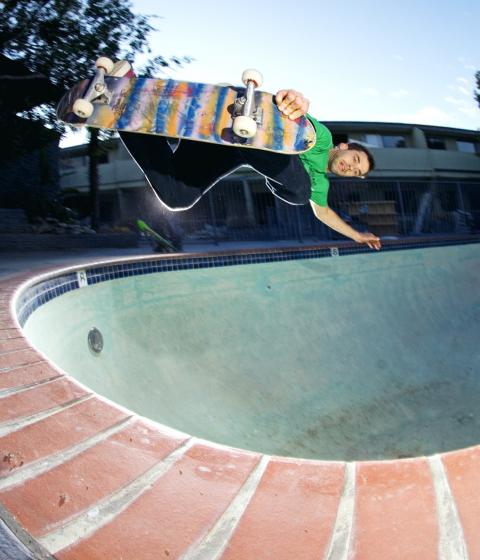 Death Bowl to Downtown, by Coan Nichols and Rick Charnoski.
Photo Courtesy of Urban Nomad
"The audiences will be overloaded with too much music," Frazier said. "We want to provide something simple they can watch."
Frazier intends to mix the short films from the Urban Nomad repertoire with music videos by bands playing at Spring Scream. He has 700 gigabytes of short films to choose from and intends to improvise partially. Three titles have already been short listed.
Abaddon is a 52-minute visual album produced by The Corrupted (Paul Kemp and Gareth Murfin). The film, which features non-stop mind-blowing animated images, was screened last year at Urban Nomad and caught the attention of Taiwan indie band Loh Tsui Kweh Commune (LTK, 濁水溪公社). The band's lead singer Hsiao-ko (小柯) later commissioned The Corrupted to direct the music video for LTK's 2010 single Take That, My Love (情人看刀).
Deathbowl to Downtown, directed by American documentary makers Coan Nichols and Rick Charnoski, chronicles the development of skateboarding through "street skating" in the 1990s.
Blood Shed is a horror short based on an article from the skateboard magazine Thrasher. The story follows a group of kids who skate at a house inhabited by a satanic cult, and then gleefully crashes into B movie delirium.
"There will be no plot and no emotional involvement," Frazier promised. "It's just a place for people to relax."
Publication Notes
FESTIVAL NOTES
WHAT: Urban Nomad Film Fest (城市游牧影展) WHEN: April 1 to April 4, 7pm to 1am WHERE: Campground, Oluanpi Lighthouse National Park (鵝鑾鼻燈塔國家公園) ADMISSION: Free. ON THE NET: www.springscream.com/content/urban_nomad_film.php and urbannomadfilmfest.blogspot.com
Comments will be moderated. Keep comments relevant to the article. Remarks containing abusive and obscene language, personal attacks of any kind or promotion will be removed and the user banned. Final decision will be at the discretion of the Taipei Times.