TECHNOLOGY REVIEWS Macbook Air 11-inch and 13-inch
Apple has upped the ante for making personal computing more fun and portable with the touch-friendly iPad, but that doesn't mean laptops are out of the game.
Notebook computers only continue to get lighter and thinner, and Apple's newest versions of the Macbook Air offer alluring choices for those looking for an "ultra-portable" machine.
The new Airs, which went on sale in Taiwan last month, are even sleeker and more solidly constructed than their predecessors.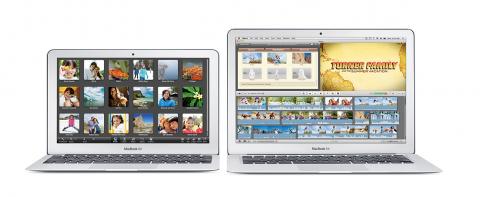 The new 11-inch and 13-inch Macbook Airs.
Photo courtesy of Apple Inc
The newly introduced model with an 11.6-inch screen is Apple's smallest Macbook to date, and its svelte shape will make you think twice before considering a netbook.
That is, if price isn't a limiting factor. With the new models starting at NT$34,900 for the 11-inch and NT$44,900 for the 13-inch (actual screen size 13.3 inches), you are paying more for the weight, or rather the lack of it, in comparison to Apple's other Macbook models.
The 13-inch Air is indeed very light, weighing 1.3 kg, but even this seems oversized compared with the 11-inch, which truly deserves to be called ultra-portable, weighing 1.06kg. The 11-inch model, which measures 30cm by 19cm, comes close to the iPad's size.
On paper, the Macbook Airs look underpowered compared with the Macbook Pros — the 11-inch model is equipped with a 1.4GHZ Intel Core 2 Duo processor, while the 13-inch model is 1.86GHZ.
Yet these machines run surprisingly fast. Most programs open in seconds, and for basics like using word processing software, Web surfing and editing and managing photos, the Airs feel as quick and smooth as any of the latest high-powered laptops.
Boot-up times are quick, too — both the 13-inch and 11-inch models that Apple loaned to the Taipei Times started in less than 16 seconds. Both also wake up from sleep instantaneously.
Given the relatively low processor speeds and the 2GB RAM included on both models, I was surprised how zippy these computers felt when playing around briefly with resource-intensive programs like iPhoto and iMovie.
A lot of this speed owes to flash storage. With the Macbook Air, Apple has done away with hard drives and switched to flash chips, which read and record data faster.
In fact, flash memory steals the show on the Macbook Airs. It takes less physical space than a hard drive, which allows for the Airs' ultra-thin size. Flash is also more durable — it doesn't have moving parts like the hard drive's spinning platter. If your computer gets dropped or roughly handled, you're less likely to lose data.
And flash storage benefits battery life: Apple claims seven hours for the 13-inch Air and five hours for the 11-inch.
I got slightly shorter times with the models loaned from Apple. I used the 13-inch as my main computer for several days, spending much of my time word processing, surfing the Web, listening to iTunes and doing some light photo editing using Google's Picasa, and managed almost six-and-a-half hours of battery life on a single charge.
I was impressed, given that part of this time included sitting in a park for several hours on a rare sunny afternoon in December, during which I wrote parts of this review (screen brightness turned all the way up) and surfed the Internet using a Bluetooth connection with an iPhone.
With the 11-inch, I clocked around four hours and 15 minutes doing the same tasks, without the Bluetooth tethering. Another time I only got three-and-a-half hours, but two of those hours were spent making video calls on Skype and Facetime.
The flip side to flash memory is that it's expensive and means less storage space for your files. The 11-inch Air comes with 64GB, which makes that NT$34,900 price tag seem pretty steep. By comparison, the basic white Macbook is the same price and you get 250GB of storage space.
The basic 13-inch model comes with 128GB for NT$44,900. You can upgrade storage on the 11-inch to 128GB, which raises the price to NT$40,900, and the 13-inch to 256GB for a total of NT$55,900.
Besides the price, some old trade-offs from the previous generation of Macbook Airs remain with the new models. There's no DVD player or Ethernet port — both are accessories that you'll have to buy separately. And because of the Macbook Air's hardware design, you can't upgrade the RAM by simply opening up the computer as you would on most other laptops; it has to be special ordered. (You can upgrade the RAM from 2GB to 4GB on both 11-inch and 13-inch models for an additional NT$3,465, something to consider if you plan to do a lot of photo or video editing.)
Apple also took away a feature some users will miss — the backlit keyboard — but it added a few helpful others. There's now an extra USB port, with two outlets on both the 11-inch and the 13-inch, placed on opposite sides. Both models come equipped with the same glass multi-touch trackpad on the Macbook Pros, which doubles as a click button. And the 13-inch Air now has an SD card slot. (Sadly, there is none on the 11-inch.)
It's worth remembering that the Airs tout all of the standard perks of the Macbook line: Apple's stable OS X operating system (which is easily installed with the included USB drive — no DVD needed), the iLife '11 software suite, which includes iPhoto and iMovie, and the multi-touch capabilities on the trackpad, which are the best around when it comes to laptop computers.
You'll have to perform a juggling act if deciding between the two models. Both are easy to carry, but the 11-inch is undeniably attractive for its diminutive size. Both handle daily computing tasks with ease and acceptable speed, although the 13-inch's faster processor gives it an edge.
The 13-inch is well suited to serve as a main computer, if 128GB or 256GB storage is enough or if you use "the cloud" to store your files. The 11-inch is a tougher call. Its smaller screen and high pixel resolution (1366 by 768) means you'll have to increase the font sizes on some programs. The full-sized keyboard is a joy to type on.
The new Macbook Airs will appeal directly to those looking for portability and performance in an elegant package. But if storage space and price are important considerations, then your choice is up in the air.
Comments will be moderated. Keep comments relevant to the article. Remarks containing abusive and obscene language, personal attacks of any kind or promotion will be removed and the user banned. Final decision will be at the discretion of the Taipei Times.