Across the spectrum
Three gay candidates in the upcoming legislative elections tell the 'Taipei Times' why they deserve public support
The US had Harvey Milk and France has Bertrand Delanoe. And Taiwan? It has three openly gay candidates running in the upcoming special municipality elections.
These would-be legislators — a scruffy gay man who campaigns for eco-friendly agriculture, a slender dominatrix and a veteran feminist activist — demonstrate just how diverse the LGBT (lesbian, gay, bisexual, transgender) community is.
Wang Chung-ming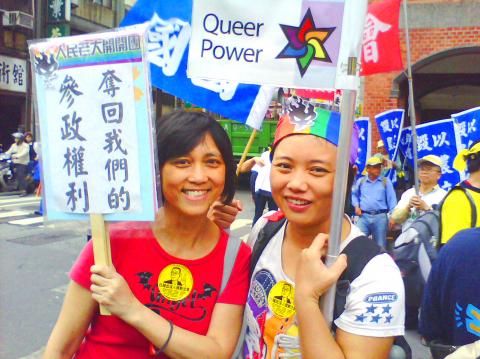 Wang Ping, left, is standing as an independent candidate in upcoming special municipality elections.
Photo: Andrew C.C. Huang
Wang Chung-ming (王鐘銘), a green activist who also campaigns for the rights of deaf homosexuals, is a candidate for the Green Party (綠黨) in the Shihmen (石門), Sanjhih (三芝), Bali (八里) and Tamsui (淡水) districts.
Wang, 32, has worked as a volunteer for the Persons With HIV/AIDS Rights Advocacy Association (愛滋感染者權益促進會) and as a publishing house editor in the past.
He joined the Green Party in 2006, became a member of its Central Executive Committee and helped orchestrate the party's election campaign.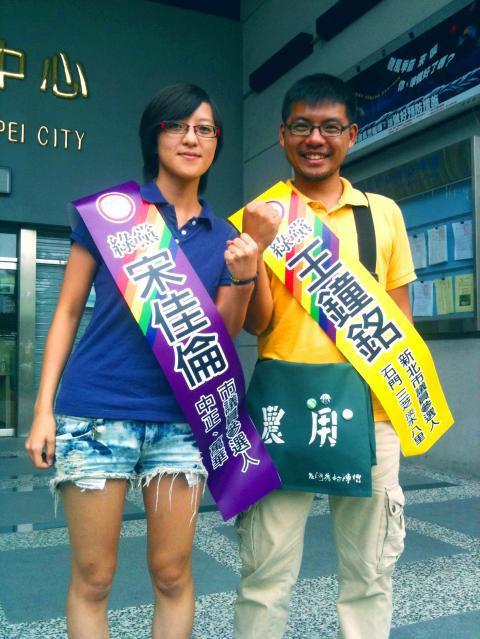 Song Jia-lun, left, and Wang Chung-ming are standing for the Green Party in upcoming special municipality elections.
Photo: Andrew C.C. Huang
"I felt this would be a good year for environmental issues and for minorities," Wang told the Taipei Times. "Earlier this year, I tried to help the party find a gay candidate, but failed. So I decided to take the plunge."
A native of Tamsui, Wang has chosen to eschew gay-friendly policies and concentrate on green agriculture and revitalizing his hometown.
"Gay-friendly policies have been covered by the Green Party already," Wang said.
Wang's platform includes development policies that, he says, would foster a "green" economy and create employment opportunities for Tamsui residents.
"This town has been the 'bedroom' from which we commute to Taipei everyday for employment," he said. "This is not a fully functioning city."
He also aims to turn Tamsui into a center of culture.
"Tamsui has been a very touristy town in terms of its cultural development," he said. "I want to build a cultural zone in which long-term cultural development will be emphasized instead of just turning a quick buck."
Song Jia-lUn
Self-professed dominatrix Song Jia-lun (宋佳倫) is a Green Party candidate for the Zhongzheng (中正) and Wanhua (萬華) districts. At 27, she is the youngest of the three candidates. Originally a summer campaign assistant for Wang, the charismatic Song decided to run in the election herself.
"There are ways to participate in politics if you think it's filthy," she said. "For me, the only way is to dive in and dilute it."
Song grew up on the wrong side of the tracks in a small town in Miaoli County.
"I've tasted poverty," she said. "The only way to participate in the redistribution of resources in society is to participate in politics."
In 2004, Song cofounded the BDSM Company (皮繩愉虐邦), which holds lectures and meetings to raise awareness of and destigmatize sadomasochism.
"I read Japanese BL [boy love] manga when I was young and thought I was a gay man," said Song, who is currently studying at graduate school. "Later on, I became bisexual before settling on being lesbian."
Song's political platform grew out of her personal experience rather than academic learning. She campaigns against contingent employment and exploitation, and supports the rights of the homeless. "When you are broke, you are not that far away from being homeless," Song said.
Song advocates the legalization of the sex industry because, she says, it's fair for people to utilize their "natural talents" to get by.
"If I could take on a job as a dominatrix legally, that would be a highly specialized job with a hefty salary," she said. "Instead, I am forced to toil away in low-pay, contract jobs."
"I want to fight for the rights of the people at the bottom of the capitalist structure and speak for the young people of my generation," Song said.
Wang Ping
Wang Ping (王蘋), secretary-general of the Gender/Sexuality Rights Association in Taiwan (台灣性別人權協會), is an independent candidate in the Da-an (大安) and Wenshan (文山) districts. She is a member of the political discussion group Citizen As Priority Open Club (人民老大開開團).
A native of Taichung, Wang is a well-known LGBT activist who served as the convener-in-chief for the Taiwan LGBT Pride (台灣同志遊行) in 2007.
Wang, now 50, experienced a political awakening while pursuing a master's degree in architecture at the University of California at Berkeley.
"I was a proper and obedient girl growing up in Taiwan," Wang told the Taipei Times.
While in California, Wang would go to People's Park in Berkeley to listen to lectures, or watch films about the civil rights movement in class. "That made me realize I could do something to change the society," she said.
After returning to Taiwan, Wang joined the feminist Awakening Foundation (婦女新知), but later felt ostracized because of her status as a lesbian. She and several of her friends went on to found the Gender/Sexuality Rights Association.
"I felt it was wrong that a feminism group should look down on me because I am a lesbian," Wang said. "I think all the underprivileged groups should coalesce to change the system — Aborigine, gay, lesbian, transgender, sex workers and people living with HIV."
Wang advocates a comprehensive citizens' forum that allows people to voice their opinions, which can later be drafted into policies.
"It's wrong to project your ideals onto a politician and expect him or her to change things for you," Wang said. "People should get involved and let their voices be heard."
Wang takes issue with the Ministry of Education's ban on LGBT clubs in high schools, implemented in March.
"Teenagers are at the stage of experiencing sexual awakening and they need support from their peers," Wang said. "They should be able to form LGBT clubs."
Comments will be moderated. Keep comments relevant to the article. Remarks containing abusive and obscene language, personal attacks of any kind or promotion will be removed and the user banned. Final decision will be at the discretion of the Taipei Times.