Ravi Shankar bids Europe adieu
On the eve of his last ever gig in Europe, sitar giant Ravi Shankar talks about why the 1960s got India wrong, how his daughters give him hope — and why Hendrix annoyed him
If Ravi Shankar has one abiding memory of the Monterey pop festival — which took place in the heady summer of 1967, at the height of his notoriety as the sitar-playing guru to the stars — it is of unfortunate scheduling. Slated to appear before him were Jefferson Airplane, a band whose blues-inflected barrage of pulsating sound couldn't have clashed more with his own karmic composure. And right after him was one Jimi Hendrix, then still a relative unknown, but with a growing reputation for ferocious, turbo-charged guitar solos.
"I thought he was fantastic, but so very loud," Shankar says now, shaking his head. "And then he would do that thing with his instrument when he would open up a can of gasoline and burn his guitar. People went gaga for it; they loved it. But for me, the burning of the guitar was the greatest sacrilege possible. I just ran out of there. I told them that even if I had to pay some kind of compensation to get out of playing the festival, I just couldn't do it." The organizers' solution was to give Shankar his own stage for an altogether more civilized afternoon performance of assorted ragas, during which Hendrix sat quietly in the front row.
SAYING GOODBYE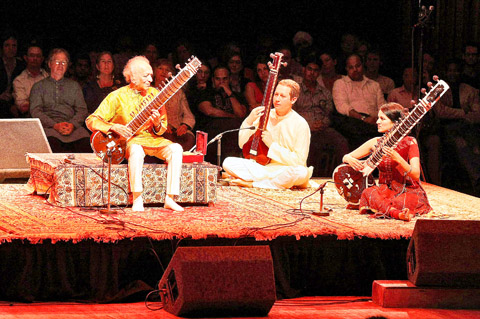 Counterculture luminary and musical pioneer Ravi Shankar, left, performs with his daughter Anoushka, right, last Wednesday during a concert at London's Barbican Centre.
PHOTO: AFP
This predicament highlights what has to be one of the most extraordinary and often bizarre career trajectories of any living musician. Now a venerable 88, Shankar was finally saying farewell to Europe with a tour that culminated at the Barbican in London last week, where he was to perform a selection of specially chosen ragas with his daughter, Anoushka, also a sitar player. Much of the tour had to be cancelled due to a stomach virus. "My mind, musically ... in every sense I feel much better than ever before," he says. "But it is the body that sometimes lets me down."
Meeting Shankar, it's difficult to believe that this diminutive, deferential man has been such a counterculture luminary. His greeting comes in the form of a namaskar, a gracious supplicant bow, and his speech is pitched just above a gentle whisper.
"I really hope I can make a little sense for you," he says, pleading jetlag brought on by the long journey from his adoptive home in southern California.
"I don't adjust quite the way I used to."
It is 50 years since Shankar, already celebrated in his native India, first traveled to Europe and the US, just as a mania for eastern philosophy was taking hold. John Cage was serving up Zen silence to bemused concertgoers, and hippie pioneer Timothy Leary was defending drug use by claiming membership of an obscure Hindu sect. Shankar found himself embraced by everyone from John Coltrane, who named a son after him, to the violinist Yehudi Menuhin; many of his disciples saw him as a sort of spiritual beacon. Most famously, Shankar became the guru who turned George Harrison — and, by extension, the Beatles — on to Indian music, culture and philosophy.
When he met Harrison, in 1966, Shankar knew very little of the Beatles' music: he hadn't heard Norwegian Wood, Harrison's first attempt at composition on the sitar. But the two hit it off. "I loved George as a person," Shankar says. "I gave him his first autobiography of a yogi and that was where his interest in Vedic culture and Indian-ness began. To me, he was something like a son." At first, Shankar reveled in the attention that their association brought. "I was admired by all these hippies," he says, "and it was wonderful playing at Monterey and Woodstock, performing for half a million people."
But he soon became disillusioned.
"I was extremely unhappy about the superficiality of it all, especially the wrong information that Dr Timothy Leary and others were propagating — that everyone in India takes drugs. It was a hodgepodge of Kama Sutra, Tantra, yoga, hash and LSD, while the true spiritual quality of our music was almost completely lost."
SITAR POWER
The focus on Shankar's celebrity friends and admirers, the flower-power years, has too often obscured the hard-nosed musicianship of the man. As is still evident in his performances, he is a sitar player of stunning virtuosity, whose silky, delicate style often explodes into improvisational rushes more dynamic than those of any rock guitarist. His collaborations with Menuhin — duets that feel a little like an east/west variation of Duelling Banjos — rank as some of the most poignant cultural fusions ever written. In India, his compositions have entered into one of the most forbidding musical canons on earth.
He has been a major force for innovation in Indian music. "He has given a new shape and definition to this instrument over the course of the 20th century," says his daughter Anoushka. "He added the bass string that is quite common now. He created the modern notation system for Indian music. The tabla player was never really an important factor until my father made percussion a central part. A lot of what people now consider Indian music can be traced back to him."
Born in 1920 in the holy city of Benares on the Ganges, Shankar began his career at the age of 10, touring the world with his brother Uday's dance troupe — the first to take traditional Indian dance to the west. Shankar might have ended up a dancer were it not for the master instrumentalist Ustad Allauddin Khan, who played with the group. "He used to scold me, saying: 'You will be nothing. You will be jack of all and master of none.' And that shocked me." When the war halted touring, Shankar spent seven years studying sitar with Khan in a remote north Indian village, before emerging in the late 1940s and 1950s to become one of India's most celebrated musicians.
He established himself in the west by hitting the road. Starting out in tiny venues in the USSR, Czechoslovakia and Poland, he was soon packing out the Albert and Carnegie halls. Coltrane approached him to ask for lessons, and began to incorporate Indian instruments into his jazz. "He was getting ready to come to me for six weeks of study when he died [in 1967]," says Shankar.
In the mid-70s, Shankar began to distance himself from the hippy movement — though he seems to have been reluctant to let go of one main principle: free love. During this period, his tangled transatlantic personal life produced two daughters: Norah in 1979, with the American concert producer Sue Jones, and Anoushka in 1981 to his current wife, Sukanya Rajan, whom he pursued while with yet another long-term partner. This all became newsworthy when Norah (Jones) hit the big time in 2002, with her debut album Come Away With Me, and failed to thank her father in her Grammy acceptance speech. "I guess I am not the only person in this position," Shankar says contritely. "It happens to a lot of musicians, actors, writers who become well known and who travel a lot. You are in different countries and you are lonely."
SHANKAR'S LEGACY
After years of estrangement, he is now reconciled with Norah, and Anoushka has become his greatest disciple and hope for the future. At 88, he admits that he finds it difficult not to think of his legacy. "Yes, I have considered it," he says. "I sit with Anoushka and give her new things, information that I didn't give her before. That is what happens with our music — it goes on growing, because it is not written down or set in a book."
Shankar is curiously noncommittal about whether this will be the last time we see him perform. "I've had quite a few 'farewell tours' over the past few years," he smiles. "It sounds like a publicity stunt, but it isn't really. I love to play for people. But traveling has become a hazard — taking off your shoes in airports, and all that sort of thing. So let's hope that this is my last, though in my heart I hope that it is not."
Comments will be moderated. Keep comments relevant to the article. Remarks containing abusive and obscene language, personal attacks of any kind or promotion will be removed and the user banned. Final decision will be at the discretion of the Taipei Times.