Suu Kyi's fate overshadowed by Myanmar cyclone
The icon of Myanmars pro-democracy cause has paid a high price for her fame
The fate of Myanmar's detained democracy leader Aung San Suu Kyi has been overshadowed by the devastation wrought by Cyclone Nargis, but she remains the most powerful rival to Myanmar's junta.
Her house arrest was quietly extended for another year on Tuesday, amid high-profile diplomatic maneuvering to facilitate the delivery of aid to 2.4 million needy storm victims.
The cyclone left more than 133,000 dead or missing, and focused international outrage at the junta's slow and often paranoid response that hindered the flow of foreign aid.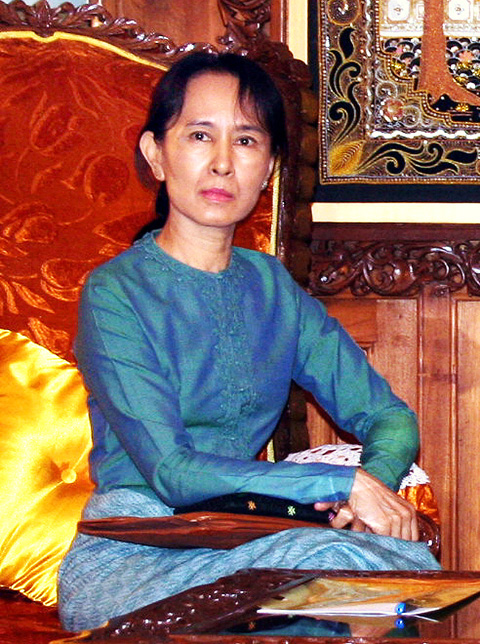 Buddhist monks holding pictures of Suu Kyi and her late father General Aung San, who led the country's independence war, chant during a protest in front of Myanmar's Embassy in Colombo on Tuesday, the day Suu Kyi's house arrest was extended for another year. The protesters demanded that the military junta accept international aid for cyclone victims and release all political prisoners.
PHOTO: AP
Relief agencies say the regime is now opening up the disaster zone to foreign aid workers, even as it keeps a tight lid on Aung San Suu Kyi and her supporters.
Authorities informed her of the latest extension of her detention during a brief meeting at her home, while security forces carried out a neighborhood clampdown and arrested 16 of her supporters — including a 12-year-old boy — who had tried to march to her house.
Five years into her latest period of incarceration, her US lawyer has called the extension of her house arrest illegal under the ruling junta's own laws — but the only Nobel peace laureate in detention has no way of challenging it.
Even though the regime has effectively silenced her, detaining her for more than 12 of the last 18 years, she remains the essential figure in Myanmar's democracy struggle.
The daughter of Myanmar's founding father, General Aung San, launched her political career relatively late after spending much of her life abroad.
A slender woman who prefers traditional clothing and often wears flowers in her hair, Aung San Suu Kyi studied at Oxford, married a British academic, had two sons and seemed settled in the UK.
But when she returned to Yangon in 1988 to tend to her ailing mother, she found the city gripped by protests against the military.
Later that year she saw aspirations for democracy evaporate as soldiers fired on crowds of demonstrators, leaving at least 3,000 dead.
Within days she took on a leading role in the pro-democracy movement, petitioning the government to prepare for elections and delivering impassioned speeches to hundreds of thousands of people at Yangon's Shwedagon Pagoda, the country's most sacred Buddhist site.
In September of 1988 she helped found the National League for Democracy (NLD), an alliance of 105 opposition parties, and campaigned across Myanmar (then officially known as Burma) for peaceful change, mesmerizing huge crowds with her intelligence, poise and rhetoric.
Alarmed by her fearlessness and the support she commanded, the generals in 1989 placed her under house arrest.
Despite being confined to her home, she led the NLD to a landslide victory in 1990 polls. The party won 82 percent of parliamentary seats in a result the junta refused to accept.
Her dedication to non-violence won her the 1991 Nobel Peace Prize, putting her beside Nelson Mandela among the world's leading voices against tyranny.
During a brief moment of freedom, she said in a 1999 interview that the military struggled to accept the very concept of dialogue.
"They don't understand the meaning of dialogue — they think it is some kind of competition where one side loses and the other wins, and perhaps they are not so confident they will be able to win," she said.
The icon of Myanmar's pro-democracy cause has paid a high price for her fame.
As her husband Michael Aris was in the final stages of a long battle with cancer, the junta refused him a visa to see his wife. He died in March of 1999, not having seen Aung San Suu Kyi since 1995. She refused to leave the country to see him, knowing she would never have been allowed to return.
Threats and vilification from the junta, along with years of forced solitude, served only to make her more determined.
Critics see her resolve as intransigence that has contributed to the stalemate, but the woman known in Myanmar simply as "The Lady" remains the most powerful symbol of freedom in a country where the army rules with an iron fist.
She has cast her struggle as part of humanity's greater spiritual battle against tyranny.
"The quest for democracy in Burma is the struggle of a people to live whole, meaningful lives as free and equal members of the world community," she wrote in Freedom From Fear and Other Writings.
"It is part of the unceasing human endeavor to prove that the spirit of man can transcend the flaws of his nature."
Comments will be moderated. Keep comments relevant to the article. Remarks containing abusive and obscene language, personal attacks of any kind or promotion will be removed and the user banned. Final decision will be at the discretion of the Taipei Times.