The magic of the moment
Dirk Diestel finds the best photographs are a matter of being willing to wait to be in the right place at the right time
German photographer Dirk Diestel has become a well-known figure in Taipei's expatriate community in the past three years, snapping pictures at chamber of commerce balls, school fairs and charity events. His work frequently appears in the Community Service Center's Centered on Taipei magazine and he has gained a reputation for photos of Taipei that are perfect for gifts.
But what Diestel really likes to do is take off in the mornings on his 500cc motorbike, camera bag secured in a box on the back, and go exploring. The motorbike gives him the freedom to go anywhere and stop anywhere. The 53-year-old says he's having the best time of his life.
He and his wife Kathrin were living in Ueberlingen, near Lake Constance, where he owned two portrait studios and several photo stores, when she got an offer to be the principal of the German elementary school at the Taipei European School. So in 2005 they moved to Taipei with their three-year-old twins, and Diestel became a house-husband, looking after Jakob and Justus.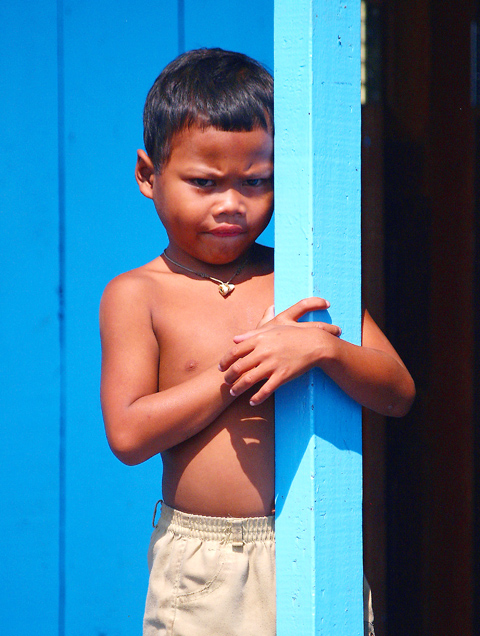 Photographer Dirk Diestel, whose work is currently on display at the German Culture Center, doesn't mind spending hours waiting for the perfect shot.
PHOTO: COURTESY OF DIRK DIESTEL
Living in Taipei has given the Diestels the opportunity to explore Southeast Asia on vacation, and results are now on display at the German Cultural Center Taipei until June 13. The Children of Asia exhibition, a collection of some 100 pictures, was timed to coincide with International Children's Day on June 1.
It is not a "commercial exhibition," he said, "it's from the heart."
Every photographer has their own style, and for Diestel it is portraits.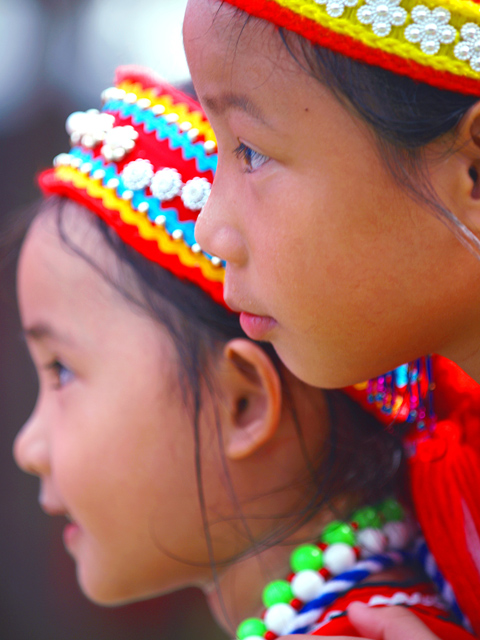 Photographer Dirk Diestel, whose work is currently on display at the German Culture Center, doesn't mind spending hours waiting for the perfect shot.
PHOTO: COURTESY OF DIRK DIESTEL
"Portraits are very natural and that's what I like," he said.
He also favors a telephoto lens, which allows him to stay in the background so his subjects forget he is there.
"The first view should go to the face — that's why telephoto lens with a wide aperture is good. It's impossible to get natural photos if you get up close," he said.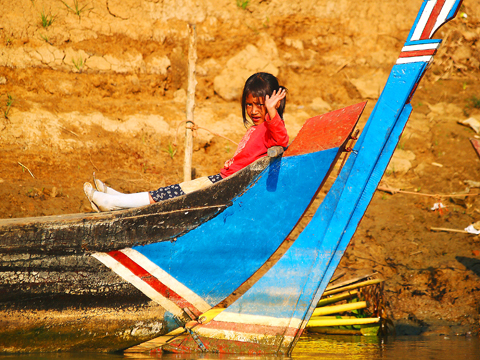 Photographer Dirk Diestel, whose work is currently on display at the German Culture Center, doesn't mind spending hours waiting for the perfect shot.
PHOTO: COURTESY OF DIRK DIESTEL
Diestel left high school a year before graduation, determined to become a photographer. But it took almost eight years before he earned the Masters diploma from the Handworkers guild that was required to legally open a studio.
"The old system in Germany to become photographer, you must find a studio to apprentice at … and must learn for three years before taking the basic photographer exam. But without an apprenticeship, if you don't have the schooling, you must wait six years [to sit the exam]," he said.
"After the first exam, I then joined the course for [the] Masters, three days a week and Saturdays," he said. "It was expensive to do but necessary."
"After one-and-half years I applied for the Masters diploma," he said, adding that the usual time between the two exams was three years, and that he had just bugged the guild to let him take the exam earlier. "Two weeks before the exam I got permission to sit for it."
Diestel knew very early on that he wanted to be a photographer. He got his first camera, "a very cheap box camera from Agra" when he was "8 or 10." At 15 he got a part-time job to save money for a single-lens reflex camera. Once he had that camera, he started trying to sell his photos to local newspapers and magazines. His first published photograph was of three old Mercedes parked in front of a gas station.
"My press experience is why I like to take these photos of children and adults. I never liked to work in the studio as much. I like to work outdoors," he said.
But it was a more recent experience that left a mark on Diestel, and provided the impetus for Children of Asia.
In the sky over Ueberlingen on July 1, 2002, a Bashkirian Airlines charter flight packed with Russian children headed for a Spanish holiday collided with a DHL International cargo jet, killing all 71 people aboard the two planes.
"I had just gotten home from a long day, went upstairs to see my sons. I had picked up one son and was holding him when I saw a big explosion in the sky through the window. I handed my son to my wife, ran downstairs, grabbed my camera and went out. I was the only photographer there [initially]. It was worst thing I had ever seen, children on the ground naked. I couldn't take their photos, only the fire trucks, the parts of the airplanes," he said. "My twins were six weeks old at the time. Maybe this is why I like to take pictures of children now."
Getting a great shot is as much about luck as it is timing, Diestel said, with a large dose of patience thrown in.
His wife must also have patience, to go on vacation with a working photographer, especially with two young boys in tow.
Diestel laughingly admitted that being married to a photographer has been hard on his wife. That's why on one trip to Vietnam he rented a motorbike to go into the mountains on his own, leaving the family behind to enjoy the beach.
"To be at the right place, at the right moment, sometimes it is just five seconds, sometimes I wait half an hour," he said.
Publication Notes
Exhibition notes
What: Children of Asia Where: German Culture Center Taipei (台北德國文化中心), 12F, 20, Heping W Rd Sec 1, Taipei City (台北市和平西路一段20號12樓) When: Until June 13 Details: The culture center is open Mondays through Fridays, from 10am to 8pm. Call (02) 2365-7294 for more information
Comments will be moderated. Keep comments relevant to the article. Remarks containing abusive and obscene language, personal attacks of any kind or promotion will be removed and the user banned. Final decision will be at the discretion of the Taipei Times.