[BOOK REVIEW] The twin rises of the Chinese superpower
Bates Gill argues that China's meteoric rise could be managed peacefully by the US and Beijing leadership, which would avoid conflict and contribute to prosperity
Director of the Stockholm International Peace Research Institute and Freeman Chair in China Studies at the Center for Strategic and International Studies in Washington, Bates Gill offers in Rising Star a refreshing and certainly less alarming assessment of the spectacular "rise" of China than the one painted by the security intelligentsia in recent years. In other words, his position on the "rise" of China is that it is, or can be, more peaceful.
Gill's principal argument, that a clash at some point in future involving the US and China is not inevitable, rests on three pillars that he argues are guiding Beijing as it expands its power: alleviating external tensions so that it can focus on domestic problems; reassuring neighbors about its peaceful intentions; and finding ways to quietly balance the US. Gill contends that the key to a successful rise - one that avoids war - lies in the US and its allies understanding and judiciously responding to China's new security diplomacy.
While China's "rise" has been long in the making, Gill argues that the strategic reorientation of the US following the Sept. 11, 2001, terrorist attacks has created an opportunity for China to flex its muscles diplomatically. On issues that are linked to the "war" on terror, the US has been receptive to - and has in fact encouraged - a bigger role for China. Nonproliferation is one area where Gill sees China as having made progress, mostly through its participation in or dialogue with nonproliferation regimes such as the Nuclear Nonproliferation Treaty, the Missile Technology Control Regime, the Comprehensive Test Ban Treaty, the Australia Group and the Wassenaar Arrangement. He points out, however, that at present the Chinese government is unable to adequately deal with proliferation in the private sector, an onerous task under normal circumstances and a gargantuan one given China's incomplete laws, the size of its territory, rampant corruption and longstanding trade and military alliances with states like Pakistan and Iran.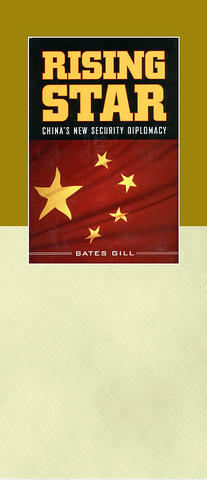 Rising Star: China's new security diplomacy By Bates Gill 267 pages Brookings
Another dynamic that is shaping China's security diplomacy is its opposition to US hegemony, which has compelled Beijing to shed its historical aversion to alliances and treaties. In its immediate area, China has spearheaded the creation of a number of regional organizations, including the ASEAN Regional Forum (ARF), the Shanghai Five and the Shanghai Cooperation Organization (SCO). It was no coincidence that the latter was launched to coincide with NATO expansion in the mid-1990s.
Beyond regional trade agreements, conflict resolution mechanisms, counterterrorism and joint military exercises, the Shanghai Five, ARF and SCO have provided China with a greater say in Central and Southeast Asia and the acknowledgement by participants that "every state has the right to choose its own political system, economic model and path of social development," with special focus on territorial integrity. What these security arrangements have in common, furthermore, is the tendency to exclude or counterbalance the US, and the premise that other states or alliances should not meddle in the international affairs of another state. Gill observes that China's provision of military equipment to those allies, which has often resulted in criticism by the West, has a precedent in how the US conducts diplomacy and should therefore be recognized as such.
China's alliances are also the result of its fear of states ganging up on it - especially in its immediate region, more specifically the Korean Peninsula and the Taiwan Strait. While recognizing that the presence of the US military in the Asia-Pacific has been beneficial to China, in that it prevented the reemergence of an expeditionary Japanese military, and despite the fact that in recent years Beijing has, in certain respects, come to accept the reality of that presence, it nevertheless retains an existential (perhaps not altogether unjustified) fear of encirclement. This, Gill contends, explains its active participation in the North Korea disarmament talks, where failure could spark rearmament in Japan and perhaps military action against Pyongyang, which in either case would result in a large concentration of foreign military forces in its vicinity and the possibility, should war break out, that tens of thousands of North Koreans would seek refuge in China and threaten its domestic stability.
As with its newfound enthusiasm for regional alliances, the modernization of China's military, Gill argues, could primarily be a reaction to its perception of being surrounded, which in part stems from the introduction of US missile defense systems in Japan and Taiwan. The stockpiling and refinement of China's conventional missile arsenal - including the 1,300 it is aiming at Taiwan - is largely, albeit not solely, a response to its perception that the US and its allies are seeking to deny China its deterrent capability. The nexus of pro-US regional alliances and missile defense also helps explain why China and Russia, which both feel threatened by encroachment, have in recent years not only resolved longstanding territorial disputes but have become allies.
In all, Gill's book shows us that in certain, if not most, areas China can be a pragmatic player that will act as a responsible stakeholder. Its increasing participation in peacekeeping missions, even if at times nothing more than a means to improve its image abroad, is also a positive development in terms of its desire for multilateralism. Through well-calibrated diplomacy and better attention to its interests, Gill argues that China can be goaded in the right direction on issues that so far have not led to success, such as in its relations with "rogue states" like Sudan and Iran.
On a more pessimistic note, Gill shows us that Beijing has retained its tendency to use compliance with international norms as a bargaining chip, which represents a failure to see treaties and multilateralism as a common good and could cast doubt on its contention that it is rising "peacefully." Another worrying area - one that Gill leaves largely unexplored - is Beijing's inclination to act irrationally whenever domestic issues or Taiwan are concerned.
While Rising Star convincingly argues that China has made tremendous progress on the international front, all those developments could quickly be undermined should its domestic situation - perennially the main concern of decision-makers in Beijing, around which everything else, including foreign policy, revolves - deteriorate. Only then, perhaps, would the world see China's other, dreaded "rise."
Comments will be moderated. Keep comments relevant to the article. Remarks containing abusive and obscene language, personal attacks of any kind or promotion will be removed and the user banned. Final decision will be at the discretion of the Taipei Times.