[The Vinyl Word]
Primo is quite possibly the future of clubbing in Taiwan.
"All the [other] clubs are degrading … . I do not want Taipei to become third-world," says Alan Hsia (夏天倫), front man of Primo, Luxy manager and formerly of legendary club 2nd Floor.
Third-world it's not. Membership at Primo, although yet to be decided, will be high enough to "weed out the younger, less experienced crowd," says part-owner Marco Lapka. "If you don't have that card you may not be welcome as there may not be room." Until July, however, the kids are alright.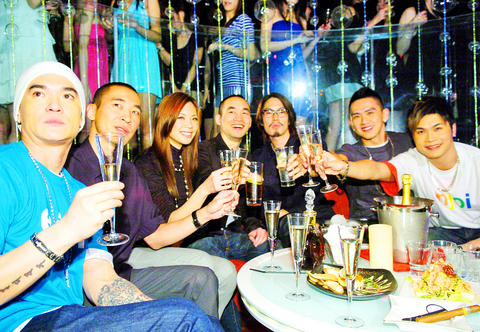 Stanley Huang, second left, and other members of Machi celebrate the opening of Primo with Jeff Huang, center, and singer Vanness Wu, third from right.
PHOTO: PAN XIAO-TANG, TAIPEI TIMES
"We have already had Jay Chou (周杰倫) and Jolin [Tsai] (蔡依林) come by," says Jeff Huang (黃立成) of hip-hop group Machi (麻吉), also an investor in Primo. "Primo is gonna be supporting local music. Underground cats are pretty talented and we are gonna check them out" and "do things that are more provocative and more edgy."
"Miguel Migs is coming in May," Lapka added, "which I hope will encourage more of that kind of music, rather than the typical stuff you hear in most hip-hop clubs."
Although Primo is aimed at the classy crowd, "it is more about balancing out all the crap that has been going on the past year," says Hsia. "I don't want to see Taipei become like Bangkok ... . Back in the day it wasn't about drinking and stripping all you can ... . Carnegies is enough."
Carnegies it is not. But is it welcoming? Hip-hop star Stanley Huang (黃立行) told the Vinyl Word, "hot spots change all the time. Primo is different from the other ones I have seen in Taiwan … more upscale and more of a loungy feel. Compared to Singapore and Hong Kong, Taipei people are just more friendly."
"The past two years I have met the right crowd and bounced a new scene out," says Hsia. "For every three shitty-ass clubs we have in Taipei, [we] open up one that puts Taipei on the map.
"We have done it all just for the sake of recognition of Taipei."
The move to open Primo is part of wider ambitions to push Asian club culture forward. "We recognize that the clubbing industry is a Western culture. We recognize that we have done it to a point where Westerners approve of it," says Hsia. "We have worked the bridges. I understand what the whole foreigner scene is right now ... . "
However, since getting the respect, "we are saddled with this whole clubbing culture. It is not ours, [so] we are gonna interpret in our way ... ," Hsia says.
On Wednesday night Primo had its official opening after weeks of build up. The club is decorated luxuriantly. Some 1,400 handmade glass bubbles hang from the ceiling. The layout is intimate. There are hidden VIP rooms.
Stanley Huang calls it "the seventies mixed in with over-the-top luxury."
"We are trying to elevate the scene," Hsia says. "Asian clubs that empower Asians. If you know where we're from, where we're at, and where we're going, it'll make sense."
Tomorrow, Liquid Lifestyle is holding Xclusive, a party that features Jam, the official DJ for Big Snoop Dogg and Dr Dre. There are 50 Primo membership cards up for grabs. Cover is NT$700 and includes three drinks. For information on booking one of the club's 14 booths, call 0917-840-519.
Primo is located at 2F, 297, Zhongxiao E Rd, Sec 5, Taipei City (忠孝東路五段297號2樓), telephone (02) 2760-5885. For more information, visit www.club-primo.com.
Comments will be moderated. Keep comments relevant to the article. Remarks containing abusive and obscene language, personal attacks of any kind or promotion will be removed and the user banned. Final decision will be at the discretion of the Taipei Times.