Spider Woman gets aspirational
Kiss of the Spider Woman, the 1985 movie starring William Hurt and Raul Julia, was an important event in mainstream cinema history. It was not only hailed as a successful attempt at bringing Manuel Puig's complex and multi-layered novel into the cineplex, but also gained fame as the first film in which an actor, Hurt, won an Oscar for playing a homosexual character. As one of the first independent films to make it out of the art house, it was applauded by many who hoped to see mainstream cinema as a serious medium for the exploration of ideas. Wang Bosen (王柏森) was one of the many thousands of people to be inspired, and the well-known actor and sometimes director has spent the last few years working towards adapting the story for the Taiwan stage. The result is Kiss of the Spider Woman (紅伶), a pop musical with music and lyrics written by Huang Yun-ling (黃韻玲).
Kiss of the Spider Woman has previously been adapted as a musical; it enjoyed some success as a musical on Broadway and the West End back in 1992-1993. In an interview with the Taipei Times, Wang said that this has been very much a personal project that he has seen through from conception, and he is doubling in both the director's and leading role (he plays Luis Molina, the role that won William Hurt his Oscar). Wang, with over a decade of experience as a leading actor for Godot Theater Company (果陀劇場), Green Ray (綠光劇團), and Dafeng Theater Company (大風劇團), has brought in 4Theater (第四人稱表演域), a relatively young and inexperienced group, to backup his venture.
Sitting in a semi-collapsed sofa in a stark dressing room of the Taipei Family Theater (親子劇場), deep in the bowls of Taipei City Hall, Wang said that a more experienced cast might not dare take on such a risky venture. "Of course, they are very young, but they have big dreams. They are also inexperienced and unschooled ... and the fact that they dare take on such a play may be due to this inexperience. Many more established groups would shy aware from tackling anything so overtly political and sexual."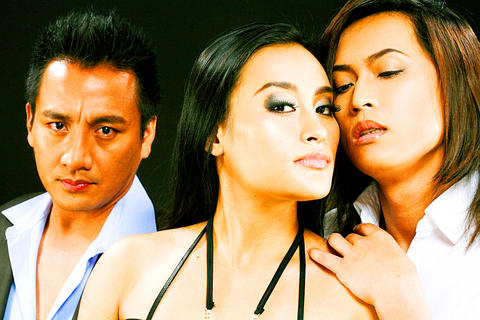 Spider Woman's kiss is deadly.
PHOTO: COURTESY OF 4THEATER
Along with these aspiring thespians, Wang has called in support from friends who have provided an infrastructure of sets, costumes and technical backup that would normally be beyond the reach of a group like 4Theater. "They have been able to quickly enter into the world of my imagination and create what I wanted," Wang said.
Wang has also brought in the talents and star appeal of Samingad (紀曉君), the Puyuma singer who was among the first Taiwanese Aborigine singers to make it out of the pub live music scene and onto a label singing songs inspired by her own cultural traditions, and a second Aboriginal singer, Min Hsiung (民雄). Samingad plays the eponymous Spider Woman immortalized by Sonia Braga, and Min Hsiung plays a sadistic prison warden.
The basic setup can all too easily descend into camp, and Wang's performance teeters and sometimes falls over the edge into self-parody. It might be amusing if it weren't all so earnest. But then again, Hurt's much lauded performance was damned by Puig himself: "La Hurt is so bad she probably will win an Oscar." (Puig generally avoided the masculine pronoun, regardless of his subject.)
To say that Wang's ambitious work has many of the strengths of a good school production, might be seen to be damning it with faint praise. Unfortunately, the effort and the aspirations of this production are worn on its sleeve, and whatever might be achieved in its short run this weekend before an audience, dress rehearsals suggest that too much is being attempted with too little.
Kiss of the Spider Woman will play at the Taipei Family Theater located at 2F, 1 Shifu Rd, Taipei (台北市市府路1號2樓) tonight and tomorrow at 7:30pm and tomorrow and Sunday at 2:30pm. Tickets are NT$500 to NT$2,500 and are available through ERA ticketing.
Comments will be moderated. Keep comments relevant to the article. Remarks containing abusive and obscene language, personal attacks of any kind or promotion will be removed and the user banned. Final decision will be at the discretion of the Taipei Times.