French eye-candy back in town
Damien Sargue singles out Taiwan for an exclusive concert
Damien Sargue may have done more to encourage Taiwanese to learn French that any of his countrymen, at least among the females of this country. The 26-year-old singer/actor had hearts across Taipei swooning in April when he reprised the role that brought him fame in France, Romeo in Gerard Presgurvic's Romeo et Juliette de la Haine.
Sargue is back in town for a concert tomorrow night at the Sun Yat Sen Memorial. Not only will this be the only show in Taiwan, it's the only one in Asia. He's come here just for his Taiwanese fans, who not only packed Romeo et Juliette, but bought thousands of his locally released CD.
Damien has brought several friends with him, including Joy Ester, who played Juliette and Cyril Niccolai, who played Benvolio and has quite a fan base of his own here.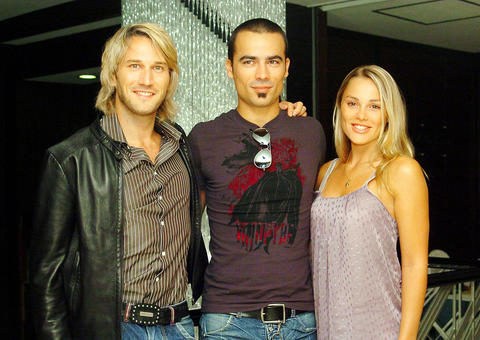 Daniel Sargue, center, returns to Taiwan for a special performance in Taipei, with friends Cyril Niccolai, left, and Joy Ester, right.
PHOTO: TAIPEI TIMES
Sargue will be singing songs from that CD, including those that were released as singles a few years ago in France (the videos for Elle vient quand elle vient, Quelque chose pour quelqu'un can both be found on youtube.com), and some songs from the second album he is working on, but there will also be several from the show that made him famous.
Sargue, 26, may have gained fame as the star of pop-musicals, but he's been singing since he was eight. He released his first single when he was just 10, Emmene-moi.
Ester, 23, has also been working since she was eight, first as a child model and in commercials and then as an actress in TV movies. She did a musical in Paris, Belles, Belles, Belles before being cast as Juliette late last year. She will be doing two duets with Damien and one song of her own from an album she is working on.
Also hard at work on an album is the 27-year-old Niccolai, who like his colleagues, showed his talent as a musician when he was still a child. He will be singing a duet with Sargue and then one of his own songs.
He said yesterday that he has been slow to develop his own album, partially because he is busy writing songs for other people - and doing musicals - but also because he is being very picky.
"When you write for others you can make mistakes, but for my own CD I have to be proud enough [of each song] to release them and defend them," Niccolai said.
But this visit to Taipei, Niccolai said, is about supporting Sargue, both as a friend and as an artist.
He said the great thing about being in Romeo et Juliette was becoming friends with Sargue, Esther and other cast members. All three have been sending each other copies of what they are working on and giving each other feedback.
"It's hard to find people in the music business you can trust," Niccolai said, but they respect each other and encourage each other.
Esther and Niccolai, who both speak fluent English, have also been encouraging Sargue, who doesn't, but is planning to say a few words in English in the concert. Sargue and Niccolai will also be singing a song in Mandarin, but they wouldn't say what it will be. It will be a surprise, they said.
Publication Notes
Performance notes
What: Damien Sargue and friends When: Tomorrow at 7:30pm Where: Sun Yat-sen Memorial Hall, Taipei (國父紀念館), 505 Renai Rd Sec 4, Taipei (台北市仁愛路四段505號) Tickets: NT$1,000 to NT$4,200, available at www.artstickets.com.tw or by calling (02) 2577-2568
Comments will be moderated. Keep comments relevant to the article. Remarks containing abusive and obscene language, personal attacks of any kind or promotion will be removed and the user banned. Final decision will be at the discretion of the Taipei Times.