Mihan 101 (三燔)
Last year there were two restaurants called Wasabi on the fourth floor esplanade in Taipei 101. One, an all-you-can-eat buffet, still goes by that name. The other, a sushi bar and restaurant, has reinvented itself as Mihan 101, after the Mihan Honken restaurant in the Grand Formosa Regent hotel. The sushi bar remains, as do many a la carte selections such as tempura, but the focus now lies on food cooked at the table: shabu shabu, sukiyaki and steamers.
The latter option is being promoted until Aug. 31 with Mihan 101's "Summer Steamer Trio" (NT$1,880), a set menu for two with three steamed presentations and a variety of smaller dishes. The executive chef of Mihan 101, Tomi Wang (王祥富), explained that each of his steamed courses showcases a summer flavor: grapefruit, seaweed and perilla. Also served at appropriate intervals were fresh tofu with sesame and seafood, an appetizer trio of salmon, maguro (tuna) and prawn sashimi, soup, and fruit sorbet for dessert. Everything was simple and light, the kind of food you want on a hot summer day. The salmon and maguro, though common varieties of sashimi, impressed me as being among the freshest I've had in Taipei.
Each time the waitress placed a wooden steamer on the range in the middle of my table, Wang lifted the top and invited me to smell the fragrance that emerged as the food gently cooked. "This is grapefruit," he explained as he uncovered the first steamer, prime US rib-eye steak, cabbage and greens. "Can you smell the seaweed?" he asked as he cracked the lid on the second, shrimp and slices of fish. "This is perilla," he said, referring to the leaf that infuses the third steamer, Japanese salt-water eel sliced over rice, with a tinge of mint.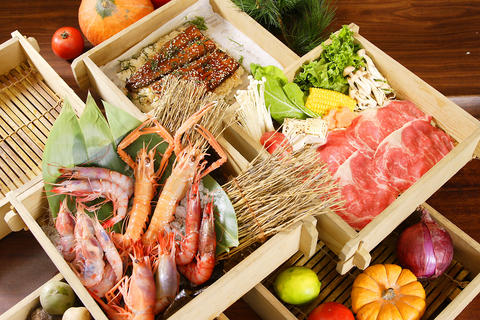 Local seafood is the main attraction at Mihan 101.
PHOTO: COURTESY OF MIHAN 101
Local ingredients were the stars of this meal. The perilla, which is often wrapped around sashimi, is grown in Yangmingshan. The fish and shrimp come from Turtle Island near Dahsi (大溪) in Ilan County, arriving an hour and a half after being loaded onto trucks at the port thanks to the recently completed Hsuehshan Tunnel. I especially liked the second course with its sweet red shrimp (胭脂蝦) and dolphin fish (鬼頭刀), which is perfect for steaming because it explodes on the palette and would be ruined in a stir-fry or soup. My only reservation was the final steamer: the slices of eel on rice seemed like a let down after the steak and fresh seafood.
Publication Notes
For Your Information
Address: Taipei 101 Mall, 4F, 45 Shifu Rd, Taipei(台北市市府路45號4樓) Telephone: (02) 8101-8166 X3 Open: Sunday through Thursday noon to 3pm and 6pm to 10pm; Friday and Saturday noon to 3pm and 5:30pm to 10pm Average meal: NT$1,880 plus 10 percent service charge Details: Chinese and English menu, credit cards accepted
Comments will be moderated. Keep comments relevant to the article. Remarks containing abusive and obscene language, personal attacks of any kind or promotion will be removed and the user banned. Final decision will be at the discretion of the Taipei Times.