Restaurants: Belly Wash (貝利瓦許)
Belly Wash (貝利瓦許)
Address: 15, Ln 86, Xinsheng S Rd Sec 3, Taipei (台北市新生南路三段86巷15號)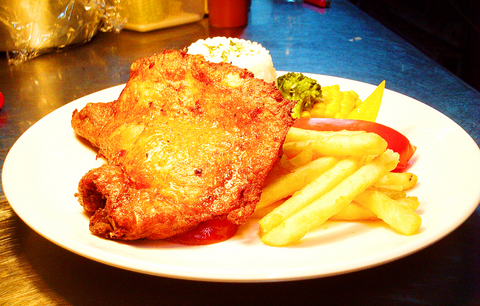 Belly-style chicken leg steak
PHOTO: COURTESY OF BELLY WASH
Telephone: (02) 2362-2468
Open: Daily from 11:30am to 2am, may close later on Friday and Saturday nights
Average meal: NT$120 to NT$230
Details: Chinese and English menu; credit cards not accepted
Several days each week, Simmer Liu (劉桐榮) rises before dawn, grabs his surfboard and heads to the beach. Around noon he packs up and heads back to Taipei, where he runs Belly Wash, a narrow little place that feels like your old neighborhood local despite its flashy decor and hip, office-crowd clientele. Liu — who is only 28 years old but estimates he's held a dozen jobs, ranging from construction worker to bell boy — has pulled off the rare trifecta of designing and managing a hangout that works as a bar, restaurant and cafe equally well and at all hours. And there's a Nintendo Wii that customers can play on a big-screen plasma TV.
Belly Wash is easy to find because several surfboards stand outside. (Liu buys and sells used boards.) Immediately in front is a smallish orange-lit bar with a DJ booth and space-age white barstools. Above this hang martini, champagne and specialized glasses for several varieties of German beer. The setup looks too cool to just casually stroll in; however, it's incredibly easy to strike up conversations both with customers and staff. Here, one drink on a Monday night can easily turn into four or five.
Walking inside from the bar, the design and mood flow naturally into a middle area where the color scheme shifts to comfortable shades of red and grey. Alternating plastic and felt wall tiles give the space a loungy feel and sound-proof the walls. (Liu grew up in the area and is well aware of the noise complaints nearby restaurants and bars have been getting from neighbors.) There are tables with blue felt chairs, and low couches set around coffee tables. In the back, a brick wall and flat screen television evoke the feeling of a living room. One regular, Chen Tz-chian (陳姿蒨), likes to hang out here because it's "quiet" and the light comfortably dim. There's a smoking room in the back, and customers can light up in the rest of place after 8:30pm.
The menu offers an extensive list of Western and Chinese meals and snacks. Liu recommends the "belly-style chicken leg steak" (貝利特調風味雞腿, NT$190), a generous side of dark meat with french fries, rice and vegetables. Each week one such meal is offered for NT$80 or NT$90. Recommended cocktails are the Long Beach and rose (vodka) martini. And there are German beers: especially recommended is the Licher hefeweizen, a good warm-weather wheat beer with a light fruity nose that's not overly yeasty. Also sold are Bitburger pilsner and Bibop, a low alcohol beer-cola.
Liu said he will experiment next month with a NT$500 for men and NT$250 for women all-you-can-drink setup on weekends.
Comments will be moderated. Keep comments relevant to the article. Remarks containing abusive and obscene language, personal attacks of any kind or promotion will be removed and the user banned. Final decision will be at the discretion of the Taipei Times.