'Laowai' blog on
Despite riling some readers, foreign bloggers are shining a new light on Taiwan
Michael Turton was seeing too many reporters parachute into Taiwan and write what he felt were slanted, ill-informed stories. He had enough of "Beijing propaganda" and Chinese Nationalist Party (KMT, 國民黨) "handlers" framing the debate for Western media discourse on Taiwan.
So the 43-year-old university lecturer, who has a master's degree in international affairs, started the closest thing Taiwan has to an A-list English-language blog. His comments on the country's life and politics (michaelturton.blogspot.com) are widely read by journalists, and several of his posts have featured prominently on DailyKos.com, the largest Democratic Party-leaning blog in the US.
"I like to see myself as presenting sides of Taiwan that most people ordinarily wouldn't interact with, especially overseas," Turton said. His Web presence has earned him a small degree of fame and notoriety that, in his words, "reflects a tremendous hunger for knowledge about Taiwan that's going unfulfilled in the traditional media."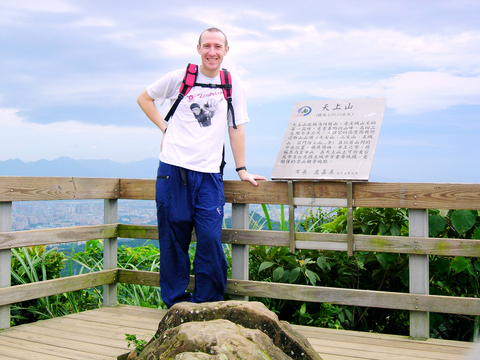 "The main thing is just to sheare information and my personal experiences with other people ... I wanted to give something back" - David Reid
PHOTO: COURTESY OF DAIVD REID
When Turton started posting in 1996, he was aware of only two or three Taiwan-related Web sites run by Western residents, an estimate other foreigners in the Web community confirmed. Now Turton's page alone links to dozens of such sites. Most are blogs that generate several to a hundred or so hits per day through personal musings on life in general, or commentary on specific topics such as food or politics.
A few are much larger. Community forum Forumosa.com has 10,400 registered users and averages between 600 and 800 new posts per day, said Anthony van Dyck, an administrator. Two expat-owned bilingual entertainment Web sites not linked to by Turton, Taiwan Fun (www.taiwanfun.com) and Taiwan Nights (www.taiwannights.com), are businesses that compete directly with mainstream media outlets.
"We make money off of it. Not a huge amount, but we do make money off of it," said Taiwan Fun co-owner Courtney Donovan Smith, who also owns GCT Taiwan, a search engine optimization firm.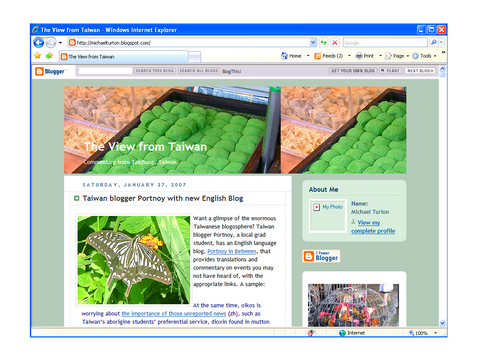 PHOTO: COURTESY OF DAIVD REID
According to rankings on Alexa.com, which tracks Web site traffic, over the past six months Taiwan Fun has enjoyed a greater daily reach than sites for Chinese-language city guide Taipei Walker (www.walkersnet.com.tw) and English-language daily the China Post (www.chinapost.com.tw). With the exception of November, it also beat out popular Chinese-language site Street Voice (www.streetvoice.com.tw). Last month, Taiwanfun.com had 371,000 unique IP visits. More than half of these visits, Smith estimates, were made by Taiwanese women between the ages of 20 and 35.
Taiwan Nights has yet to achieve that kind of reach, but business partners Reese Richards and Bernard Pol, who also run sites like 24seven, have ambitious plans. Early this spring they plan to launch iTaiwan, which will consolidate their Web presence under a single portal.
"We want it to be a Yahoo for Taiwan," Richards said. "Everything that you need to know about Taiwan will be found on this site."

Above: David Reid posts useful links, commentary and photographs, like this picture of Taipei's MRT, on blog.taiwan-guide.org. He's recently been reporting on Taiwan's new high-speed rail service.
PHOTO: COURTESY OF DAIVD REID
Another commercial venture is Taiwanted, owned by administrators at Forumosa. Taiwanted.com will in two weeks replace Forumosa's free classifieds section, which last month averaged 3,000 daily page views and has doubled its traffic and advertising content in two months. The site will earn revenue from employment ads.
"Until now a lot of [online] classifieds have not been so simple to go through," said Forumosa administrator Malcolm Higgins, who also runs Taiwanho.com. Taiwanease will offer a "friendly user experience" where it's "easy to find stuff, easy to post ads, and easy to respond."
Most foreign-run Web sites, even the larger ones, remain labors of love. Some, like Taiwanho and Forumosa, earn money, but this is used for site maintenance and group activities like monthly happy hours. People contribute their time and energy because they want to help foreign residents and tourists find useful information, express their opinions, and meet like-minded people online.
"First and foremost [Forumosa] is community service. This is no different than volunteering to monitor a crosswalk at the local elementary school or helping out with story time at the local library," said Van Dyck. As a result of his association with Forumosa, he's developed "a fantastic social network" and has "friends up and down the island."
The same is true for many personal blogs. David Reid, a 33-year-old English teacher, runs David on Formosa (blog.taiwan-guide.org), where he posts useful information on Taiwan, photography and accounts of his travels. He's not looking to make any money, though he wouldn't mind if the ads on his site eventually generated "five or 10 (US) dollars" a month to pay for maintenance. "The main thing is just to share information and my personal experiences with other people," said Reid, who had consulted blogs similar to his before moving to Taiwan. "I wanted to give something back."
Turton also says he's not in it for the money, though maintaining his kind of Web presence is hard work. In addition to blogging an average of two hours per day, he teaches full time at Chaoyang University of Technology (朝陽科技大學) in Taichung and commutes six hours per week to Tainain, where he's studying for his PhD. He's involved with several Web sites, and recently had to upload 3,500 photos to Flickr.com after they were erased by one of his Internet providers. Turton said he has received threatening e-mails and telephone calls from people who take issue with his views, and has twice been threatened with defamation suits.
Still, blogging has been "a very positive experience. I've met a lot of great people," he said. "If you start a blog and the content is halfway good, you become a sort of minor expert on Taiwan affairs because the rest of the world is, relatively speaking, so ignorant."
"My goal is to get Taiwan out there," he said. "Taiwan is so low on the US radar right now, but it's so important."
Comments will be moderated. Keep comments relevant to the article. Remarks containing abusive and obscene language, personal attacks of any kind or promotion will be removed and the user banned. Final decision will be at the discretion of the Taipei Times.