Restaurant: Koshiya 晃士家
Address: 4, Alley 15, Ln 266, Renai Rd Sec 4, Taipei (台北市仁愛路四段266巷15弄4號)
Telephone: (02) 2702-2976
Open: Daily from 11:30am to 2:30pm and 5:30pm to 9:30pm.
Average meal: NT$310
Details: Menu in Japanese and Chinese; credit cards not accepted
If you think most Taipei urbanites are stuck in the rat race and would be too busy to stand in line for over 30 minutes to secure a pork chop for lunch, check out the tonkatsu eatery hidden behind the Cathay General Hospital on Renai Road. A beneficiary of the influence wielded by bloggers and online chat room gossipers, the restaurant's sets, consisting of a breaded, deep-fried pork cutlet served Japanese-style, are hot property.
Is the wait worthwhile?
Dinners can choose to fill up on the popular Japanese meal in two ways: traditional or innovative.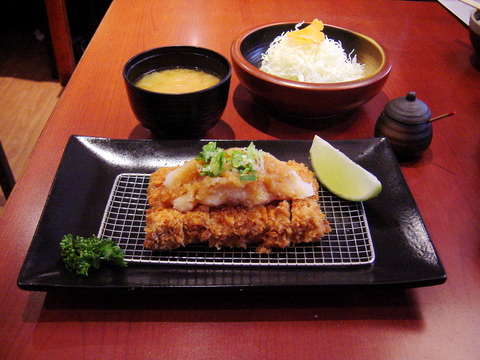 Koshiya's tonkatsu sets with daikon mash have proved a big hit with diners queuing over 30 minutes to get their hands on one.
PHOTO: HO YI, TAIPEI TIMES
One option is pork chop served with daikon, or white radish, mash.
If simplicity is not your style, the restaurant does a range of pork cutlets stuffed with various fillings. For NT$310, patrons can make their own combinations of pork chop with two choices from over 10 options including cheese, kimchi, tuna salad, egg, crab meat and curry sauce.
Cheese tonkatsu seems to be the restaurant's tour de force. In one bite, the gooey cheese coats the chop's crispy layer and succelent meat creating a sumptuous trio of textures. The cheese and curry chop, on the other hand, tries too hard, and packs too much of a punch with a confusing array of flavors.
The kimchi option is sour, sweet, spicy and piquant, without one flavor dominating the dish. For those who want a feast for the eyes as well as one for the stomach, the laver and steamed eggs set and the plum sauce and crab option are must-tries.
Adding condiments to the meal is a treat in itself as diners are provided with pestles in which to grind white sesame seeds and other spices.
Fresh shredded cabbage, miso soup and high-quality rice come in unlimited supply with the sets.
As the establishment is pretty much full day and night, weekdays and weekends, the motto of the wait staff is to serve up the fare as quickly as possible with passable courtesy. Dishes are served at an admirable speed while wait staff politely ask permission to clean up empty plates from time to time. It is not an ideal venue for a lengthy tete-a-tete with an old lover. Don't hesitate to prevent the eager wait staff from taking away your half-finished food and be careful with the mustard dressing, it is fiery stuff and could have you wincing and blubbering through your entire meal.
Comments will be moderated. Keep comments relevant to the article. Remarks containing abusive and obscene language, personal attacks of any kind or promotion will be removed and the user banned. Final decision will be at the discretion of the Taipei Times.