The pink dollar rules in San Francisco
A travel industry association found the city is the number one destination for GLBT tourists in the US
San Francisco ranked first by a wide margin as the nation's number one destination for gay, lesbian, bisexual and transgender travelers, according to a survey released this week by the Travel Industry Association of America (TIA), the country's largest travel trade group.
The gay, lesbian, bisexual and transgender market has been studied before by gay-oriented organizations, but this is the first survey by a large, mainstream, nonprofit organization, said TIA spokeswoman Cathy Keefe.
According to the survey, GLBT travelers value "gay-friendly" destinations when choosing a place to take a vacation. Having a plethora of gay bars and clubs to choose from, a broad climate of acceptance, and public support for the civil rights of sexual minorities are core considerations, the online survey of 2,020 self-identified GLBT travelers showed.
San Francisco is renowned for it's exhilarating facilities and gay-friendliness.
PHOTOS: NY TIMES NEWS SERVICE
San Francisco ranked first as a gay-friendly destination, with 76 percent of the survey's respondents saying the city is receptive to gay visitors. Key West, Forida, was a distant second, with 57 percent calling it gay-friendly. New York City came in third with 51 percent.
"We're obviously very encouraged," said Joe D'Alessandro, president and chief executive officer of the San Francisco Convention & Visitors Bureau. "This market has the greatest growth potential," he said, referring to GLBT travelers. "The whole world is waking up to this market."
The bureau plans to partner with the gay-oriented Golden Gate Business Association on a marketing campaign for San Francisco next spring, D'Alessandro said, to meet growing competition from other destinations.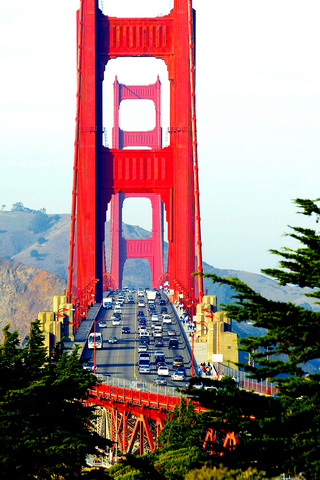 The Golden Gate Bridge in San Francisco is not only one of the world's most popular suicide sites, it's one of the US' most popular tourist spots for gay, lesbian, bisexual and transgender tourists.
Three other California cities were included among the top 20 destinations: Los Angeles (No. 6, with 34 percent rating it as gay-friendly), Palm Springs/Palm Desert (No. 10, with 33 percent) and San Diego (No. 11, 29 percent). California destinations that didn't make the top 20 include Sonoma/Napa (14 percent) and San Jose (11 percent).
The new study also gave weight to previous studies by other organizations in characterizing gay men as a market with high disposable income. According to the travel group, "Gay men, whether traveling alone or in groups, tend to spend nearly a third more on their total trip expenses than lesbians or heterosexuals. On their most recent trip alone, gay men on average reported that they spent US$800 in total trip expenses (eg. hotels, meals, transportation, etc.). ... Heterosexuals traveling alone spent US$540 on average."
"While we've known the importance of the GLBT market for some time, this study really underscores the tremendous economic potential of the market to the travel industry," said Laura Mandala, a vice president at the travel association. "These data will be invaluable as the industry increases its efforts to reach out to this historically underserved travel segment."
The survey was conducted for the TIA by Harris Interactive and Witeck-Combs Communications, a gay-oriented marketing and public relations firm in Washington, DC. It was co-sponsored by a variety of travel trade groups and leisure-industry companies, including the Las Vegas Convention & Visitors Authority, Expedia.com, Harrah's and the American Association of Nude Recreation.
Comments will be moderated. Keep comments relevant to the article. Remarks containing abusive and obscene language, personal attacks of any kind or promotion will be removed and the user banned. Final decision will be at the discretion of the Taipei Times.