Doing the month
`Zuoyuezi, ' the traditional one-month rest mothers take after giving birth is now working its way onto nursing curriculums
Tien Sheng-feng (田聖芳) first developed an interest in the traditional Chinese custom of zuoyuezi (坐月子) when she began working as a maternity nurse specializing in postpartum care at the Mackay hospital 20 years ago. Tien — who is currently the director of Mackay Medicine, Nursing and Management College — found herself constantly bombarded with questions about the practice. More often than not, she didn't know the answers to the questions being posed, which began a life-long research interest in zuoyuezi and promoting its study to nursing students.
"Nursing education in Taiwan doesn't emphasize Chinese culture. We are educated in Western medicine and learn very little of the local culture," she said.
Variously translated as "doing the month," "sitting for a month" or "one month confinement," zuoyuezi is a traditional practice whereby the new mothers rest for one month directly after giving birth. The rite can be traced back to the Song Dynasty (960-1279AD) but its conceptual origins may date as far back as two millennia. In addition to Taiwan, the practice can also be found in Japan, South Korea, China, Thailand and Cambodia.
A zuoyuezi meal rich in protein and fiber.
PHOTO COURTESY OF LAN TAN POSTPART NURSING CARE CENTER
"It is still very rare for people to study zuoyuezi," Tien says, adding that knowledge about the ritual is passed down from generation to generation through word of mouth, the mothers generally knowing more about the practice than the nurses caring for them.
As with many traditional Chinese rituals, zuoyuezi has a variety of complicated practices of which the concept of yinyang (陰陽) — or the balancing of opposing forces such as hot and cold — and Chinese medicine are the most important. Traditional Chinese medical theory holds that the nature of females is yin, or cold, and this makes them vulnerable.
"Because postpartum women are quite weak and become very yin, [they] need energy, [they] need yang to supply energy and nutrition," says Heh Shu-shya (賀姝霞), assistant professor of maternity nursing at Fu Jen Catholic University.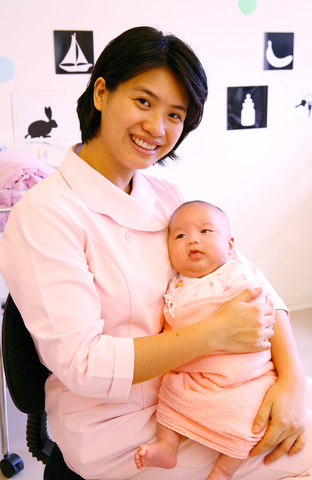 Nurses learn zuoyuezi before working at the centers.
PHOTO COURTESY OF LAN TAN POSTPART NURSING CARE CENTER
Keeping it in the family
Though doing the month at home is generally considered to be the best option for the recovery of postpartum mothers because they are close to their husband and family, problems can occur if the mother or mother-in-law works outside the home.
Annie Hong chose to spend her zuoyuezi at her husbands' parent's home because of its large size and Annie's close relationship to her husband's family. However, because her mother-in-law works during the day and wasn't able to keep an eye on the infant, within three days her baby became sick and had to be rushed to hospital. As it turns out, Annie wasn't breastfeeding often enough, a circumstance that may have been avoided had her mother-in-law been there to provide more help.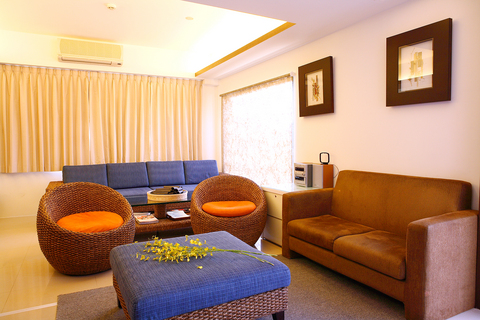 The reception area at Lan Tan where family members can mingle.
PHOTO COURTESY OF LAN TAN POSTPART NURSING CARE CENTER
As the mother-in-law is the expert on the ritual, it becomes her responsibility to care for the both the postpartum mother and infant. This can often strain good relations between relatives or make bad ones worse. Going to a center can ensure that these minor details are dealt with because they have staff to take care of the infant and postpartum mother.
Zuoyuezi centers (坐月子中心), or postpartum nursing care centers (產後護理之家) as they are officially known, have become increasingly common since the early 1980s. People who have moved to large urban centers are sometimes unwilling to return home for zuoyuezi; increased affluence and the fact that most women work during the day are reasons for the increased popularity of the centers. Currently there are two kinds of centers that women can go to three days after giving birth.
The first kind of zuoyuezi center can be found in hospitals. For these centers, the first floor is where the baby is delivered and the floors above it are devoted to the zuoyuezi center. Less ritzy than their private counterparts, they still follow the customs of diet and exercise found in the private postpartum centers and focus on infant care and do the utmost to follow the traditions.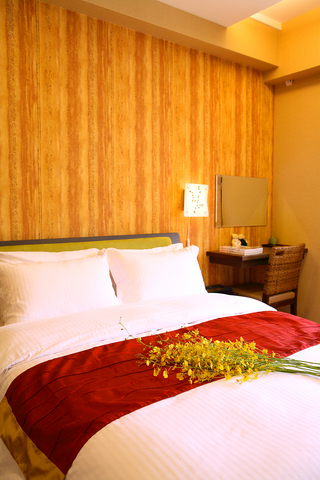 Some postpartum care center rooms resemble those found in boutique hotels.
PHOTO COURTESY OF LAN TAN POSTPART NURSING CARE CENTER
"These upper floors will have a beautiful view and doesn't give one the feeling of being in a hospital," said Tien.
Tradition vs. Health
After a woman gives birth she is particularly vulnerable to an assortment of diseases and ailments and it is commonly believed that the practices involved in zuoyuezi can augment the inner yang of her body, thus enabling her to recover more quickly after childbirth and avoid getting sick. To bring this about, a variety of tonics and "hot" foods are prepared and infused with Chinese medicine. It is furthermore believed that a woman who gets sick during zuoyuezi will have that illness with them for the rest of their life. "If you want to care for a postpartum woman [in Taiwan] you have to understand the rites in this culture, because women and their families believe it," said Heh.
This can often cause problems with nursing because some of the zuoyuezi rituals are unhealthy and may even pose health risks. Heh cites the common zuoyuezi practice of not washing one's hair for one month after giving birth, which can be unhygienic, especially if the woman is in close contact with her infant. Another practice that Heh encourages young women to avoid is adding alcohol to soups and broths that are consumed during the zuoyuezi that are meant to improve circulation, but can damage the womb.
Heh says that nurses have to walk a fine line between maintaining the integrity of the rituals that are a part of zuoyuezi and caring for the new mother and infant's health. So, for example, rather than adding a considerable amount of alcohol to soups, which is what the recipes generally call for, only a little is added. Rather than going without washing hair for 30 days, new mothers are given the choice of washing their hair more often, and if they choose to strictly abide by the practice, precautions are taken to protect the newborn baby.
Deciding where to zuoyuezi is another important part of the ritual because this will largely determine the new mother's comfort during the rest period and the status she will have in the family.
According to Tien, deciding where to do the month is a decision made by the whole family, with the husband's relatives taking precedence. Tien says that 70 percent of women doing the month at home end up staying with their mother-in-law rather than with their own family. However, if the husband's mother is too busy or is unwilling to take responsibility for the various rituals — from caring for the infant to preparing the tonic food — the postpartum mother can stay with her own family, something most young mothers prefer to do anyway.
Postpartum high life
The second kind of zuoyuezi center is private and resembles a hotel. There are 17 of these government-licensed facilities throughout Taipei and they range in price from NT$4,100 to NT$5,000 per day, figures that are also fixed by the Taipei City Government.
"We are not allowed to choose the prices ourselves. The government has mandated a price that all centers have to abide by," said Tseng Sheng-kai (曾聖凱), owner and operator of Lan Tan (藍田), a privately run postpartum nursing care center close to Da-an Park.
The center has nine beds on three floors where the new mother and her partner have the option of resting for fifteen or thirty days. According to Tseng, there is a four-month waiting list to get into the center, so reservations must be made early.
In addition to preparing five meals a day, the center also provides women with aerobics instructors in their rooms, a secure environment and the attention of 20 nurses — all of whom have gone through extensive zuoyuezi training. The center also offers the new mothers classes on how to care for their infants — including what to feed them and how to hold and wash them properly — and help choosing a Chinese name for newborns. They even bring in a fortune-teller who can help them choose an auspicious name for their child.
"Staying at home also has its benefits," says Zeng. "Some people feel safer sleeping at home rather than in a place like this. Take me for example, I stayed at home rather than coming to a center because that is where I felt comfortable."
For those parents who would prefer to stay at home like Tseng, the center provides a variety of out-of-center services such as cooking and delivering the food to a customer's house for around NT$1,000 per day. For those who are busy during the day, the center will care for the infant at NT$1,000 per day.
Though expensive, for young married couples like German expat Martin Schoenberger and his partner Vivian Ting-Schoenberger (丁伯薇), it was worth it.
"It's like a holiday for me and you can enjoy the time you spend with your baby," said Shoenberger. "And it's your own choice to give the baby to the nurses so that you can sleep the whole night. And during the daytime you have a full day with your baby," she said, adding it "was like living in a hotel for one month."
Comments will be moderated. Keep comments relevant to the article. Remarks containing abusive and obscene language, personal attacks of any kind or promotion will be removed and the user banned. Final decision will be at the discretion of the Taipei Times.