Eileen Chang finds a new voice
Ang Lee's (李安) current film project, titled Love, Caution (色戒), which is being shot in several locations across Asia, is based on a 26-page short story by Chinese novelist Eileen Chang (張愛玲, 1920-1995). Lee purchased film rights to the Chang story, which is relatively unknown in the West, and the movie is scheduled to be released sometime in 2007, according to Hollywood sources.
This month, not in connection with the movie but with impeccable timing nonetheless, New York Review Books has teamed up with Karen Kingsbury, a former professor in Taiwan and a well-known American translator of some of Chang's other literary works, to publish a new translated collection of Chang's works, titled Love in a Fallen City (傾城之戀). The collection does not include the story Love, Caution.
Kingsbury, who resides in Seattle, taught literature at Tunghai University in Taichung for 14 years before moving back to the US this year. When asked how the current translation came about, Kingsbury said the publisher in New York contacted her directly and requested a translation.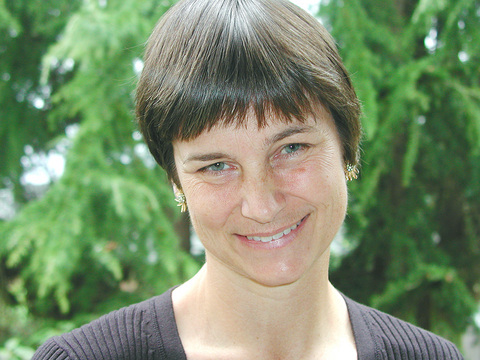 Karen Kingsbury is bringing Eileen Chang to the English-speaking world.
PHOTO COURTESY OF KAREN KINGSBURY
"I wanted a good, strong literary house, rather than an academic one. That's where Chang belongs — in the company of world-class writers, over and above her classification as a Chinese writer. So when I saw that New York Review Books could list her alongside Chekhov, Hawthorne, Balzac, Auden and Colette, among others, then I felt I'd found the right home for this book."
Born in Shanghai in 1920, Chang died 75 years later in Los Angeles, having spent a lifetime writing essays, short stories and novellas. She grew up in a dysfunctional family, which some observers have said probably fueled the author's tragic outlook on life.
"Like most English-speaking students of Chinese literature, I first encountered Chang in her own English version of The Golden Cangue (金鎖記), and in the long passage from Jasmine Tea which C.T. Hsia (夏志清) included in his seminal history of modern Chinese literature," Kingsbury said. "Those stories made a strong impression but, to tell the truth, I didn't really understand why Hsia had praised her so highly until I read Love in a Fallen City in Chinese. I was an English Department student who had sort of wandered into Chinese, and I was looking for a 20th-century Chinese writer who could speak to my English Department classmates and teachers, but not as an 'exotic' or some sort of charity case. Chang did."
"I was looking for a modern Chinese writer from whom the English Department could learn something about topics that they cared about already," Kingsbury added. "Not just something about Chinese-ness, or about one huge people's modern-day history of struggle and change, but about mental and social life in general. Reading and re-reading Eileen Chang has changed and enriched me almost immeasurably; my humble hope is that these translations will help to make that sort of learning possible for others as well."
While some literary historians suspect that Chang died in mysterious circumstances in Los Angeles, a view Kingsbury rejects. "Her death, from what I can tell, was not particularly mysterious. She died of natural causes, and her health problems were worsened by self-neglect, or perhaps we should say a certain studied disregard when it came to her own physical well-being. The mystery, such as it is, revolves around her intense desire for privacy and her disinterest in what we might call normal social life, precisely in those years when her fame in the Chinese-speaking world was growing exponentially (through the 1970s -1990s)."
"It's important to remember that Chang, like many very gifted people, had always tended toward introversion, and that her early forays into public life, back in Shanghai in the 1940s, had ended in disaster: she was blackballed by the Communists because she'd let herself become too prominent during the Japanese occupation," Kingsbury said. "It's not surprising that a basically shy person who had been severely punished for early audacity would choose, in her later years, to withdraw into hermetic seclusion. Sensitive artists, in many cases, only grow more sensitive over time. "
Kingsbury added that she is not sure how or even whether the collection that she has assembled and Lee's movie will fit together. "The story that Lee is shooting was written relatively late in Chang's career, even though it's set in the same period as the stories in my collection — stories that she wrote when she was still in her 20s," Kingsbury said.
Comments will be moderated. Keep comments relevant to the article. Remarks containing abusive and obscene language, personal attacks of any kind or promotion will be removed and the user banned. Final decision will be at the discretion of the Taipei Times.