'The virus is a formidable foe'
As the AIDS epidemic shifts to affect poor married women, two new treatments show some potential, but a 'cure' is a long way off and the dead bodies keep piling up
Twenty-five years into the AIDS epidemic, there's still no vaccine.
Some hope is on the horizon for two leading candidates, although it could take at least another 10 years for any vaccine to enter the market, assuming it proves reliable in current large-scale trials.
Meanwhile, drug therapy has become a little more accessible, cheaper and easier to take for about 1.1 million people, but is still out of reach for most of the world's 40 million people infected with HIV/AIDS.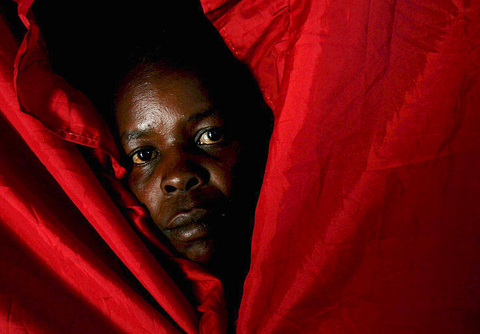 Kenyan prostitute Jacinta Kerabu, 42, has been a sex worker for over two decades and estimates that in the course of her career she has probably had sex more than 50,000 times -yet she has never contracted HIV, and every credible study of her case points towards her being immune to it.
PHOTO: EPA
Stepping into the lurch with increasing promise is the field of topical microbicide gels that could kill the HIV virus in the vagina and protect women from infection.
The wealthy Rockefeller and Bill and Melinda Gates foundations poured start-up money into the Maryland-based International Partnership for Microbicides (IPM) several years ago to pursue the idea.
"Now, attention is focused on the fact that the epicenter of the epidemic is moving toward poor, married women," IPM spokeswoman Pam Norick said.
"Almost everybody agrees vaccine is the optimal response down the road, but everybody agrees scientifically that it really is getting more down the road."
At the AIDS 2006 conference in Toronto Aug. 13 to Aug. 18, the world's network of HIV/AIDS organizations plans to take stock of the epic and discouraging race between the global medical community and the elusive HIV virus that has killed 25 million people.
Vaccine development has been slow for good reason, according to Larry Corey, principal investigator of HIV Vaccine Trials Network (HVTN) based in the state of Washington.
"The virus is a formidable foe with respect to its ability to change its outer coat, and we still have not learned how to make vaccines that make antibodies," Corey said in an interview with KUOW radio in Seattle.
The traditional approach to vaccines — using the live virus to induce antibodies but not cause the illness — doesn't work with HIV, and in some cases, has even produced a live virus in the body.
The most promising vaccine in three years uses an alternate route by targeting the body's T-cells, and is being developed by Merck pharmaceuticals, according to Wayne Koff, a top official at the International AIDS Vaccine Initiative (IAVI), which coordinates a tangled network of global vaccine research projects.
Merck's vaccine, now in the last phase of testing on 3,000 volunteers in South America and the Caribbean, is an improvement over the disappointing Vaxgen that came to a dead end in Thailand in 2003, Koff said.
While Vaxgen aimed to create immunity only in the so-called helper T-cells, the Merck vaccine aims at an additional set of cells, the cytotoxic "killer" T-cells.
The idea is to program the killer T-cells to "search out and kill virus-infected cells," Koff said in an interview.
T-cells are one of the body's major defense systems and the major target of HIV, which robs the cells of their ability to fight disease and infection.
Tests on the Merck vaccine, delivered to human volunteers using snippets of HIV DNA embedded in a modified common cold virus, could produce final data by next year, putting it at the top of the pipeline, Koff said.
A second top candidate comes from the US National Institutes of Health (NIH), HVTN 204, and contains not only a wider variety of DNA from different parts of the virus, but also snippets from the three leading global strains of HIV — the first promising candidate to offer such global potential.
It is being tested on 500 volunteers in North America and South America, Africa and the Caribbean, vaccine project director Gary Nabel said.
"Realistically, if we have a licensed vaccine in less than 10 years, it would be pretty miraculous," Nabel said in an interview.
"I'd be delighted if either one of them (NIH or Merck) shows some degree of protection."
In addition, a modified version of the Vaxgen trials continues on 16,000 volunteers in Thailand, who are receiving an added T-cell vaccine booster.
A lot depends on money. Global research gets about US$800 million a year, an increase over funding levels three years ago but still short of the US$1.1 billion needed, IAVI says. To attract private firms like Merck to the unprofitable field, the US and other governments have provided some funds — with the requirement all results are shared.
For the vast majority of people with HIV, however, Acquired Immune Deficiency Syndrome (AIDS) is a still death sentence.
Only about 10 percent of those infected are aware of it, the Bill Clinton Foundation says, and treatment has fallen far short of the World Health Organization's goal of reaching 3 million HIV-positive people with life-prolonging medications by last year.
But 1.1 million people now take some form of anti-retroviral therapy, quadruple the number over three years, thanks to a belated public-private effort and a new-found willingness of Western countries to fund generic drug products for developing countries.
Most of the drugs are paid for by the UNAIDS or the US' separate global AIDS program.
Generic versions of the three common first-line drugs — zidovudine (AZT), lamivudine and nevirapine — are cheaper. And technical advances have made them easier to take.
US drug regulators in early last month approved the first generic 3-in-1 antiretroviral pill for its foreign programs, a medicine made by Aurobindo Pharma of India and taken only twice a day. That means AIDS patients are more likely to take it, compared to the 12 to 30 pills they used to have to take throughout the day and night.
The US Food and Drug Administration (FDA) also recently approved a once-a-day pill for domestic users that could further revolutionize treatment in developing countries if a generic version were approved.
The wealthy Bill and Melinda Gates foundation is credited with jump-starting AIDS research, pumping US$1.1 billion over 10 years into the field. At the top of the Gates' priorities is AIDS prevention, "especially methods that women can control," and Norick's International Partnership for Microbicides gets about US$60 million a year from them.
"Melinda Gates ... gets the women's issue," IPM's Norick said. Gates understands why young women who often do not have control over their sex lives "are more vulnerable."
Among the dozen or so microbicides being tested are gels containing the same drugs now administered orally to HIV-positive patients — which researchers hope will kill off the virus in the vagina before it takes hold in the woman's body.
Comments will be moderated. Keep comments relevant to the article. Remarks containing abusive and obscene language, personal attacks of any kind or promotion will be removed and the user banned. Final decision will be at the discretion of the Taipei Times.