Has Kate Moss lost her mojo?
She's bounced back from a drug scandal and is as in demand as ever. So why is the queen of style suddenly looking, well, a little unstylish?
Let us be clear what this is not about. It is not about photographs of Kate Moss with cellulite on her thighs, some of which have appeared in British tabloids in recent weeks. Nor is it about the impact of her lifestyle and alleged drug-taking on the condition of her skin (what are a few spots when you've got a face like that?), or her taste in men — all of which have emerged as familiar themes of the past few months.
This is about a fall of a different kind — about style, pure and simple. For the past 15 years, Moss has had only to step outside her front door for a new fashion trend to be launched. Now she appears to be losing her extraordinary sense of style, and there is a succession of outfits that arguably proves it.
In fashion terms, ever since the first photographs of her by Corinne Day appeared in the Face in 1990, Moss has been unassailable.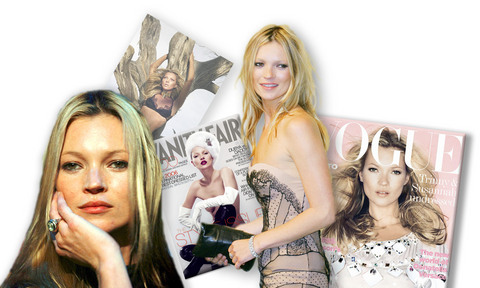 Even though she topped Vanity Fair's best-dressed list this year, Kate Moss has let her style leadership slip.
PHOTOS: AGENCIES
Her outfits have shown an impressive fashion intelligence at work, her choice of clothes always educated as well as intuitive. When, for example, she wore a rippling yellow vintage dress to a party in New York three years ago, it was "a statement moment, the beginning of a more feminine silhouette," according to Jo Elvin, editor of Glamour magazine. But Moss also got people talking about the long-forgotten Jean Desses, the couturier thought to have created that dress; it was the fashion equivalent of name-dropping a great author no one else has read.
Look at the photograph again now, and the outfit seems a no-brainer — what could be easier to assemble than dress plus shoes and bag? It seems hard to imagine after three summers in which the frock has dominated, but that easy yellow belter helped to spur the return of the dress to the high street. At the time, the catwalks were full of separates, Marc Jacobs was showing miniskirts with primary-colored tights, bootlegs and 1980s sweatshirts were outselling all else at Topshop.
Moss's ability to hold our attention with an image has always been partly about her looking fantastic in that moment, and partly about the fact that she is usually one step ahead of the next. "She has that supreme confidence," says Elvin. "Where we would open our wardrobes and shy away from something that looks a bit weird, she goes for it. One of the reasons she is so admired is that she always does something experimental, and I think she hates the idea of anyone else dressing her." Moss has never had a stylist.
Even when she famously arrived at a party in London in 1993 in a sheer silver dress, accessorizing it with a cigarette in her right hand, a bottle in her left, and with a pair each of knickers and nipples shimmering through the cloth, it was the shape of those pants that held the eye: a low-rise of impeccable cut and incongruous modesty. She has a great eye for line, a keenness for surprise.
Contrast all this with Moss's current public image. Two years ago it would have been impossible to suggest there was anything as monolithic as a Kate Moss look. This summer not only has there been one, but it has not shown much progress from last summer's. Examine the evidence and one image occurs more than most: Moss at a festival, long legs bolted at either end into a pair of raggy denim hotpants and a peculiar, loosely collared set of ankle boots, an outfit that had its genesis at Glastonbury last year (and, as we all know, a year is even longer in fashion than it is in politics).
Silence the voice in your head that says her legs look fantastic in those shorts: this is not about her body, it's about her clothes.
A belt hangs low around her hips. And while this might in itself seem like a harmless enough detail, it looks dated, recalling all those big belts with peasant skirts that flip-flopped relentlessly down high streets last summer. Historically, Moss has always led rather than followed fashion and, having done so, swiftly moved on. She wore Balenciaga before people were talking about it; she put ballet flats with skinny jeans; she helped gold jewelry to supplant silver, and was even responsible for the reintroduction to respectable wardrobes of the humble Wellington Boot. Now it seems that she has stopped moving, and we have stopped following, and not only because there are few things in fashion as alienating as a pair of hot pants.
"It's quite rock 'n' roll," says Angela Buttolph, contributing editor of Grazia magazine. "Hotpants are small, you can just fold them in a bag, take them anywhere. She's leading a really nomadic lifestyle. It's as if she just jumps in them and goes out the door. But I think people are getting bored of the hot pants. She's hardly worn anything else."
And Moss is not the only one who is making the outfit look familiar. A strikingly similar pair of hot pants is being given an intensive summer workout by Victoria Beckham. The printed top and low-slung belt Moss wore to the O2 festival in June recalled Sienna Miller's boho fixation of last summer. There are other similarities: another Moss seasonal staple, the long T-shirt belted and worn as a dress, has also been sported repeatedly by Beckham, as has the waistcoat worn with nothing underneath. Moss, in short, is dressing like the people who have always dressed like her.
"Usually she'll do something, everyone else will do it — and then she'll do something else," says Buttolph. "Normally it's held that Posh [Victoria Beckham] jumps on a look and Kate jumps in the opposite direction. But she's still wearing hot pants while Posh is. If you were looking for the next thing at the moment, you wouldn't be looking to Kate Moss."
When, on Sept. 15 last year, grainy pictures of Moss allegedly snorting cocaine appeared on the front page of the London-based Daily Mirror, it looked as if, at 31, her career might have come to a premature end. In fact, nothing could have been further from the truth. Her earnings have trebled in the months since. New contracts with Virgin Mobile, the luxury leather goods brand Longchamp, Stella McCartney, Calvin Klein and Roberto Cavalli alone are thought to amount to around ?6 million. Tomorrow, Moss will appear on her third Vogue cover in six months. Rather than heralding the beginning of the end, the scandal has served only to invigorate her career. But if Moss is more in demand than ever at work, away from it, in civilian clothes, she has never looked less inspiring.
So why has she started dressing badly? Perhaps we need to trace a familiar path in search of the culprit, to the doors of her boyfriends. There has been much talk about the damaging effect of Moss's relationship with Pete Doherty on her health — but what about the havoc her relationships are wreaking on her wardrobe? When she wore a gray two-piece trouser suit with a long-sleeved white T-shirt poking out of her jacket sleeves, it was hard not to see the influence of Doherty. On more than one occasion recently she has sabotaged her outfit with a necktie that bears an uncanny resemblance to the trademark of her friend Russell Brand.
"This is always a difficult one to talk about," says one fashion executive at a glossy magazine who does not wish to be named. "People really close ranks around her. But in fashion terms, she really is hanging herself with that little noose around her neck she insists on wearing."
Does any of this matter? Well yes — and not just to her. Without Moss striking out in stovepipes, for example, Topshop's skinny Baxter jeans would not have averaged UK sales of 18,000 a week since their release last August. For years, Moss has been the highest and most reliable measure of fashion, as lauded within the industry as she is outside it.
It is because she looks so fantastic that she can make so much money and wield such influence without ever having to say anything memorable. Crucially, Moss does not speak about her work, never gives interviews and, until her recent TV commercial for Virgin Mobile, most of us would never have heard her voice. Her clothes are her language. She lets the world form an opinion of her through what she wears and how she looks. So if she wants to remain as powerful in our wardrobes as she is on the catwalk, she needs to let go of those rock'n'roll outfits. Either that, or next summer we will all be wearing pixie boots and hot pants.
Comments will be moderated. Keep comments relevant to the article. Remarks containing abusive and obscene language, personal attacks of any kind or promotion will be removed and the user banned. Final decision will be at the discretion of the Taipei Times.