Art for Cannes' sake
Amid the haute couture, hobnobbing and hyperbole, there are as ever, some outstanding contributions to cinema at the Cannes Film Festival
With the manufactured hysteria over The Da Vinci Code now little more than a fast-fading hangover, the 59th Cannes Film Festival has begun in earnest. And just as they do every year, the programmers have proved that in between the critical grandstanding and the public-relations hyperbole there actually is room for art, or at the very least some satisfying films.
The first few days here have not yet produced any revelations, but filmgoers have again been able to tour the cinematic world, passing through Paris on the way to Paraguay and Tiananmen Square, where the politics are almost as hot as the sex.
Sex and politics are on full boil in Lou Ye's (婁燁) Summer Palace (頤和園), an engrossing, estimably ambitious epic about the generation of Chinese students who came of age brutally in 1989 when army tanks took aim at protesters agitating for democratic reforms. Lou Ye, whose previous features include Suzhou River (蘇州河) and Purple Butterfly (紫蝴蝶), which also played in competition at Cannes, pins his story on the slim, lovely shoulders of Yu Hong, a sensational Hao Lei (郝蕾), a young student whose senti-mental education mirrors that of her fast-changing country. Initially despondent over leaving her boyfriend back home, Yu eventually opens herself up to another student, Zhou Wei, played by Guo Xiaodong (郭小冬), the man who will become the enduring passion of her life and the spark for much of that aforementioned sex.
A still from Summer Palace directed by Lou Ye, competing in the 59th International Cannes Film Festival for the Palme d'Or award.
PHOTOS: AGENCIES
The trade papers have been running contra-dictory dispatches about Summer Palace, which may have been offered to Cannes without the film-maker's knowledge and without the sanction of Chinese censors. A Chinese producer claimed that Lou Ye would soon be on a plane back to Beijing, though he did appear at his news conference Thursday, and a representative for the film offered me placid assurances that the director was staying put. It would be a shame if this behind-the-scenes wrangling got in the way of the film, which beautifully blends the political with the personal much as Flaubert does in Sentimental Education, his moral history of a generation set against the backdrop of revolution, and Philippe Garrel does in Regular Lovers, his film about May 1968 and its aftermath.
The French touch is further evident in Summer Palace with its brief shot of the young Antoine Doinel running on the beach at the end of The 400 Blows. In this context Francois Truffaut's touchstone image, which speaks as much to the struggles faced by its young director as those of the character, is eloquently moving. It is also instructive because while Summer Palace was made in China and nods in the direction of the filmmaker's contemporary Jia Zhangke (賈樟柯), it is an internationally inflected creation, as much a European art movie as a Chinese one. (It was partly financed with European money and partly takes place in Berlin.) Much like the Paraguayan film Hamaca Paraguaya, which is screening in Un Certain Regard, where the directors are generally younger or more experimentally minded, a film like Summer Palace certainly complicates the very notion of a national cinema.
Directed by Paz Encina and paid for by money culled from more than a half-dozen countries (the Netherlands, Spain and, oddly enough given its economic straits, Argentina), Hamaca Paraguaya centers on two elderly peasants who are waiting for the rain much as Vladimir and Estragon wait for Godot, though with far fewer jokes. Watching this attractive exercise, which unfolds with great deliberation and without a single camera movement, I was again reminded that art-house cinema has as many of its own cliches and narrative tropes as Hollywood does. Encina's film, which takes place in 1935 during wartime, looks and sounds very good, and there is something intellectually bracing about a film that forces you to either accept its leisurely rhythms or hit the exit.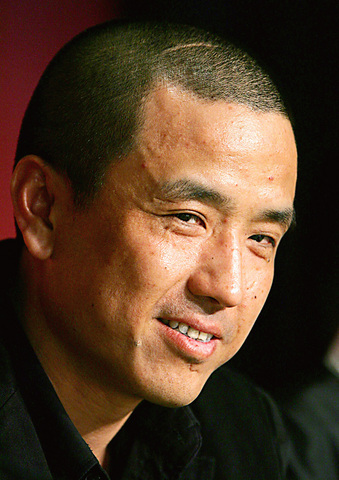 Lou Ye, the director of Summer Palace
PHOTOS: AGENCIES
Still, given the dearth of Paraguayan cinema especially, it's somewhat disappointing that Encina's formalist rigor did not make room for a richer, more overt sense of Paraguayan time and place. My point isn't that filmmakers from countries with under-developed cinemas should bear the burden of cultural representation more heavily than those from rich countries with mature (or decadent) cinemas; a Paraguayan director should not have to speak for his homeland any more than, say, Brett Ratner, who is here representing American national interests with the latest X-Men movie. The benefits of advanced technology and porous borders are inarguable, including the increased ease with which we can consume world cinema, but does this accessibility also help dilute national voices?
One of the sustaining pleasures of foreign films, after all, is their foreign-ness, their differences. But with Hollywood continuing to loom large over the world, it is not always easy, even at Cannes, to find films that are not somehow under its influence. Even the British director and outspoken leftist Ken Loach has a period film in competition, The Wind That Shakes the Barley, that plays out like a Hollywood movie from the 1930s, only slower and with many more speeches. Cillian Murphy stars as a young doctor who joins the newly formed Irish Republican Army to fight British forces that in vile deed and elevated
volume greatly resemble movie-made Nazis. The story's contemporary undercurrent, specifically the birth of political extremism as a direct consequence of foreign occupation, is duly noted.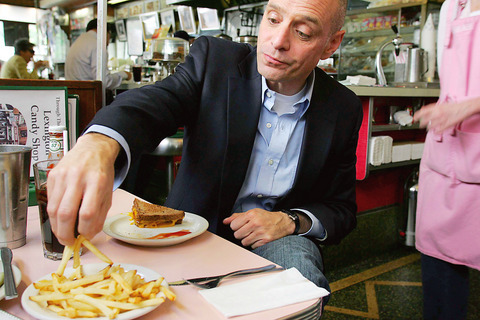 Eric Schlosser, the author of Fast Food Nation tucking into a plate of french fries
PHOTOS: AGENCIES
A different political reality is brought to devastating light in Richard Linklater's ferocious, fictionalized adaptation of Eric Schlosser's nonfiction bestseller Fast Food Nation, which, among other things, proves that when it comes to critiquing America, few do it better than outraged Americans. (Linklater, who has never had a film at Cannes before, this year has two: Fast Food Nation, which is screening in competition, and A Scanner Darkly, which is in Un Certain Regard.)
In Fast Food, Linklater and Schlosser, who wrote the screenplay together, trace a miscellany of characters from both sides of the American-Mexican border as they experience the perils of globalization. The most essential political film from an American director since Michael Moore's Fahrenheit 9/11, it may not turn you into a
vegetarian, but it will definitely make your think twice about our fast-food culture.
A still from Ken Loach's The Wind That Shakes the Barley, competing for the Palme d'Or award.
PHOTOS: AGENCIES
Comments will be moderated. Keep comments relevant to the article. Remarks containing abusive and obscene language, personal attacks of any kind or promotion will be removed and the user banned. Final decision will be at the discretion of the Taipei Times.