Sleepwalking children wake up the senses
I.T Park is known for showcasing avant-garde and experimental artists. For over 12 years its exhibitions have been trendsetting and memorable, while others were risky experiments that did not work out. Currently on view is a solo exhibition that is both commercially viable and experimental at the same time, which in itself is a noteworthy achievement.
Tseng Yu-chin's (曾御欽) first solo exhibition is cryptically titled No One Understands, Even if Crying to Say It or Reliving, Laughing to Say It and features video and projected imagery that channels childhood memories of pleasure, pain and confusion.
Tseng strikes a chord that is simultaneously poetic and discordant within the viewer's heart. He acutely remembers many of those typical childhood feelings but he is nonjudgmental.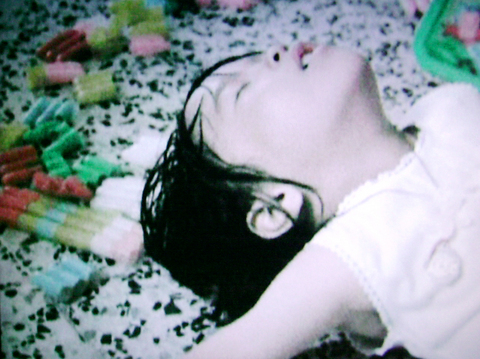 Tseng Yu-chin's new show.
PHOTO: SUSAN KENDZULAK, TAIPEI TIMES
Tseng, born in 1978, has accomplished a lot in a short time and does stage design for several performance and theater groups. In addition, he has already published poems and a novel that has won numerous awards.
In spite of using multimedia and film, his works hint at narratives, but it is up to the viewer to fill in the meaning. Upon entering IT Park's darkened space is the psychologically disturbing It's Not So Bad.
Two wall-size simultaneous slide projections continuously flash images of two skinny pre-pubescent boys embracing each other, clad only in their white underpants, hidden in the bushes. The colors are saturated, hinting at forbidden pleasures. The boys' skin glistens with water droplets.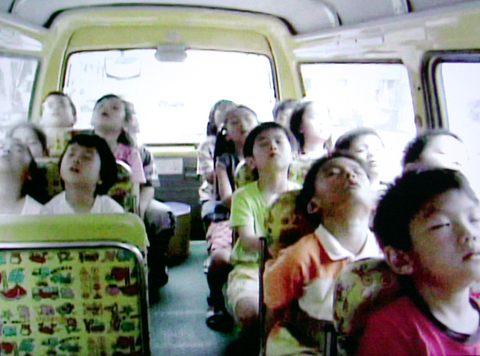 More work from Tseng Yu-chin.
PHOTO: SUSAN KENDZULAK, TAIPEI TIMES
Often adult viewers think Tseng's work is about sexual predation or about pedophilia. However, Tseng's poetic text printed in a pamphlet talks about feelings of self-punishment and captures the angst a young boy feels for the failures and conflicts in his life.
In I Hate Assumption, Tseng has filmed somnam-bulant-like elementary school children. The children are also complicit actors in his films. They go about their normal routines such as riding the school bus, brushing their teeth, preparing for class, all with their eyes closed, their heads thrown back and their mouths agape.
In the elegant but disturbing It Couldn't be Beautiful Video, still images of children passed out on the floor lying amidst overturned boxes of toys and crayons slowly move across the screen. Conjuring up thoughts of poison gas attacks or children frozen in a dream, the work creates conflicting feelings in the viewer such as horror and peaceful innocence at the same time.
In No One Understands an image is shown on one of the four blank screens. An office worker walks out on to the roof with the dense cityscape in the background, emphasizing the existential angst and loneliness of modern life.
Tseng's videos are cinematic in scope providing just enough detail to allow one to surmise a lot about the character: his income, educational level and perhaps his psychological makeup. But Tseng doesn't provide dialogue, plot or a narrative. And so you as the viewer end up filling in all the psychological details, until you realize the artist is telling your story.
Tseng reveals as much as he conceals. He has told you a bit about his truth, so then you start to think about your truth, until suddenly you realized that you revealed more about yourself than he did as his work opened you up.
In other words, his video-works act like ersatz-Rorschach tests in which you see what truths you want to believe in.
Exhibition notes:

What: OXY -- A Solo Exhibition by Tseng Yu-chin

Where: IT Park, 41 I-Tong St, 2/3fl Taipei (台北市伊通街41號2-3摟). Telephone (02) 2507 7243

When: To Nov. 19, Tuesday to Saturday, 1pm to 10pm.
Comments will be moderated. Keep comments relevant to the article. Remarks containing abusive and obscene language, personal attacks of any kind or promotion will be removed and the user banned. Final decision will be at the discretion of the Taipei Times.