POP STOP
Reportedly missing for seven days, veteran TV variety show host Peng Chia-chia (澎恰恰) finally showed up at a press conference on Sunday to comment on year-long speculations about the existence of a video featuring him engaging in a sex act with a mob boss' woman. From behind an array of medicine bottles on the table, the ill-looking, teary-eyed entertainer made an explosive confession: "There is no sex video. There is only a 48-year-old, pale-skinned and beer-bellied man masturba-ting," he is quoted as saying in the The Liberty Times (自由時報).
Peng said that since August last year he has been blackmailed six times because of the five-minute clip of him masturbating. Peng claimed he didn't remember how the footage came to be shot as he was under the influence of the medicine flunitrazepan which he took for an undisclosed psychological condition. He requested his pay in advance from his employers SET-TV station (三立電視台) to pay the blackmailers. And to avoid raising his wife's suspicion he borrowed money from loan-sharks. Peng refused to divulge the exact figure he owed, but it was estimated to be around NT$50 million.
Suffering from depression, and the target of blackmailers Peng said he was willing to cooperate with a police investigation, but claimed he had destroyed all the evidence. However, tongues are wagging with questions lingering as to why the entertainer borrowed such a huge amount of money over footage of a sexual act that the majority of men engage in regularly.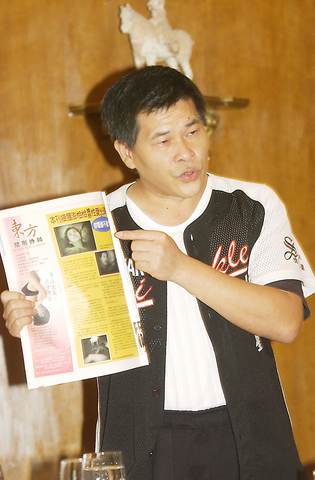 Veteran TV host Peng Chia-chia admits he's a jerk.
PHOTO: TAIPEI TIMES
This time, Jerry Yan (言承旭) of boy band F4 seems determined to win back the heart of super model Lin Chih-ling (林志玲), who is still recovering from a nasty fall off a horse two months ago. Yan was spotted last week by a daily sneaking into a pet shop on Bade Road after work and placing an order for a toy poodle worth NT$60,000. He specifically requested a puppy that looks identical to a dog Lin already owns. It was a safe move for Yan, since fluffy animals can rarely go wrong when it comes to women.
The onscreen and offscreen romance between Brad Pitt and Angelina Jolie while shooting Mr. and Mrs. Smith has been copied Chinese style. Shu Qi (舒淇) and Chang Chen (張震) of Three Times (最好的時光) by Hou Hsiao-hsien (侯孝賢) reportedly moved in together during the shooting of the film. Both parties denied the rumor, but left a space for maneuver by saying they didn't rule out the possibility of being together in the future. Gossip mongers view the news as a good example of the tried and tested publicity stunt. But for Hou, at least, it's a giant step forward as now he knows entertainment gossip can add marketability to even art-house films.
Zhang Ziyi (章子怡), the ultimate Chinese diva in the eyes of Western audiences, has been ridiculed by local media again. This time her poor English was the focus of attacks. The latest edition of Interview magazine ranked Zhang as one of the most incredible stars for next year, and arranged an interview with her by Natalie Portman, according to the Great Daily News (大成報). When asked if Chinese people prefer watching movies at home, Zhang replied yes, "because they are couch tomatoes." Portman paused in perplexity for a minute, and responded, "Oh, you mean couch potatoes." The two beauties quickly laughed away the embarrassing moment, which seemed like the only courteous thing to do under such
Jerry Yan of F4, rear, is a bit hazy about love. He thinks cuddly fluffy animals are the key to winning a beautiful woman's heart.
PHOTO: TAIPEI TIMES
circumstances.
Jackie Chan (成龍) and South Korean star Kim Hee Sun (金喜善) seem to have developed an overly intimate friendship during their time working on The Myth (神話). At a party after the film's premiere in Beijing, the two were spotted dancing cheek-to-cheek. As it the night drew on, Chan's hands were all over the place and things got brutally flirty. Looks like the notorious playboy has found a new playmate.
Comments will be moderated. Keep comments relevant to the article. Remarks containing abusive and obscene language, personal attacks of any kind or promotion will be removed and the user banned. Final decision will be at the discretion of the Taipei Times.