Sound art is music for the ears
Sound artists claim you need time to experience their work and you see things differently when you listen with attention
In the past three weeks over 100,000 visitors have flocked to the Taipei Fine Arts Museum for the Vivienne Westwood fashion exhibition, creating long queues and an overwhelming feeling of excitement inside its sparse modernist-style interior spaces.
However, for those of you wanting a deeper involvement with art, rather than an experience akin to browsing chic department store windows, then the B!AS International Sound Art Exhibition is for you.
What exactly is sound art? Is it music? Is it installation art? As one of the exhibiting artists Christina Kubisch said, sound art begins with people such as avant-garde composers John Cage and Pauline Olivieros. Contemporary media artists Wang Jun-Jieh (王俊傑) and Huang Wen-Hao (黃文浩) brought together 10 experimental sound artists under the theme Life Substituted: Sound Wave Frequency to show the challenges we face within an environment composed of sound waves.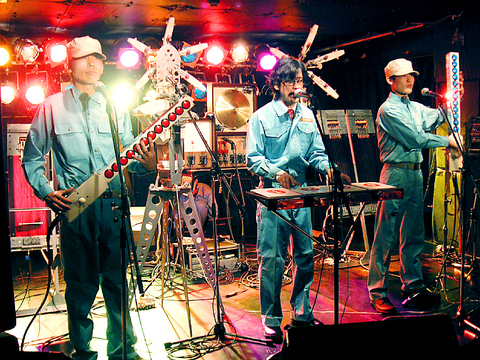 Japanese art group Maywa Denki performs sound art.
PHOTO COURTESY OF TFAM
Besides never-before-seen classic pieces of sound installation and audio-visuals, there are works selected by an international sound art competition sponsored by the Yageo Foundation. Some of the works are interactive such as Marc Behren's Tokyo Circle, in which the weight of your footsteps controls the sounds that are emitted from the circular platform.
Kubisch said that not only is sound art time-based, meaning that you need time to experience and to listen to each of the works, but that you see things differently when you listen with attention.
Her electro-magnetic installation
Bird Tree consists of a flowing pattern of green wires drawn on the wall. Donning headphones, you can then pick up the sounds of various birds and nature sounds that tend to get louder the closer you get to the wall. The work makes the viewer become a participant in that it is necessary to walk around to pick up all the sounds that are emitted.
Paul DeMarinis' Fireflies Alight on the Abacus of Al-Farabi is a sound/laser installation in which the sound waves make small loops of wire flutter in the light of a green laser. The installation lets you see the sound of waves, rather than just listen to them.
In one darkened room, several projections correspond with various sound pieces that range in feeling from techno to the esoteric. The room is absolutely quiet, as one must wear individual headphones to hear the work.
One of the highlights of the show was the opening performance by the campy Japanese group Maywa Denki (明和電機) which is an art unit produced by Nobumichi Tosa and that was established in 1993. Part performance art, comedy act, fashion, sound art and live music, Maywa Denki is in a category of its own with its witty and imaginative performances. They play small hand-crafted percussive and computerized instruments.
The YAGEO Sound Art Prize winning works are included in the exhibition and are notable for being the works of up and coming local artists.
First prize went to Hong Kongs' Anson, Hoi Shan Mak (麥海珊), second prize to France's Yannick Dauby, and third prize to Liu Pei-Wen (劉佩雯). Runners-up include: Stephen Vitiello of the US, and from Taiwan: Yao Da-juin (姚大鈞), Lee Yeh-lin (李岳凌), Chiang Li-wei (江立威), Lin Hsin-Chih (林信志) and Yao Chung-Han (姚仲涵).
What: B!AS International Sound Art Exhibition

Where: Taipei Fine Arts Museum,181, Zhongshan North Road, Section 3, Taipei (台北市中山北路3段181號)

Telephone: (02) 2595 7656

When: Until Nov. 20

Comments will be moderated. Keep comments relevant to the article. Remarks containing abusive and obscene language, personal attacks of any kind or promotion will be removed and the user banned. Final decision will be at the discretion of the Taipei Times.