The Formosan dog: A breed apart
At first glance it looks like your average stray dog, but the rare purebred Formosan is anything but average
A companion that will protect and obey you is no easy thing to come by. And if you value loyalty above all else and don't mind paying for it then you can't do much better than buy a purebred Formosan dog (also known as a Taiwan dog) from Chen Ming-nan's (陳明南) Hsiao Wu Fong Kennel (嘯五峰犬舍).
On a visit to the kennel, I had the pleasure of meeting two Hsiao Wu Fong-bred Formosan dogs who had returned with their owners for a reunion. The two were as different as night and day. Lo-ka (Aboriginal for "warrior") greeted me in the driveway with growling, barking and bared fangs as her owner held her leash tightly to prevent her from lunging at me. So this is the famous Formosan dog, I thought as I smiled nervously and edged past them.
Inside the Chen's office, Bark, a male dog, looked at first glance like he could have been from the same litter as Lo-ka, though he's two years her senior. Instead of barking, however, he was sitting on his hindquarters patiently holding a begging pose for the camera.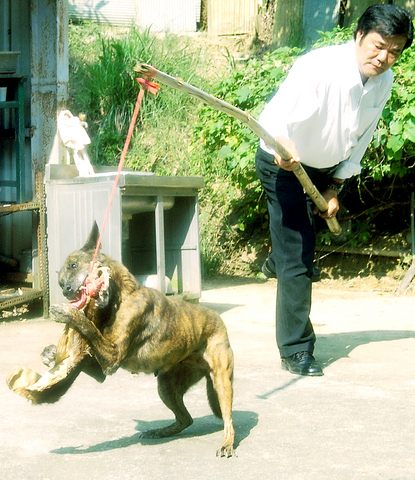 PHOTOS: WANG MIN-WEI, TAIPEI TIMES
Multi-purpose pooch
"The Formosan has more capabilities than most breeds: It can be a guard dog, a companion, a hunting dog and a stunt dog. It is very intelligent and loyal," Chen said.
Traditionally kept by Aboriginals as a hunting dog, the breed is athletic and has a jaw like a vice grip. This tenacity, coupled with the Formosan's famous loyalty makes it an excellent guard dog, if a bit on the small side. Their medium-small frame can pack tonnes of attitude. I was warned to keep a safe distance from Lo-ka's owner because a Formosan tends to hate strangers approaching its master.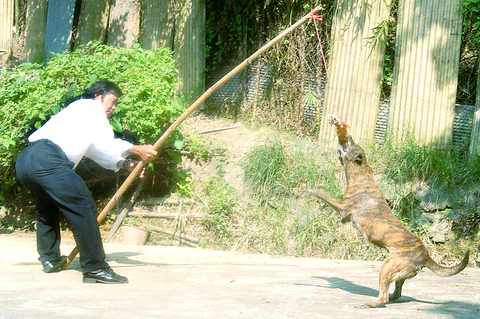 Bark was patient with strangers, but it was obvious that he only had eyes for his master. He responded with lightning speed to his owner Lin's hand motions and calls, performing tricks such as begging and leaping through Lin's arms. Lin easily commanded not only Bark's movements, but also his emotions: "Xiu-xiu" would get the dog all giddy and playful, while a growl would start him barking angrily.
Lin, who helps out at Hsiao Wu Fong when he can take time away from his graduate studies in animal science, explained that a Formosan's upbringing determines its personality.
"[Lo-ka] is like that because of her home environment," he said. "Her master leaves her to watch over the home all day while he's at work. But Bark is pretty good with strangers because I have several roommates whom she has to get along with."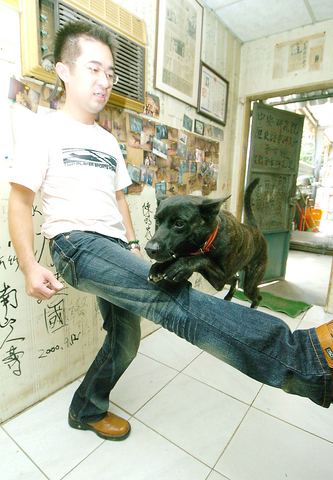 If exposed to only one person during most of the formative first year, a Formosan will become fierce towards strangers. With recent stories of dog attacks in the news, this tendency can be worrisome. But as with many other dog breeds, Lin explained, Formosans will only bite if they feel threatened.
Still, it's best for children to keep their distance, or only play with a Formosan under the owner's supervision. When Lo-ka's owner was asked if she has ever bitten anyone, he replied, "Not yet."
Verge of extinction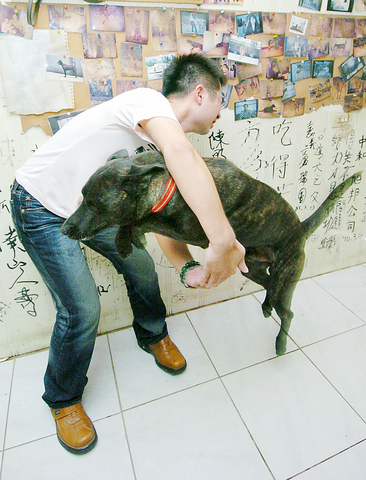 Bringing back the Formosan from the brink of disappearance has been Chen's life for the past 20-odd years, but his love for the breed goes back much further. His father kept Formosans and when Chen was 9, he asked for one of his own. The dog his father gave him eventually went missing, but he never forgot his beloved pet.
"That dog left a very deep impression on me and I always wanted another one," Chen said. "It was this nostalgia that led me on a search for the Formosan."
It was difficult to locate a pure Formosan, Chen said, as opposed to the "modern Formosans," which look similar but have mixed blood. There is no shortage of dogs that could pass for a Formosan: medium-small with short black, tiger-striped, tan or brown fur, large pointy "bat" ears, a thin arching waist and a pointed tail. That pretty much describes your average Taiwanese stray. But the average stray does not exhibit the exceptional traits of the Formosan breed.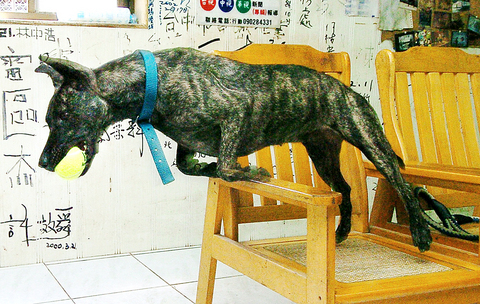 To find a true Formosan, Chen said, "You have to look at its inner qualities -- does it have a strong sense of direction, smell, sight and hearing?"
Chen's search for the dogs took him all over Taiwan and finally into the mountains, where he conferred with elderly Aboriginal hunters to gain insight into the breed.
"The Formosan dog was an integral part of Aboriginal culture. They depended on the dog for food, just as farmers depend on their cows. But this traditional culture has been polluted by civilization," Chen said, which is one of the reasons the breed has virtually disappeared.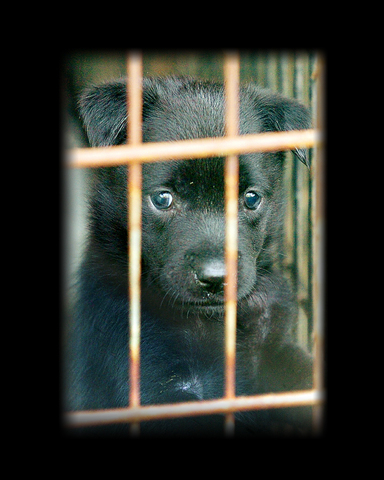 Based on the description the old hunters gave him, Chen was finally able, after 10 years of searching, to locate four pure Formosans to begin breeding.
He's not the only one who has climbed mountains for the Formosan. When a group of Japanese researchers came to Taiwan in 1978 looking for the ancestry of their own country's indigenous canines, they solicited the help of Song Yong-yi (宋永義), a National Taiwan University animal science professor.
After three months of combing the mountains, Song and the Japanese researchers were able to locate over 100 dogs. Blood tests showed that the dogs were related to those in southern Japan, and that they were descendents of the South Asian hunting dog.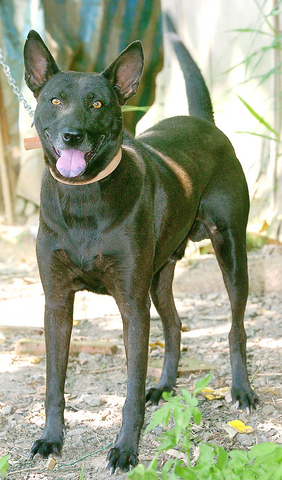 An issue of adapation
While a similar ancestry among animals usually has little to say about human migrations, dogs were domesticated 14,000 years ago and since then, wherever humans go, they take their dogs with them. The various breeds of dogs that arrived on Taiwan with the early human settlers mixed amongst themselves and eventually formed a new breed.
"The birth of the Formosan breed was an issue of adaptation. Taiwan's terrain is uneven and thickly forested, so the dogs gained new abilities in order to survive," Chen said.
Formosans are excellent climbers and can leap high into the air.
Over the centuries, Formosans became a semi-wild breed, like Australia's dingoes, but they always retained the potential to be trained.
Beginning with the Dutch settlers, the arrival of foreign breeds gradually whittled away at the purity of the Formosan. The last 20 years in particular has seen an influx of breeds and the resulting crossbreeding has all but destroyed the Formosan dog population. Now, Chen says, except for the dogs bred in his kennel, there are very few true Formosans left in Taiwan.
Song agrees. "Ten, 20 years ago, the so-called `Formosan dogs' likely had quite a bit of pure blood in them," Song said. "Now they're mostly mutts."
Both Chen and Song have emphasized the importance of protecting this rare breed that is recognized with a pedigree by the Taiwan Kennel Club and the International Canine Organization, but is little known in broader dog circles.
"I don't know how much longer I'll be able to keep this up," Chen said, admitting that the work has become too tiring for him. "But we absolutely cannot let the Formosan dog disappear."
Information about Hsiao Wu Fong Kennel can be found at www.dogs.com.tw
Comments will be moderated. Keep comments relevant to the article. Remarks containing abusive and obscene language, personal attacks of any kind or promotion will be removed and the user banned. Final decision will be at the discretion of the Taipei Times.