Meanwhile, back at the Farmhouse
Live-music junkies in Taipei have been in need of a fix. With the recent closure of Underworld, in the Taiwan Normal University neighborhood, the capital city has been left with one less venue at which to hear live bands. For Taipei, that's akin to a one-armed man losing a finger.
But Taipei's collective artistic memory is short. For nearly three decades there has been a place where live bands have plugged in and played even as its original crowds have grown older and its newer crowds have become smaller.
The Farmhouse, in Taipei's once-booming Combat Zone, started life as a "live music disco" before disco became something altogether different. And little has changed since, except the well-trodden dance floor doesn't get trod on much anymore.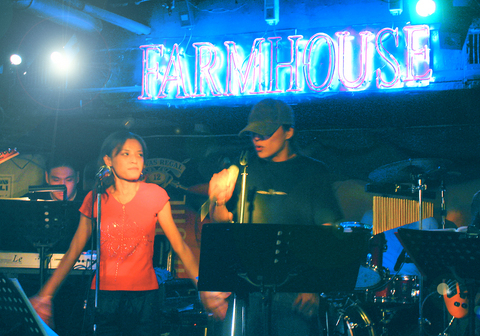 Fun at the Farmhouse.
PHOTO: DAVID MOMPHARD, TAIPEI TIMES
"There's a lot more people than this on the weekends," said Lin Zi-chun (林子群) looking at the 10 or so people inside Farmhouse one night this past week. Lin's band Blue Flame (藍色火煙) has played there every Thursday night for over a year now, but on this night he was supporting another band, Question, who has played the Farmhouse for only the past three months or so.
"It can even get crowded in here on Saturday, when Rubber Band plays," Lin said. "There'll be people on the dance floor doing the cha cha in a line. But it's not like what it used to be -- or at least what I've heard it used to be like."
What Lin has likely heard is about a time some 10 years ago or more, when punters were elbow-to-elbow, belly up to bar and the rest of the place was standing-room-only. The house band, MIT or Made in Taiwan, was well-known throughout the city and could pack the place even on weeknights. It wasn't uncommon to hear a 20-something Wu Bai (伍佰) and his band China Blue before they became the super-sensation they are today.
What happened to the live music scene? Depending on who you ask, blame is assigned anywhere from the 1979 departure of the US military, who first made the area notoriously raucous and gave it its moniker -- to the rise of Taipei's East District (東區) as the city's nightlife center, and even the migration of business to China.
Perhaps, for Farmhouse, the quality of the bands that started playing there precipitated the fall in the number of punters that came to hear them. Most of the early-week bands cover Western pop tunes from the 1980s and 1990s, reading the music from a book and in some cases stumbling through the lyrics. I last week heard the most desperate bar-room rendition of Desperado that has ever been performed; the singer called it quits after a dozen or so bars, apparently struggling to read his own handwri-ting and unsure of the notes.
As Lin said, the situation is different on the weekends, Saturdays especially, when veteran rockers Rubber Band take the stage and people line-up for the cha cha. But the question is, as Farmhouse nears 30 years old, will its long-standing punter-pulling acts like Rubber Band continue to pull in big enough crowds to keep the lights on?
Let's hope so. Or else Taipei's live-music junkies will be singing their own version of Desperado.
Where to go:

Farmhouse is located at 5, Ln 32, Shuangcheng St., Taipei
(北市雙城街32巷五號) and is open Tuesday through Sunday from 8pm to 3am, later on weekends.

The current roster of bands includes Question (Tuesdays), Circle Band (Wednesdays), Blue Flame (Thursdays), Puzzle

(Fridays), Rubber Band (Saturdays) and Babes (Sundays).

Call (02) 2595 1764.
Comments will be moderated. Keep comments relevant to the article. Remarks containing abusive and obscene language, personal attacks of any kind or promotion will be removed and the user banned. Final decision will be at the discretion of the Taipei Times.