Fashion on the cheap
Wufenpu is the place to go if you want to look cool but don't want to pay a lot doing it
The Wufenpu Garment Wholesale Area, as the popular clothing market opposite Taipei's Songshan train station is called, is a place that solves many of Taiwan's fashion mysteries in one fell swoop.
It's here in this semi-open-air market -- semi, because the goods spill out of the stores and onto the sidewalks and into the alleys -- where over 100 outlets supply a significant portion of the wardrobes favored by Taiwanese of all ages and fashion persuasions. And they do a brisk trade, with some stores selling by weight instead of item count, though single purchases of items are usually welcome.
Stores tend to specialize in specific fashion niches, such as trendy teeny-bopper gear, extra-large sizes, pet fashions, qipaos and pseudo-ethnic wear. Whatever their different specialties, they share a price range at the lowest end of the scale for clothes in Taipei.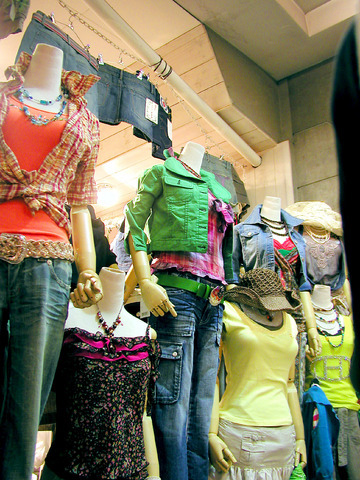 Wufenpu is ground zero for reasonably priced, fashionable clothes for women and men in Taipei.
PHOTO: MAX WOODWORTH, TAIPEI TIMES
"It's a race here to the bottom, price-wise," said one storeowner surnamed Chen (陳). "It's definitely not a high-fashion zone."
Which is perhaps why Wufenpu has become a term that, when evoked in description of someone's fashion-sense, is intended to carry the sting of an accusation of poor taste and quality.
Popular actress Hsiao Shu-shen (蕭淑慎), for instance, had to vigorously deny reports last year that clothing sold at her pricey Ximending shop was procured from Wufenpu.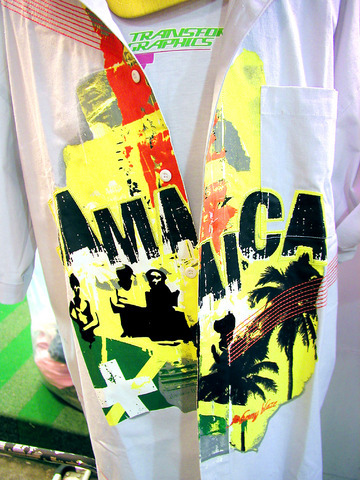 But despite the sneering aimed at the supposedly chintzy goods flooding out of Wufenpu, many people wandering the smart areas of Taipei are actually decked out in Wufenpu clothes and are making a fairly convincing show of having paid top dollar for their faux retro Mickey Mouse T-shirt or their sexy velour halter top. (Then again, some may have actually paid top dollar in East District boutiques for the clothes, but they would be suckers.)
It turns out that a lot of East District yuppies and hipsters, as well as teenagers mimicking pop star Jolin Tsai's (蔡依林) heavily accessorized fashions referencing Desperately Seeking Susan, get the season's fashion cues from Wufenpu.
But don't be fooled. The T-shirt with a Mary icon print and the words "Mary is my home girl" can be found at the market for about NT$200.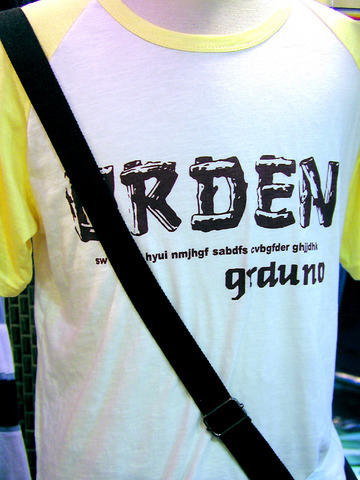 So before dropping a wad of cash for a DJ Guevara T-shirt or for an allegedly Nepalese skirt in front of the Dunhua South Road Eslite bookstore, savvy shoppers will make the trek to Wufenpu to pick them up for about NT$200 each.
Wufenpu is at its busiest on Mondays, as vendors from all parts of Taiwan come to stock up on goods that are later sold at night markets and stores. Using rapidly flashed hand signals, vendors haggle over prices for enormous bundles of clothes, which are then transported out of the narrow alleys behind scooters specially rigged with carts to the train station or to waiting courier trucks. From there, the clothes fan out around the city and the rest of Taiwan.
How the clothes reach Wufenpu, however, is a matter of considerable debate. The typical claim from vendors at the market for the provenance of their clothes is that they come from Hong Kong, Thailand and Japan. One vendor, however, confided that most of the products, in fact, were made in Taiwan.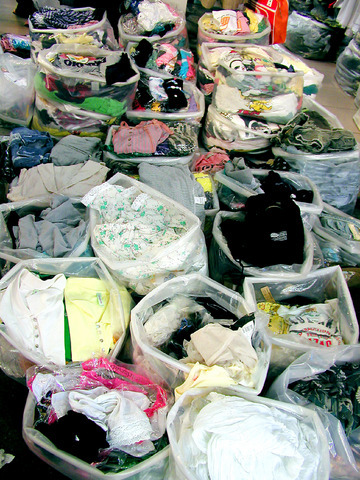 Either way, the sheer volume of knock-off goods provides ample reason to question how forthright the stores are about their products. But judging from the number of customers, no one seems to dwell on the point.
The market fulfills a huge range of fashion demands for all ages and that's good enough for most. And with its low prices, the market guarantees that the winds of fashion can change quickly without leaving everyone in the dust.
Comments will be moderated. Keep comments relevant to the article. Remarks containing abusive and obscene language, personal attacks of any kind or promotion will be removed and the user banned. Final decision will be at the discretion of the Taipei Times.