Singing the blues in Taichung
The first one-day outdoor blues festival takes place this weekend with an eclectic mix of acts from home and abroad
Taichung will get the blues this Sunday, when the nation's first one-day outdoor blues music festival, aptly named the Blues and Bar-BQ Bash, rolls into town and sets up shop at the Tiger City Mall from 1pm to 9pm.
Organized by the Blues Society Taiwan and sponsored by a list of multinationals, including Jim Beam, Duracell, 3M, Daimler-Chrysler and Geant, as well as local city-guide publisher Compass Group, the festival will feature appearances by several of Taiwan's leading blues acts and shows by a couple of overseas acts of international renown.
According to blues fan Kevin Smith, who, when he's not working for a living, doubles as the Blues Society's marketing director, the aim of the festival is twofold. First, it aims to promote blues music in Taiwan, and second, it hopes the festival will generate a set of local blues-oriented networks.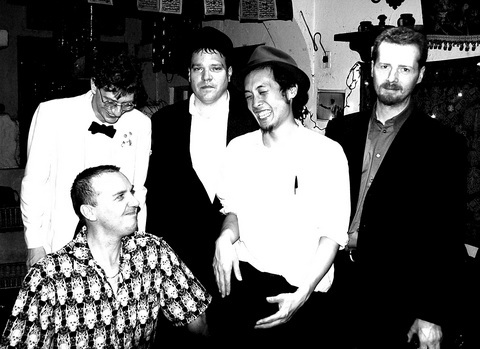 Dave Chen and the Muddy Basin Ramblers are one of the anticipated acts this weekend.
PHOTO COURTESY OF DAVE CHEN
"At this point, local audiences are still kicking the dead horse of jazz and the blues scene is younger, yet more vital in some regards," Smith said. "I think [blues] could become a focal point for music fans of all ages."
The idea of holding a blues festival was put forward by Blues Society President DC Rapier and veteran ICRT host and festival co-organizer Rick Monday. Ever since, blues lovers, including Taichung Mayor Jason Hu (胡志強), have been eagerly anticipating the event.
According to organizers, the mayor will be taking the stage on Sunday accompanied by Grammy Award-winning musician and Brown Sugar regular Hazel Payne to perform a rendition of Everyday I Have the Blues.
Boogie Chillin' will play their experimental blues.
PHOTO COURTESY OF RANDY BENETT
"I am delighted that the Blues Society [of] Taiwan chose Taichung to host the first-ever Blues Bash," Hu said. "[And] I am sure once Taichung residents hear [the blues] they will fall in love with it as I have."
To make the inaugural Blues and Bar-B-Q Bash appeal to blues fans and non-blues-savvy listeners alike, the Blues Society has opted to showcase a mixed bag of artists Sunday.
Along with traditional and more standard forms of blues from local acts like BoPoMoFo, Stevie Ray and the Black Sheep and Boogie Chillin', festival-goers will also be able to enjoy more offbeat sounds from Taiwan's fledgling blues scene. The popular blues band Dave Chen and the Muddy Basin Ramblers will be making an appearance, as will ex-punk-rock combo turned high-octane rockabilly act Chicken Rice.
Peter 'Bonzo' Radvanyi will be one of the stars of the festival.
PHOTO COURTESY OF THE BLUES SOCIETY TAIWAN
As the event is still pretty much a work in progress and admission is free, organizers decided to forgo packing the lineup with overseas acts and instead chose to invite only two international acts.
Blues guitarist and vocalist Joanna Connor will be representing the US and slide guitar maestro Peter "Bonzo" Radvanyi will be representing the European blues scene.
"It's a cool thing to be able to play on the same stage as Joanna Connor and Peter Radvanyi," said Dave Chen. "They are both very accomplished, and being around them will be a great learning experience."
WHO'S WHO AT THE BLUES AND BAR-B-Q BASH
Stevie Ray and the Black Sheep
Formed last year and named in honor of the late blues-guitar guru Stevie Ray Vaughn, the Taipei-based combo Stevie Ray and the Black Sheep is one of the nation's few fully local blues acts. Led by Aborigine guitarist Stevie Ray (not his real name), who, when he's not plucking the blues, dresses in blue and patrols the streets of the capital in his police car, leads the three-piece band that plays crowd-pleasing, Stevie Ray Vaughn-inspired sets.
Boogie Chillin'
Since the Taichung six-piece Boogie Chillin' was unintentionally formed during a jam session by a group of blues-loving friends seven months ago, it has become one of the most talked-about and active blues acts in Taiwan. The combo's eclectic mix of contemporary, standard and experimental forms of the blues keeps every performance fresh.
Dave Chen and the Muddy Basin Ramblers
A hit whenever they perform, be it amped-up or unplugged, Dave Chen and his motley crew of Muddy Basin Ramblers play a hybrid blend of classic blues, old time country and swing jazz. Along with guitar and sax, the band also makes use of some rather unconventional instruments such as a jug, a kazoo, a washboard and even a bicycle horn. Anything goes with this bunch, but whatever happens it's sure to be entertaining.
BoPoMoFo
Led and formed by Blues Society President and the former host of ICRT's once hugely popular Blues Power Hour, DC Rapier, BoPoMoFo is one of Taiwan's longest-running blues bands. Dedicated to one thing -- bringing the blues to Taiwan -- the multicultural five-piece act plays pure, undiluted Chicago-style blues that is guaranteed to have music fans at the Tiger City Mall roaring.
Peter "Bonzo" Radvanyi
When he's not performing solo, Slovakian bottleneck slide guitar hero Peter "Bonzo" Radvanyi is the frontman for the blues-rock combo The Blues Mother-in-Laws, who shot to fame in their native Slovak Republic after releasing the country's first live blues CD. In 1996 the Slovak Blues Society voted Radvanyi "Bluesman of the Year." Along with being one of Europe's leading blues artists, Radvanyi is also a well-known radio DJ and blues publicist.
Chicken Rice
OK, so, the zoot-suit-wearing band doesn't strictly play the blues, but its high-octane rockabilly-psychobilly sets are still well worth checking out. Influenced by mainstream rockabilly artists like Brian Setzer and the Stray Cats, as well more raucous punk-orientated combos such the Meteors and Reverend Horten Heat, Chicken Rice is one of best unsigned local acts.
Joanna Connor
It's been said Joanna Connor was "drawn to the Chicago blues scene like a bee to a half-full soda can," and if you choose to believe this, then that bee has been buzzing at full throttle since she released her debut longplayer, Believe It!, in 1989. She incorporates the whole enchilada of blues styles into her sets and her shows include modern blues, slide guitar and blues-rock. Connor's once-rabid style of electric blues may have mellowed somewhat over the years as she has attempted to break into the mainstream, but she remains one the most influential leading ladies of the global blues scene, be it on guitar or lead vocals, and should prove to be the festival's big draw.
BAND ROSTER/SHEDULE

1pm - 1:45pm: Stevie Ray and the Black Sheep

2:25pm - 3:20pm: Boogie Chillin'

3:35pm - 4:20pm: Dave Chen and the Muddy Basin Ramblers

4:35pm - 5:20pm: BoPoMoFo

5:35pm - 6:20pm: Peter ''Bonzo'' Radvanyi

6:35pm - 7:20pm: Chicken Rice

7:35pm - 8:35pm: Joanna Connor
Publication Notes
Festival notes
What: The Blues Society Taiwan -- Blues and Bar-BQ Bash, Taichung Where: Taichung Tiger City Mall When: 1pm through 9pm, Sunday Tickets: Admission is free.
Comments will be moderated. Keep comments relevant to the article. Remarks containing abusive and obscene language, personal attacks of any kind or promotion will be removed and the user banned. Final decision will be at the discretion of the Taipei Times.