Turning fantasy into a reality that helps others
Lucifer Chu's obscure interest in fantasy novels ended up making him an unlikely millionaire
Lucifer Chu (朱學恆) is quite possibly one of the nation's oddest millionaires. He lives with his parents, he drives a car that is best described as an "old banger" and he's addicted to video games and fantasy novels.
What really distinguishes Chu from many of his wealthy peers, however, is the manner in which he made his millions and the way that he is now using his assets to help others.
Last year, Chu used roughly half of his savings to establish two very different non-profit organizations -- The Fantasy Foundation, which promotes fantasy literature and graphic design throughout the Chinese-speaking world and the Opensource Opencourse Prototype System (OOPS), which translates the vast library of resources within the Massachusetts Institute of Technology's (MIT) on-line Open Courseware into Chinese.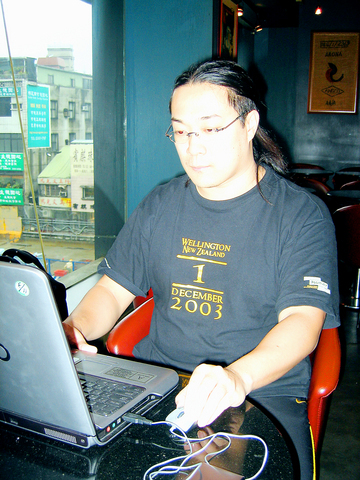 Lucifer Chu, 30, made millions as a translator of Lord of the Rings and now spends most of his time working on two non-profit foundations. One of his foundations promotes fantasy literature, while the other is involved in translating open-source material from the database of the prestigious American university MIT.
PHOTO: GAVIN PHIPPS, TAIPEI TIMES
The two ventures may seem worlds apart, but they both share two things in common: Chu doesn't make a single NT dollar from either, and they both rely heavily on volunteers. But then financial gain isn't part of Chu's agenda, as he's more interested in sharing knowledge than amassing wealth.
"One day I asked myself `did I become a better man for my [wealth]?' The answer was no. I was still the same person," Chu said.
"After realizing this, I decided that a way I could both better myself and others at the same time was to encourage people to share information. And it became my goal to share knowledge with others. I'm not making any money. In fact, I'm spending money."
Like his current unconventional ideals, Chu's rise to riches also began in a rather fantastical manner. Like any dreamy student with a yearning for the good life after graduation he set himself a lofty goal. He dreamed that one day he would have earned at least NT$10 million.
The problem was Chu preferred to play video games than finish his homework. His notebooks were full of drawings of mythical and fantastical creatures and his face, more often than not, was buried in the latest fantasy novel rather than his textbooks.
"I was not a good student. I drew all over my textbooks and didn't pay much attention to the teachers," he said.
"The only reason I learned English was to be able to play all the latest video games."
At 18, Chu began working as a part-time columnist for a local computer magazine and in his spare time translated fantasy and science-fiction novels from English to Chinese.
His life was set to change in the late 1990s, when he first began reading the English editions of J.R.R. Tolkien's epic Lord of the Rings. On hearing that a movie version of Tolkien's trilogy was in the pipeline, Chu approached a local publisher and offered to translate the works into Chinese for a minimal fee.
The deal was that if the translated works sold less than 10,000 boxed-sets, or 40,000 individual copies, Chu would donate his translation services for free. If, however, sales surpassed the 10,000 mark he would receive 9 percent of the retail value of each book.
It was a gamble, but within weeks of the release of the first of director Peter Jackson's big-screen trilogy in December, 2001, Chu's translation had become a national bestseller.
The number of boxed-sets sold in Taiwan to date stands somewhere in the region of 220,000 and Chu is now worth in excess of a cool NT$27million. And all because he preferred to play video games, read fantasy novels and doodle in his notebooks rather than pay attention in class.
"People ask me whether it was easy money and I only really have one answer. Yes it was," he said. "It was such a huge amount of money, it is hard, if not impossible to say that it was difficult to earn. I had translated about 30 fantasy novels before, but I never knew it was possible to earn that much money."
While Chu's Fantasy Foundation continues to attract the attention of fans of fantasy games, literature and graphic design throughout the Chinese-speaking world, he now spends most of his time working with MIT and OOPS.
"In the Internet age, to do something for free or to help others is not considered cool. The Internet is all about money," said Chu. "Personally I think doing the online type of work that OOPS is doing for free is a romantic idea."
According to Chu, who dresses in black, has shoulder length hair and looks more like a zealous fan of Goth-rock than a millionaire with a close working relationship with one of the world's most prestigious institutes of higher learning, he spends an average of 16 hours a day coordinating and overseeing his OOPS project. He's now so busy, in fact, that he no longer bothers to commute to his place of work.
"There are about 700 volunteer translators based in Taiwan, China, the US, Australia, New Zealand, Macau and Hong Kong currently working on the OOPS project," Chu said. "I have an office, but with so many e-mails to read and send it's a waste of time getting the car and driving there. I just stay at home and work."
Chu's group is not the sole translation center for MIT's Open Courseware in Asia, but it is one of the most industrious.
OOPS's motley crew of translators have converted the complete texts of 25 of MIT's courses into Chinese, have partly completed another 150 courses and Chu already has another 200 courses on his laptop awaiting the attention of OOPS personnel.
All this do-goodism hasn't been unanimously applauded, however. A group known as COER, or China Open Education Resources, which is a paid fulltime crew of university professors and intellectuals in China working on translating MIT courses, have let Chu know that OOPS's volunteers are undermining their work.
The China-based group so far has only completed translations of two MIT courses.
On the odd days that Chu has to himself these days, he is active on the lecture circuit. He hosts seminars and lectures to students of all ages about both his work as a translator and his current projects.
As for the future and what he plans to do with his wealth, well, Chu has yet to decide. But the 30-year-old is sure of two things: first, he has no plans to become an author and pen his own fantasy novels and second, he won't enter politics.
"I don't want to become [stereotyped] as the guy who writes fantasy novels and lives in a fantasy world and I would rather eat shit than go into politics," he said.
"I'm just going to enjoy my life and help as many people as I can to better themselves along the way," he said.
Comments will be moderated. Keep comments relevant to the article. Remarks containing abusive and obscene language, personal attacks of any kind or promotion will be removed and the user banned. Final decision will be at the discretion of the Taipei Times.