Island glows with lantern festivals
Fengyuan's Disney lantern display is one of the most crowded and brightest celebrations right now, but Pingsi, Yanshui and Taipei offer their own distinctive night-outs
As one celebration ends, another begins and depending on whether you head north or south, the Lantern Festival (元宵節) offers a spectacular demonstration of lyrical lights or deafening noise. \nThe festival falls on the 15th day of the first lunar month -- Feb. 23 this year -- but several locations will hold lighting ceremonies beginning this weekend. Whether its dodging fireworks in Yanshui, gazing at sky lanterns in Pingsi, or a fantasy wonderland in Fengyuan, each of the Lantern festivities has its own appeal. \nFengyuan's Disney Lantern Fun-tasy may not be the "happiest place on earth" but presently it's one of the brightest and most crowded festival locations. About 40,000 people looked over the 15 Disney-themed lantern displays at the opening last Monday, according to local media reports. \nThe idea originated in Singapore, but Fengyuan is the first city in Taiwan to host a Disney lantern festival, a decision that cost the small Taichung County city council more than NT$10,000,000 for materials, labor and copyright fees. \nThe hefty price tag wasn't the only difficulty to overcome; every detail from the lanterns to the logo had to be pre-approved by a Disney representative. It was a lengthy process, said Unine Wang (王俐心), project manager of the event, but "worth the effort." \n"Most people in Taiwan are familiar with Disney characters and combined with a popular festival it works out to be a huge success." Wang said. \nEach of the lantern displays represents a particular Disney fairy tale, from classics like Cinderella and Snow White to more recent animations such as Finding Nemo and Mulan. \nThe music and English songs accompanying the stories create a festive and lively atmosphere. The placing of the lanterns throughout the spacious grassy area and in the small stream helps to dilute the crowd and makes for a relaxing wander around the park. \nThe timelessness and popularity of the stories, however, are what attract most visitors. "This is more special, because each area tells a story. It's different from the single, large-sized lanterns at most festivals," said Amy Chung. \nAccompanying her two nieces on their second visit to the park, Chung said she ordinarily attends the festival in Taichung city, but this year she is proud to have a major event in her backyard. Her apartment has a view of the park, but the noise and crowds don't bother her. "People here are in a good mood; it's a positive and exciting environment," she said. \nThe lanterns are lit daily at 5pm, but there is little to see until after dark. Things get busy around 7pm and remain bustling until the park closes at 11pm. There are no venders inside of the park, but plenty of tents selling food and beverages surround the outside area. \nWith the influx of people, driving and parking in the vicinity is increasingly difficult. The best option is to take a train to Fengyuan. Exit Fengyuan station and turn right. From there it is a 15-minute walk along Fengzhong Road (豐中). Alternatively, take a taxi from the railway station to Hulu Dun Gongyuan (葫蘆墩公園). \nFengyuan is a small city with only seven hotels so anyone planning on making more than a day trip out of it is recommended to reserve a room beforehand. Hotel names and phone numbers are accessible online at http://www.fengyuan.gov.tw/hotel_list.htm. \nThose with an aversion to commercial animation can take their pick from a list of other lantern festivities around the island. \nAmong the more notorious is "Fireworks in the South, Sky Lanterns in the North." The former, Yanshui Beehive Rockets Festival, held in Tainan county, is perhaps the most dangerous, yet liveliest of the festivals. The pyrotechnic event begins when men in well-protected gear carry the palanquin of Guang Gong from the God of War temple. Skyrockets and fireworks create a wall of fire and noise that climaxes when the "cannon wall" is lit and thousands of fireworks go off in succession. \nThose who attend are recommended to bring protective gear. The festival starts Tuesday at dusk and continues until dawn the next day. There is no train station in Yanshui so the best way to get there is to take a bus from Tainan. \nFor a more serene appreciation of the holiday, head north to the mountain town of Pingsi for the Sky Lantern Festival. The annual event attracts visitors from all over the island who come to make, decorate and launch sky lanterns. \nThis year lanterns will be set off both tomorrow and Wednesday beginning at 6pm. Given the large number of spectators, trains and traffic will be congested. To get there take an eastbound train to Pingsi station. \nThose hoping to catch the festival in the nation's capital can venture through the Tunnel of Light illuminating Renai Road in Taipei's Xinyi district. The 2005 Taipei Lantern Festival began last Friday but the official lighting ceremony will take place tomorrow at Taipei City Hall. The show begins at 7pm Saturday and includes a light and laser show in addition to live performances. To get there take the MRT to Taipei City Hall. \n● Additional information on Fengyuan's Disney Lantern Festival (in Chinese only) is available at http://www.fengyuan.gov.tw/2005lantern. \n● Information on lantern festivities taking place around the island (in Chinese and English) is available at http://202.39.225.132/jsp/Eng/html/news_event/events_all.jsp.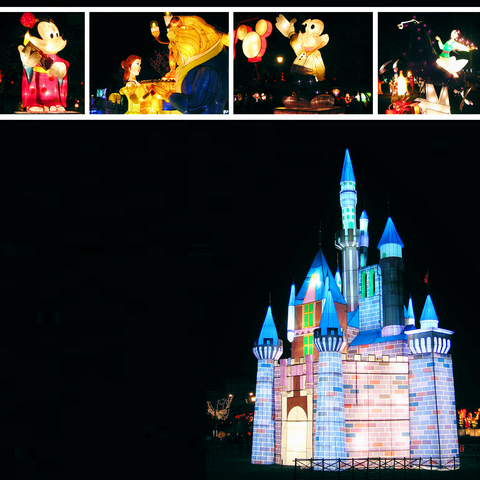 PHOTO COURTESY HUANG STYLE ADVERTISING
Comments will be moderated. Keep comments relevant to the article. Remarks containing abusive and obscene language, personal attacks of any kind or promotion will be removed and the user banned. Final decision will be at the discretion of the Taipei Times.