The woman who makes Taipei's underground rock
KK built White Wabbit Records from the ground up, starting in a converted men's restroom
When Yeh Wan-ching (葉宛青), better known as KK, finally got her degree from National Chengchi University after a marathon seven-year stint of undergrad, her choice of careers was simple: continue as head of one of Taiwan's most respected independent music labels and niche-oriented record stores, or settle into a cubicle for a lifetime of nine-to-five work.
Ignoring the grumbling from her family, she chose the former.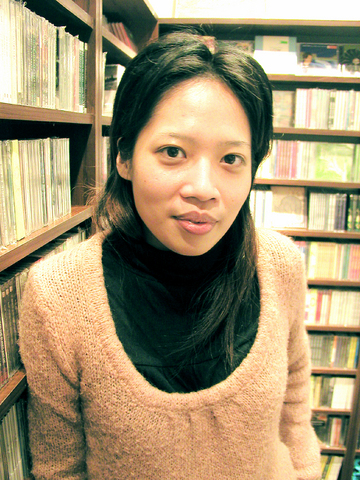 KK is the brains and brawn behind White Wabbit Records.
PHOTO: MAX WOODWORTH, TAIPEI TIMES
It's an unconventional path to take for a politics major, but not half as unlikely as the modest success her label White Wabbit Records (小白兔唱片) and store, White Wabbit Orange (小白兔橘子), have enjoyed since she founded them three years ago as side projects to her main passion as bassist for the band Nipples.
By that point, school had already ranked low on her list of priorities for several years, and starting a label also conveniently ensured that her band would be able to release an album commercially, which the other labels in town were not liable to help with.
Founding a record label and record store isn't quite revolutionary, but cornering a niche market for quirky, relatively unheard-of indie bands required a measure of risk that, until White Wabbit was founded, others had only taken half-heartedly.
"There's no reliable local business model in indie-music. So, just because we went through with it, we're perceived as pioneers and get a lot of attention for it," said KK, whose label and store have been featured in everything from popular women's magazines to a DPP presidential campaign ad.
The store, located inside the music venue/shopping complex The Wall, is tiny -- no more than five pings -- but it's a significant improvement from its former address inside a converted men's restroom at the now-defunct live music house Zeitgeist. The new space allows for a proper counter, a sofa and floor-to-ceiling shelves to fit a couple thousand CDs from bands known by only a handful of truly dedicated music listeners.
Keeping the titles as obscure as possible helps the store maintain an unchallenged status locally as the city's nexus for people with their ears to the rails for upcoming bands. There's also little likelihood for would-be consumers to find the music sold at the shop on popular MP3 file-sharing systems, like Kuro.com, that major labels and record stores complain have cut into their profits.
"It's a convenient convergence of personal interests and market conditions. I like this kind of music, and it so happens that we operate in part of the music market that MP3 file-sharing doesn't affect," KK said.
Learning the ropes in the rock-music industry, where young women label-heads are noticeable in Taiwan, as elsewhere, for their absence, was a trial-and-error process, but not, KK says, an especially arduous one.
"Because the music market is so fresh, starting this kind of venture might actually be the easy part. Keeping it alive is the hard part," she said.
To do so, KK made the label and store operate symbiotically, as the label's local releases -- six in total so far by Nipples, Bad Daughter (壞女兒), Peppermint (薄荷葉), plus compilations -- draw attention and people to the store, where they can buy more music, mostly by North American and European indie bands, sold by the label under exclusive licensing agreements.
A significant portion of the business comes over the Internet. Through the label's Web site (www.wwr.idv.tw), newletter and community forum site, KK has built a small client base from southern Taiwan and even as far away as Hong Kong and China.
KK also designed the label's logo -- a one-eyed cartoon rabbit that looks as though it were first doodled on a napkin.
But despite her undeniable marketing acumen, KK hesitates to describe herself as a businesswoman.
"I'm more of a musician than anything else. In the beginning, keeping the accounting books straight at the store was a huge drag. I can barely count," she said.
Her laid-back attitude has given White Wabbit something of a cachet as head of Taiwan's indie-rock slacker community and masks the actual round-the-clock work that goes into keeping the label and store afloat.
And she's not so unambitious as to not forget to forge medium-term plans for the label and store.
"I hope in five years to open up a branch in Tokyo. People buy anything in Japan," she said.
Comments will be moderated. Keep comments relevant to the article. Remarks containing abusive and obscene language, personal attacks of any kind or promotion will be removed and the user banned. Final decision will be at the discretion of the Taipei Times.