After the dog craze
The movie 'Quill' has triggered a fad for Labrador retrievers, but now animal protection experts are predicting many will soon be abandoned
The so-called "pet shop street" in the Shilin night market has 10 small pet shops congregated in a narrow hallway off the market, where dozens of puppies, including two beige puppy Labrador retrievers, are piled on top of each other in a glass display case.
"Look! It's Quill! So cute! I wish I could take it home!" said one woman in the crowd of gawkers at the window.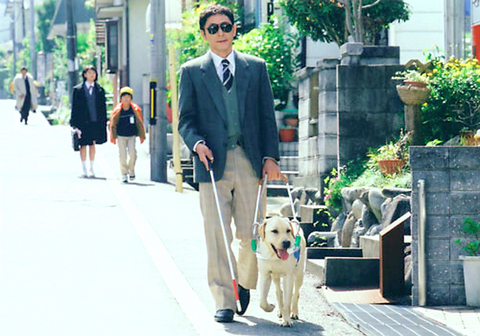 The issue of guide dogs is rarely raised, despite the recent popularity of the movie Quill.
PHOTO: COURTESY OF FLASH FORWARD ENTERTAINMENT
The pet-shop owner held up one of the Labradors and said that "Quill" costs NT$23,000, down already from November, when the Japanese film by the same name was melting hearts nationwide.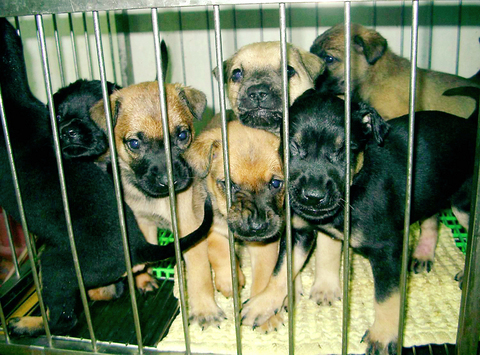 Dogs at the Taipei Animal Shelter are usually given 10 days to be adopted before they are put to sleep.
PHOTO: YU SEN-LUN, TAIPEI TIMES
Because of the hit movie Quill, a film about a guide dog for the blind that raked in NT$90 million at the local box office, Labradors in Taiwan are now simply called Quills.
The cuddly image of Quill and his loyal spirit have been attributed to a recent trend for Labradors as pets. But what worries animal conservationists and veterinarians is that before long, these cute Labrador puppies will outgrow their owners' apartments and end up roaming the streets or languishing in stray dog centers, waiting to be put down.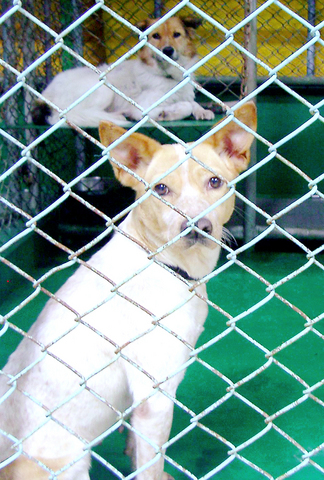 The origins of a fad
A puppy awaits adoption at Taipei Animal Shelter.
PHOTO: YU SEN-LUN, TAIPEI TIMES
In 2001, a photographer published The Life of Guide Dog Quill, in which the photographer spent 12 years chronicling Quill's birth, growth, training and eventual death. With its abundant black-and-white photos recording the touching interactions between the dog and his blind masters, the book immediately became a bestseller in Japan.
The book was released in Taiwan in 2002, and by the end of last year, had sold more than 120,000 copies. A children's version of the book was also released and has been widely used as an elementary school textbook.
Last year, the book was adapted to film by director Yoichi Sai.
Japanese national TV channel NHK also produced a seven-hour TV drama titled The Life of Guide Dog Quill (導盲犬可魯的一生), which is a more detailed drama about the issue of guide dogs. The film was then bought by Taiwanese Public TV Service (公視, PTS) for prime-time airing.
"There is always a pet trend after a hit movie. A few years ago it was doberman pinschers, then it was old English sheep dogs and dalmatians. Now it's Labrador retrievers," said Huang Ching-jung (黃慶榮), secretary general of the Animal Protection Association (保護動物協會).
"But in six months to one year's time, there will be a wave of abandoned Labradors," Huang said.
Supply and demand
At Shilin night market, a puppy Labrador costs from NT$18,000 to NT$23,000. In November when the movie was screening, the puppies went for as high as NT$30,000.
"Labradors are not as docile as they appear in the movies. And they are not good watchdogs. They are working dogs," said Huang, a licensed veterinarian.
Huang warned that Labrador retrievers are susceptible to skin diseases and genetic problems with their hip joints. Recently, Huang said, he has seen a jump in the number of people bringing in Labradors for joint problems.
But the hype around breeding and selling Labradors has not abated quite yet. Last month, it was reported in Kaohsiung that a pig-farm owner had sold all his pigs to begin breeding Labradors and cash in on the trend.
The sanitary issues of raising more than 50 Labradors in a pigpen apparently didn't set off any alarms, because with demand so high, all the puppies were sold even before they were born. Some pet-shop owners could not wait for the puppies to reach one month old, nor did they have time to check the puppies' health.
"They were brought to the shops just 10 days old," the pig pen owner was quoted as saying on local TV news.
Dirty business
"Taiwan's pet shops and pet breeding businesses are not functioning healthily. Also, self-discipline is lacking among proprietors," said Hank Lee (李君漢) from Life Conservationist Association (關懷生命協會).
"This is why we occasionally see a dog trend followed about six months later by a wave of abandoned dogs. The dogs are either discarded on the streets or sent to stray dog shelters, staying for a few days before being put down," Lee said.
In Taipei City, for example, there are hundreds of pet shops selling and breeding dogs, but, according to the government's own statistics, there are only 50 licenses issued by the Taipei Municipal Institute of Animal Health (台北市立動物衛生檢驗所) to permit proprietors to engage in pet trading and breeding.
In Europe, Lee said, dog breeders regulate themselves by restricting dogs younger than 1 year old from breeding and limit a bitch to one litter per year.
Such agreements are non-existent in Taiwan.
At the Taipei Animal Shelter (台北市動物之家), 9,000 to 10,000 dogs annually pass through the shelter, which accommodates only 320.
Seventy percent of the dogs are taken off the streets. Once in the shelter, a dog stays an average of 10 days to two weeks, waiting to be adopted. If a dog is not adopted, it will be euthanized.
"We usually let a dog stay longer if it is in good condition. Public shelters in other counties and cities usually let dogs stay from three to seven days," said a veterinarian surnamed Lu working at the shelter.
About 40 percent of the 9,000 dogs in the shelter are adopted, representing the highest adoption rate among public shelters in Taiwan.
Blind to the issue
According to Lu, the shelter hasn't had any Labradors yet, but they are expected to arrive. "In the past we had a few dalmatians and we have had quite a few beagles a few months after the trend for those dogs passed," he said.
Ironically, despite the popularity of the film Quill, the issue of guide dogs for the blind is rarely raised and widely neglected by the public.
With 50,000 visually-challenged people in Taiwan, there are only eight blind-serving guide dogs, according to the Taiwan Guide Dog Association (台灣導盲犬協會). There is also a lack of training professionals and schools. There are only two qualified guide-dog trainers in Taiwan, according to the association.
The Taiwan Guide Dog Association is now calling for volunteer families to be host families for guide dogs. Volunteers are required to take care of the dog for a year, after which time the dog will be taken to guide-dog training centers.
"Perhaps the best way to express love to a Labrador dog is not to keep them as pets, but to help them to become more valuable for human beings," said Hank Lee from Life Conservationist Association.
Comments will be moderated. Keep comments relevant to the article. Remarks containing abusive and obscene language, personal attacks of any kind or promotion will be removed and the user banned. Final decision will be at the discretion of the Taipei Times.