Snakes can slither, but they can't hide
Bruce George, the tattooed Australian star of Animal Planet's `Snake Buster,'tries to take the mystery out of snakes one show at a time
Heavily tattooed and dressed in black, Bruce George looks more like a greaser than a TV show host and educated reptile researcher. But with a license from the Australian Department of Conservation and Land Management and with his trusty tongs always at hand, George is, in fact, one of the few who dare to go head to head with some of the world's most venomous reptiles. \nOver the past 17 years, George has built up a reputation as one of the Land Down Under's top snakebusters. Be it day or night, he's always ready to answer the call and remove unwelcome snakes from people's homes. \nRecently in Taipei on a promotional tour for his soon-to-air show titled The Snake Buster, Taipei Times staff reporter Gavin Phipps caught up with the host to chat about him and his dangerous and, some might say, less than enviable career. \nTaipei Times: How did you get into the business of snakebusting? \nBruce George: In 1987 I moved to the Pilbara region of Western Australia, which is one of the richest areas in the world for reptiles, and, of course, in a little mining town all the snakes were coming in. There was a call for snakebusters, so, number one, I put my hand up and, number two, I said "what's a snakebuster?" \nWhen it was explained to me I jumped at the chance and here it is 17 years later and I'm still doing it. \nI had training on how to do it from a mate of mine and then spent about three years learning about snakes before I applied for my license, which you need, as all native fauna is protected in Australia and you can't just pick [a snake] up willy-nilly because you get fined for it. \nTT: When and how did you make the transition from a localized reptile wrangler to an instantly recognizable global TV celebrity? \nGeorge: I had a call from Prospero Productions in 2001 asking me if I was interested in helping out with a documentary called Aussie Animal Rescue, which focused on animal rescue across Australia. I thought: "What a great way to educate people," as, along with removing snakes from people's homes, educating them about why they get snakes, what they should do to avoid them and about snakes in general is a major part of my job anyway. I don't think of myself as a celebrity. I'm just a guy doing what he likes. \nTT: What type of snakes do you go head to head with and have you ever been bitten? \nGeorge: I've dealt with death adders, pythons, taipans and inland taipans, which are one of the world's most toxic snakes. Mostly I'm called out to remove tiger snakes and dugites, two of the most common types of snakes found in the Perth area where I live and work. And yes, I have been bitten quite a few times, but I've only been hospitalized twice and needed anti-venom once. \nThe worst of these was when a death adder cracked me big time. I yelped like a puppy and was hospitalized overnight. He only gave me what we call a fright bite, though, and all I ended up with was a very swollen and very itchy finger. \nTT: If someone finds a snake in their home, do you recommend they pick up and deal with it, or should they leave it be and call the authorities? \nGeorge: Mate, we've a saying in Australia that goes: "Snakes don't bite people, people get bitten," so, no, I don't recommend that you pick it up because the only time that people get bitten is when they're mucking around with snakes. \nFirstly I advise people to treat any snake as potentially dangerous and not to pick it up. You should stand back and follow it at a safe distance to see where it goes. If it goes into a room, then close and pack towels under the door and call the authorities, which in the case of Taiwan is the fire service. If you're really scared, then simply close the front and back doors leave your house and wait for the authorities outside. \nTT: Is catching snakes an easy job, or do you find that some snakes are a whole lot smarter than people might imagine? \nGeorge: If they're isolated it's usually no problem, but there have been times when I've been given a run for me money and you do get pretty fit doing it. I had one near my house that was going along this guy's backyard fence. I was running up the fence after it, but every time I'd get close the snake would turn around and shoot through me legs. \nEventually I got it, but as I bagged it up, the guy, whose house it was, turns around and says: "Bruce, I hate to tell you this, but there's another one behind you. I turned around and there it was just looking at me. \nTT: What are your thoughts on the practice of drinking snake's blood, which is common in parts of Asia? \nGeorge: I respect other people's cultures, but it upsets me. The show is designed to educate people about snakes and why we, as humans, have no business killing them for no particular reason. So, I figure, that if I can bring one person around into realizing that there is no reason to kill these guys, then great. And I haven't seen any written evidence that snake's blood is good for anything! \nBruce George can be seen in his new series The Snake Buster at 8:30pm today on Animal Planet.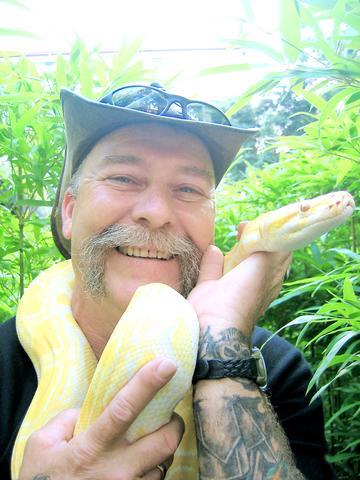 Bruce George comes to grips with an albino Burmese python in Taipei this weekend.
PHOTO: GAVIN PHIPPS, TAIPEI TIMES
Comments will be moderated. Keep comments relevant to the article. Remarks containing abusive and obscene language, personal attacks of any kind or promotion will be removed and the user banned. Final decision will be at the discretion of the Taipei Times.