The Vinyl Word
The Vinyl Word popped over to Ministry of Sound last Friday to see the DMC DJ champions Enferno and Klever in action and was impressed, but not overly so. First of all, the raging typhoon outside kept the crowds to a bare minimum, which seemed a shame given these DJs' talent and the freaky deeky old-school gems they kept pulling out of their record bags.
But anyway, it was an impressive scratching display that seemed to not even register with the few people on the dance floor. Oh well. It was still nice to hear some Gloria Gaynor mixed in with Prince, Rob Base, Tribe Called Quest and other classics -- just something, anything other than another night of post-2000 hip-hop hits.
And tonight, the hip hop only gets better when Luxy hosts QBert and Room 18 has Kid Koala. Now, maybe here it's worth asking: "How did these two get billed for the same night at different clubs?" They're the top turntablists in the world and we're going to be forced to choose between them!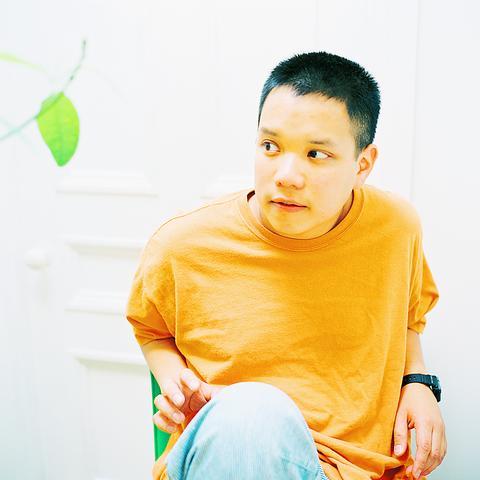 Kid Koala will cut you up.
PHOTO COURTESY OF ROOM 18
To that end, The Vinyl Word caught up with both of them hoping for a hint of whose show to go see.
Vinyl Word: What do you like about being a DJ, or turntablist, as people say?
Kid Koala: I enjoy playing with all the aspects of it. There's room for expression every step of the way -- from selection of bits of vinyl, to layering and arranging, to performing. That's sort of the beauty of it for me. It's quite a chameleon of an instrument.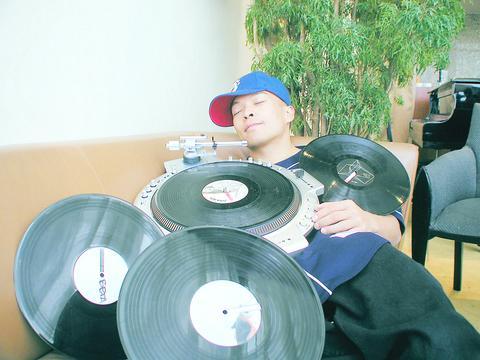 Master QBert sleeps.
PHOTO: MAX WOODWORTH, TAIPEI TIMES
VW: At what point did you achieve the skill level where scratching didn't sound like an annoying scratch sound, but sounded like actual music?
KK: I don't know. You kind of learn to see the lineage between all the styles. I actually love making weird and annoying sounds on turntables. Sometimes that's exactly what a track calls for.
VW: Why "Kid Koala"?
KK: My friends called me that as a joke in high school when I started cutting up records. I used to drink this sugary soda thing called Koala Springs.
VW: What are the tricks that DJs are doing now that you could take credit for inventing?
KK: I would be very hesitant to take credit for anything. It's all a mix of your life experience and the crate of records that happen to be in the vicinity. You could give the same box of records to 10 DJs and get 10 very different mixed tapes.
VW: What have been some of your lucky record finds lately?
KK: I have a record that teaches you how to drink wine. I also have a record that teaches you how to go on a date. That one is very useful.
VW: What have been some memorable shows to date?
KK: Doing the tour with Radiohead was amazing. Their audience is incredibly open-eared. And the band and the crew were really cool. It was an awesome experience for me.
VW: Any musical advice or tips?
KK: Listen to something under 90 bpm in the shower so you don't feel compelled to start dancing. I don't recommend driving to my albums.
VW: What can we expect at your show here in Taipei?
KK: If the Muppets all bought DJ set-ups and decided to record an episode all on turntables it might sound a little something like this.
VW: Your friend QBert will be playing at Luxy in Taipei tonight. How are people supposed to decide who to go see?
KK: We're actually doing some gigs together in Japan the following week. So if you can't decide, you can buy a ticket to Tokyo!
As for QBert, he hauled from the US the fully functional prototype of the QFO, an integrated turntable and mixer designed by QBert and being made by Vestax. The QFO also features an audio input that allows him to use one deck for his entire show.
Vinyl Word: To what degree is the turntable an instrument?
QBert: Right now turntablism is very percussive. But with the pitch control, we can start to make a lot of melodies.
VW: How are you taking turntablism into new areas?
QBert: Actually, I love it that it's percussive. But you can get more melodic with the pitch control. And even with your hand by moving the record you can make it so it's like a fretless bass. It's technical, but it's even beyond technical. It's spiritual when you get the feeling for it.
VW: Are there any limitations to what a turntable and record can do musically?
QBert: The only limitations are your beliefs. If you believe you can make a sound, you can make that sound.
VW: You've designed the QFO when lots of DJs are switching to CDs. Do you use CDs?
QBert: Not really. I'm more of an analog person. It's like asking a pianist who plays on a grand piano if he likes to play on an electric keyboard.
VW: Does that make you a vinyl purist?
QBert: Yeah, I guess it does.
VW: Your style is hip hop, but what do you listen to at home?
QBert: Only jazz, straight up. And some guitarists, like Stevie Ray Vaughn. I'm really into music theory. But my roots are hip hop.
VW: Would you say you're trying to take the complexity of jazz percussion and bring it to hip hop?
QBert: Well, no one is making hip hop in strange time signatures, but it could be done. It's just really difficult.
VW: What have you heard lately that's blown your mind?
QBert: I get mixed tapes all the time and sometimes there'll be some reverse shit, combined with some reverse chirps, and maybe a boomerang or something and we'll all be like: `Wow, he took it to another level there.' There's lots of great stuff, but the scratch scene is very undergound.
VW: Kid Koala's going to be in town tonight as well. How are we to choose?
QBert: He's here? Aw man, I wouldn't even know.
Performance notes:
Kid Koala is tonight at Room 18, located at B1, 18 Songshou Rd, Taipei (台北市松壽路18號B1).
Tickets cost NT$800, students NT$600.
QBert is tonight at Luxy, located at 5F, 201 Zhongxiao E Rd, Sec 4, Taipei (台北市忠孝東路4段201號5F).
Tickets costs NT$500 before 11pm, NT$900 thereafter. Also tonight at Luxy is DJ Victor's CD release party in the Lotus Room backed up by Joe Ho.
Comments will be moderated. Keep comments relevant to the article. Remarks containing abusive and obscene language, personal attacks of any kind or promotion will be removed and the user banned. Final decision will be at the discretion of the Taipei Times.