Indian Fans(印度風)
Address: Alley 6, Ln 170, Zhongxiao E Rd, Sec 4, Taipei (台北市忠孝東路4段170巷6弄7號) and 2, Ln 14 Yongkang St., Taipei (台北市永康街14巷2號)
Telephone: (02) 8773 3248
Open: 10:30am to 9:30pm
Average meal: NT$300 including beverage
Details: English Menu
Indian Fans and its predictably kitsch wall hangings and assorted nick-knacks related to India first appeared on Taipei's fashionable Yungkang food-street two years ago. It opened a second outlet a stone's throw from the more up-market Dinghao shopping neighborhood last summer.
The place must be doing something right in order to open its second branch, but what that is leaves this reviewer perplexed. Like all too many locally owned restaurants that attempt to pass themselves off as foreign eateries and fall flat, if not so low that the gutter is the best place for them, Indian Fans is a sham.
While some bright spark had the affront to boast "best Indian curry in Taipei" on a flyer advertising the place at the recent Computex in Taipei, the truth is very different. Indian Fans serves up some of the worst curry to be found in Taipei. Sure, the decor and design are pleasant enough, but this is an eatery not a museum piece.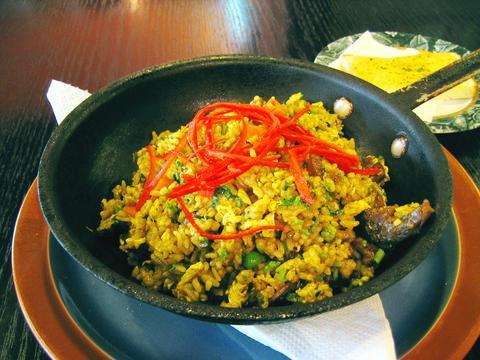 Indian Fan's lamb fried rice is best avoided.
PHOTO: GAVIN PHIPPS, TAIPEI TIMES
The menu includes such fancy sounding fare as Kashmir chicken curry, Madras beef curry, Rajasthan mutton curry and Punjab mixed vegetable curry, but there's not a naan bread in sight. Each dish is served with a plate of rice -- the local sticky variety as opposed to the fluffy Indian type -- an odd assortment of vegetables, and comes with a complementary salad bar.
This reviewer sat down for what he thought would be a lamb pulao (NT$249), but was instead served a wok-fried plate of lamb fried rice filled with frozen carrots, peas and, of course, the ubiquitous corn. While I attempted to wade through the fried rice and accompanying grease and at the same time discern its flavor, a waitress was kind enough to pop a side dish of garlic bread made from a single slice of white toasted bread on the table.
Sadly the food's flavorlessness and the limp slice of garlic bread proved all too much and I was forced to beat an early retreat from Indian Fans with my meal left unfinished.
I opted for my complementary beverage to go, but should have declined the cup of iced Indian Masala tea as it proved as bad as the meal. Traditionally drunk as a pick-me-up, the bastardized version of this otherwise great brew served up at Indian Fans had the reverse effect. Instead of leaving me refreshed it left a rancid taste in my mouth.
The bottom line for Indian Fans is simple: If you're familiar with and enjoy Indian fare then don't go anywhere near the place!
Comments will be moderated. Keep comments relevant to the article. Remarks containing abusive and obscene language, personal attacks of any kind or promotion will be removed and the user banned. Final decision will be at the discretion of the Taipei Times.