Restaurant: Oma Ursel Cafe-Restaurant
Address: 292 Fuxing N Rd, Taipei (台北市永康街6巷9號)
Telephone: (02) 2392 2447
Open: 11:30am to 10pm
Average Meal: NT$500
Details: English menu available, Credit cards not accepted
In March, Taipei's two German restaurants called Schwarzwald -- one on Wenzhou Street, one on Yongkang Street -- parted ways and the Yongkang branch changed its name to Oma Ursel Cafe Restaurant and moved to Fuxing N Road, but retained its manager Chiu Dai-yu (邱岱玉) and the cooking staff, who have made it one of the few authentic German eateries in town over the past four years. The new name is a tribute to Chiu's German mother-in-law, whom she credits for teaching her everything she knows about German cuisine -- -- and one look at the menu will show that she's learned a huge amount.
Oma Ursel's tries to incorporate three elements of German food into its menu: home-style cooking of the kind taught by the restaurant's namesake, regional specialties and new flavors that have been incorporated into the national palette during recent decades. The result is a selection of dishes that is representative of current German cuisine without limiting itself to cliched Teutonic specialties.
Recently, Chiu has been enthusiastically promoting the restaurant's five choices of sausage, all of which are made on the premises. Less ambitious diners can choose two from among the bratwurst, cheese wurst, spicy wurst, white wurst and gyro wurst, or the brave can attempt all five. The stand-outs are the bratwurst and spicy wurst, while the gyro wurst in tatziki sauce is well worth a try to sample one of the flavors that Chiu said has become integral to German cuisine since the arrival of immigrants from Greece and Turkey.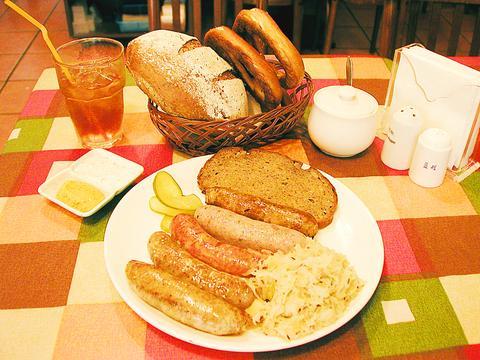 If big sausages are what you're hankering for, head for Oma Ursel's.
PHOTO: MAX WOODWORTH, TAIPEI TIMES
Along with the sausages, diners eager for authentic fare should try the Wiener schnitzel, baked trout, or the chicken cordon bleu. This last dish is an absolute highlight, with plentiful cheese melted in the middle of the breaded, wrapped and fried chicken filet and pork. The cooks have deftly avoided over-breading to allow the flavors of the meat and cheese to come through while adding a pleasant crisp texture.
In the blazing summer months, when sausages and meats may be less appealing to some diners, the lighter fare on offer includes meal-size salads and a long list of vegetarian dishes, including the house's own vegetarian meatloaf, as well as light and low-priced lunch specials like spaetzle (fried homemade egg noodles) and seafood spaghetti. These go down especially well with a glass of Alsterwasser -- a half-and-half mix of beer and Sprite named for the lake in the center of Hamburg.
All of the restaurant's main dishes are served as set menus with decent portions of side orders that include sauerkraut, spaetzle, potato noodles or speck (braised potatoes, onions and bacon), salad, tomato and bacon soup, a slice of cake and coffee or tea. It's important to save space for the restaurant's homemade cakes, as no German meal would be complete without a slice, but you'll need the coffee (steer clear of the milk teas) or the remainder of your wheat beer to get down the apple tart, as it's quite dry.
Comments will be moderated. Keep comments relevant to the article. Remarks containing abusive and obscene language, personal attacks of any kind or promotion will be removed and the user banned. Final decision will be at the discretion of the Taipei Times.