Restaurant: Madame Jill's Vietnamese Cuisine
Address: 20-3 Xinsheng S Road, Sec 3, Taipei 台北市新生南路三段20之3號
Telephone: (02) 2362 5005 (Chui Yuan 翠園), (02) 2367 0978 (Chuiin 翠林), (02) 2721 5110 (Chulin Zhongxiao branch 翠林忠孝店), (02) 2368 0254 (Chuixin 翠薪)
Open: 11am to 3pm, 5pm to 10pm
Average meal: NT$300
Details: English menu, credit cards acceptable only at Chuilin Zhongxiao branch
Madame Jill's was the first Vietnamese restaurant to come to Taipei, when the Vietnam War was still raging. In 1974, the Lin family (overseas Chinese) moved to Taipei because of the war and set up the first branch of Madame Jill's, across the street from National Taiwan University. Over the past 30 years three other branches have been established and they remain frequently visited spots around the neighborhood.
With southeast Asian food becoming more popular in recent years and with more Vietnamese wives opening their own restaurants in the country, Madame Jill's nevertheless thrives, surviving the economic slump two years ago and the SARS outbreak last year.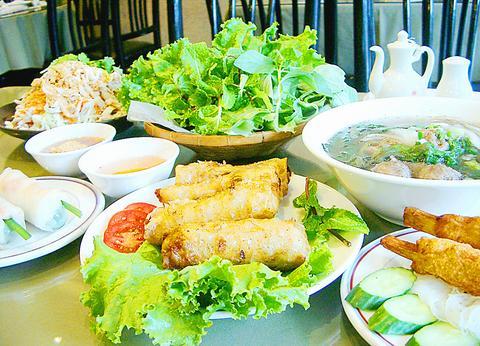 Variety and good prices at Madame Jill's.
PHOTO: YU SEN-LUN, TAIPEI TIMES
Asked if there were any secrets to maintaining the business, Liang Hai-ying (梁海茵), daughter of Jill Lin, said modestly that it was partly due to the wider acceptance of Vietnamese food as a whole. But she also added that maintaining quality is very important.
"You want to make sure that each bowl of pho (rice noodles) tastes the same all the time," she said.
Chicken salad Vietnamese style is a refreshing starter, which is a mixture of shreds of cabbage, cucumber, chicken and carrots and sprinkled with peanut powder. It is then seasoned with fish sauce, a necessity in any Vietnamese dish.
"The fish sauce is the equivalent of soy sauce in Chinese cuisine. You season almost every dish with it," Liang said.
Spring Rolls are another must-try at Madame Jill's. There are two kinds of spring roll skins: Vietnamese style (made of rice) and Taiwanese style (made of flour). For sure, the Vietnamese style tastes better here, despite some local customers' preference for the other. The traditional method of preparation is to wrap the spring roll with a lettuce leaf, adding basil and mint leaves, which is then dipped in a home-made fish sauce. It tastes sweet and sour, and slightly spicy.
Though a bowl of rice noodles with beef in a soup is a often ordered as a main course, it is recommended that you order extra beef meatballs. For a more "colonial taste," one should try spicy coconut beef with French baguette. The bread is home made, Liang said.
Deserts here are a mixture of Thai, Malaysian and Vietnamese. The home-made laya cake is worth-trying, though. It is a green-colored, coconut flavored cake, made with the juice of laya tree leaves, a tropical tree common in Vietnam.
Comments will be moderated. Keep comments relevant to the article. Remarks containing abusive and obscene language, personal attacks of any kind or promotion will be removed and the user banned. Final decision will be at the discretion of the Taipei Times.