Restaurant: The Spice Shop (香料屋)
Address: 6, Alley 10, Ln 50, Tienmu East Rd, Taipei (台北市天母東路50巷10弄6號)
Telephone: (02) 2873 7775
Open: Lunch 11:30 to 2pm, dinner 5:30 to 10pm
Average meal: NT$500
Details: Menu in English and Chinese. Non-smoking establishment. Credit cards not accepted.
Born and raised in India, Daniel Hsiung (熊懌騰) originally came to Taiwan to study Chinese cooking. After finishing cooking school and a few stints in various pub kitchens, Hsiung abandoned Chinese cuisine in favor of his native fare and opened The Spice Shop. \nA fourth-generation Indo-Chinese, Hsiung is not the only member of his family to find success in the Indian restaurant business. In fact this is the sixth Spice Shop to open in Taiwan, as two cousins own and operate a total of five restaurants in Kaoshiung, Taichung and Hsinchu. \nOffering a large selection of vegetarian and non-vegetarian dishes, The Spice Shop serves up curry favorites such as beef madras (beef in coconut sauce), chicken tikka masala, mutton bhuna (mutton with onion and pepper) and others priced under NT$300 each. The most popular and highly recommended dish is the chicken tandoori (NT$300), served with a small side of kuchember (spicy Indian salad). \nThe vegetarian selection is equally plentiful and tasty. Made with seasonal vegetables the jhalfraizie (NT$180) is a refreshing change from the frozen veggies often used in mixed curry. Channa masala (chickpea curry), palak paneer (made with spinach and homemade cheese) and the daal all come highly recommended at NT$180. \nDiners looking to satisfy a sweet craving after their curry will have to settle on a lassi, as there are no desserts on the menu. The mango lassi, made with fresh mango and yogurt, however, should not be overlooked. \nThe restaurant's decor remains debatable with a limited (yet eye-catching) selection of Indian tapestries hanging on exceptionally bright orange walls, with spindly chip board tables and plastic chairs. \nA trained chef, Hsiung says he still prefers to be in the kitchen and still does most of the cooking. Apart from using less oil and chili, which can be increased on request, Hsiung claims he doesn't cater to Chinese or Western tastes, and instead prepares the food exactly as he would in India. \nIn less than two years since opening, The Spice Shop has acquired a substantial number of regulars who fill the tiny establishment nightly. With a maximum seating capacity of 40 persons, the restaurant fills up early, so reservations are not a bad idea, especially on the weekends. \nEven at full capacity the wait for food is not intolerable and rather enjoyable with a selection of beers that includes India's own, King Fisher. Alternatively, patrons can bring their own bottle of wine, but are required to pay a NT$200 corkage charge.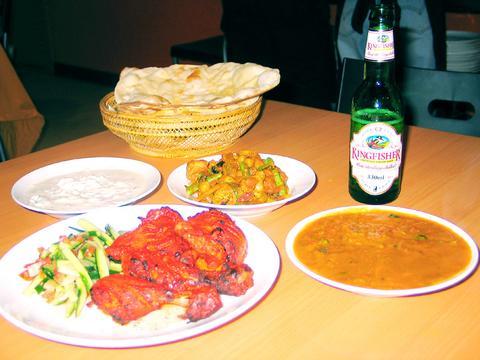 Spice is nice.
PHOTO: DIANA FREUNDL, TAIPEI TIMES:
Comments will be moderated. Keep comments relevant to the article. Remarks containing abusive and obscene language, personal attacks of any kind or promotion will be removed and the user banned. Final decision will be at the discretion of the Taipei Times.