Getting busted puts the dampener on clubbing
Being forced to lie on the floor for half an hour, get searched, then told to leave your belongings behind and go home is one of the hazards of going out in the international and cosmopolitan city that is Taipei. \nThe city government's continuing campaign against drugs has targeted clubs partly because of the good publicity these raids stir up for election hungry politicians, or for the benefit of the weekend TV news schedule. \nOther than that, the police presence at TeXound, 2nd Floor and other bars in Taipei last Friday night did little but pull in one or two people who had pills and three underage clubbers. But it did provoke the ire of Eric Lee -- originally from San Francisco and now working in Taipei -- who experienced the heavy arm of the law at one of these clubs and was shocked enough to write a letter to the Taipei Times earlier in the week complaining about harassment. \nActually, Eric, this has been going on since the martial law period, when dancing was banned under a law preventing illegal congregation. \nPubs, KTVs, MTVs, hotels (even the Grand Hyatt Taipei last month, more later) are routinely busted. Legal advice regarding the civil liberties aspect of being arbitrarily manhandled by the police and possibly urine tested is sobering. The police have powers to search if they have reasonable suspicion and can demand a urine sample if they think you may have taken drugs. \n"Last Friday night the police did have a permit to search but they often don't," said Jimmy Chen, a DJ and partner at TeXound. "We pretty much let them do what they want because there's nothing we can do about it and if you complain about human rights, it just makes it worse and they'll be tougher. They're the law." \n"Really, you could arrest everyone on the MRT station at Ximending, 6pm, for instance, and find as many people carrying drugs or doing something else that was illegal," said Alan Hsia, programming director and partner in LUXY and 2nd Floor. "Philosophically, the idea should be to attack the manufacturers or importers and not ordinary people." \nOne of the laws of fashion and pop is: once you're in, you're out. This is also true of the city's nightclubs, where the latest place to go quickly becomes the last place to go. It would seem a nightspot in Taipei has a half-life of one year, before changing ownership or its name. \nThe Hyatt's Ziga Ziga has been running for seven years now and at an exclusive do tomorrow night it will celebrate another birthday, dubbed "Celebration of One." Aiming to position itself as the capital's equivalent to the Buddha Bar in Paris, Church Lounge in New York and London's Asia de Cuba, Ziga Zaga is releasing a second CD album of "sofa music" and paying Singaporean stylist Eddie Halim to photograph international models who are being jetted in for an art- and fashion-inspired photographic exhibition about the club. \n"We want to present the idea that Ziga Zaga and Taipei have moved on and there are sophisticated places to go. We want to lead that movement," said Hyatt hotel general manager Shaun Treacy. \nCommenting on other bars being busted, Treacy said there had never been a raid at Ziga Ziga (the police had walked in on a private party being held in one of hotel's rooms). "We have a very selective door policy." \nKeep an eye out for anything the funky sister violinists Chi2 do and anywhere they go. The busy bees from London have dropped in on Taipei for a six-week residency at the Taipei Artist Village. Their credits include touring with Moby, working with Art of Noise and Boy George, as well as doing TV work and soundscapes for the premiers of installations. \nLondoners with Singaporean ancestry, Sarah and Liz Chen plan to scale mountains with U Theatre, do some TV work, knock out a song with Brazilian Eduardo Campos tonight, perform at the Kaohsiung Hakka festival on Nov. 16, check out Shanghai and Macao for concerts and return to Taipei for a performance on Nov. 27 at the artist village. \nFor tonight check out 2nd Floor as it hosts Konkrete Jungle's underground sounds, with local playas presenting the entire jungle oeuvre, ranging from "intelligent" drum n' bass to "hardcore-you-know-the-score," plus MCs.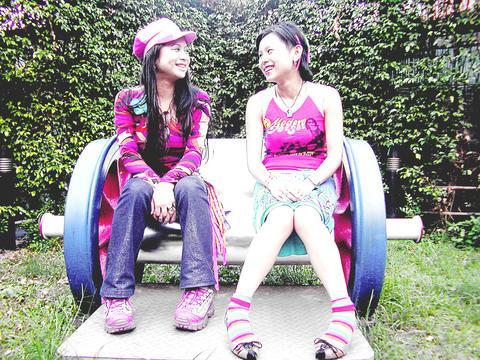 Sister Sarah, left, and Liz Chen are Chi2, funky violin divas from London, who are performing in Taiwan.
PHOTO: JULES QUARTLY, TAIPEI TIMES
Publication Notes
Club Notes
2nd Floor, 15 Heping W Rd, Sec 1, Taipei (台北市和平西路一段15號), NT$600, NT$400 before 12pm. Barry Gilbey at TeXound, 11pm to 10am, NT$600, NT$400 before 12pm. B1, 21.7 Nanjing E Road, Sec 3, Taipei (台北市南京東路三段217號地下1樓). If you did not get in last Friday because of the police raid you can show the ticket and get in free. No time limit. Ziga Zaga's "Celebration of One" party is invitation-only, at 2F, 2 Songshou Rd, Taipei (台北市松壽路2號2樓).
Comments will be moderated. Keep comments relevant to the article. Remarks containing abusive and obscene language, personal attacks of any kind or promotion will be removed and the user banned. Final decision will be at the discretion of the Taipei Times.