Restaurants: Sowieso
Address: 5, Ln 76, Siwei Rd, Taipei (台北市四維路76巷5號)
Telephone: (02) 2705 5282
Open: 11:30am to 2:30pm; 6pm to 10:30pm
Average meal: NT$1,200
Details: Italian and Chinese menu. Credit cards accepted
Having spent 13 years studying French and Italian cuisines in Vienna, there's hardly any dish that Hong Chang-wei (洪昌維) cannot present in the most authentic way.
A college restaurant management lecturer in the daytime, the chef and owner of Sowieso maintains gourmet-standard cuisine at his restaurant, as well as introducing Italian dishes rarely available here.
When Hong returned to Taiwan from learning his trade in Austria and Italy nine years ago, he set up one of the few Taipei restaurants that offered more kinds of pastas than spaghetti.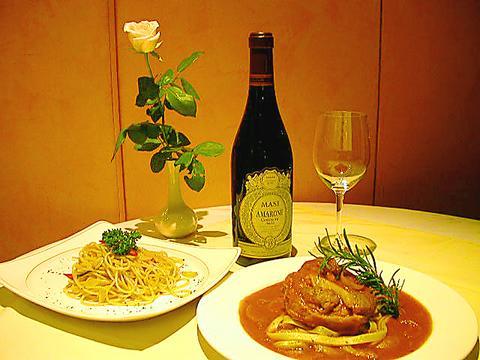 Carefully selected wines adds to the enjoyment of dining at Sowieso.
PHOTO: VICO LEE, TAIPEI TIMES
Hong's love for Italian cuisine was born from his first savoring of spaghetti with peppers and garlic in Vienna. "Before I went to Vienna, like most people in Taiwan at the time, my idea of pasta was nothing more than spaghetti with pork and sauce. The spaghetti with peppers and garlic made me understand the essence of good Italian cuisine. The noodles were bouncy and the olive oil wrapped around the noodles so closely it became one. Also the garlic slices blended into the oil, so that the fragrance lingered," Hong recounted.
"Italian cooking is very similar to Chinese cooking. There's sauteeing, stir-frying, boiling and stewing. The preparations of ingredients are also similar," Hong said.
Hong's version of spaghetti with peppers and garlic (spaghetti alio e olio, NT$280) is made with basil leaves and chili peppers. It is slightly different from the authentic version, not to create a localized flavor, but to improve the fragrance and flavor. It's mainly the foreign customers, Hong said, who most fully appreciate the restaurant's authentic cooking style. Osso bucco alla milanese with fettuccine (NT$680) is their favorite, he said.
Apart from using quality ingredients, Hong said the secret of good cooking was often the use of spices and treatment of ingredients before they are cooked. Simple ingredients can also work magic if prepared right, Hong said. The pumpkin soup, for example, acquires a delightful color and aroma after the pumpkins are left to ripen for a few days to bring out their sweetness.
Wines are Sowieso's forte. The restaurant has a regular stock of over 60 kinds of wines from seven countries, mostly Italy, France and Spain. Hong chose Farnese's 2000 Chardonnay to go with the spaghetti, peppers and garlic. For the fettuccine he selected Masi's Amarone 1997.
Comments will be moderated. Keep comments relevant to the article. Remarks containing abusive and obscene language, personal attacks of any kind or promotion will be removed and the user banned. Final decision will be at the discretion of the Taipei Times.